Home
»
Scholarships for College
Scholarships for College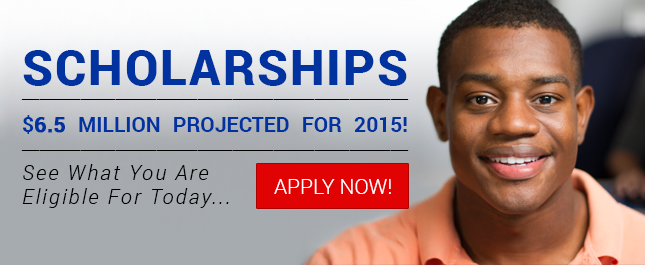 General Scholarship Policies
Scholarships, unless otherwise indicated, will be applied only to lower tuition debt.
Only degree-seeking students enrolled in a minimum of 9 credits per semester will receive a scholarship award unless otherwise noted in the criteria.
To qualify for scholarships, students must maintain continuous enrollment on a semester basis. Students may take only one semester off during their enrollment.
Students eligible for multiple special tuition rates, pricing programs or scholarships receive the one most beneficial.
ECPI University Scholarships- 2014-15
ECPI University awards in excess of $5 million in scholarships each year. These are funds to help you pay for your education that you do not have to pay back, and reward you for your commitment to earn your degree.
Applicants must have applied and been accepted for admissions to ECPI University for the 2014-15 academic year.
Applicants must meet the ECPI University entrance requirements.
Each scholarship has its own unique qualifying criteria. Below you can review the different types of scholarships you may qualify for. Our financial aid advisors can assist you in identifying and applying for these scholarship opportunities.
Graduation Scholarship Fund
ECPI University students enrolled in any undergraduate Bachelor's, Associates, or diploma program are auto-enrolled for the Graduation Scholarship Fund. Scholarship amounts vary by degree program and level and may provide awards up to $2,500 to reduce student loan debt in the final semester of your program. Contact admissions or see your financial assistance advisor for details.
To be eligible you must:
Regularly attend full-time
Attend at least 85% of all class time in your first semester
Make 'Satisfactory Progress' (as defined in the university catalog)
Be responsible with student loan borrowing
Have financial need based on student loan tuition debt
Fixed Tuition Pledge
ECPI University students who remain eligible for the Graduation Scholarship Fund will have their tuition rates locked in until they graduate at the rate upon enrollment. Program changes or additional programs will be subject to any tuition rate changes and then locked for that program. External benefits, such as those available through the Veterans Administration and employer reimbursement can be utilized in conjunction with the Fixed Tuition Pledge.
Career Advancement Scholarship
Employers value third party endorsement of skills that enhance the value of your degree. Your success means success for all of the graduates, faculty and staff at ECPI University!
ECPI University will award grants of $100-$500 for approved certifications or licenses you successfully achieve while enrolled.
Many academic programs have certifications you will be encouraged to earn by the time you graduate.
ECPI University subsidizes the majority of the fees to take certification exams.
Rewards will be applied to lower student debt first, but debt is not required to be eligible, and will be paid in addition to other scholarship awards.
Veterans
ECPI University participates in the Yellow-Ribbon program to allow eligible Veterans to have their tuition costs covered by their benefits. Veterans can continue in their program year-round without waiting for annualized benefits to renew.
ECPI University Business Partnership Program
ECPI University has agreements with area businesses to provide their employees tuition assistance benefits. Contact the admissions office to see if your employer participates.