Education Requirements for Culinary Arts: How do I Get Started?
If you have a passion for food and cooking, you may want to consider a career in the culinary arts. A culinary professional is able to create exciting dishes, aid in designing a beautiful menu, and they work tirelessly to ensure a guest has a satisfying dining experience. The life of a culinary professional, however, is not always easy. Your schedule is not always the same, and many culinary professionals experience some job stress.
If your dream is to become a professional in the culinary arts, there are things you need to know. Those who are aspiring to become chefs will need to know the ins and outs of nutrition, food science, and diet. Chefs will be responsible for designing meals that please both a guest's palate and eyes. While cooking, every measurement has to be precise. You do not want your food to be bland, and you do not want your food to have too much seasoning. Culinary school should teach you to use the perfect amount of seasoning with every dish you create.

What is expected of you in culinary school?
Those who have been to culinary school will tell you that it is very difficult. You should learn quickly, that it is a fast-paced environment, and you must keep up in order to stay on schedule. You will have to be a quick thinker, while at the same time ensuring safety.
Along with physical wear and tear, you will also experience a rollercoaster of emotions. The hours on your feet, and the pressure from your instructors, will more than likely impact your mood. There are many deadlines and tests as well. During these times, it is important to remember why you are in culinary school to begin with. Reminding yourself of your passion for cooking and food should help you find your stride, and succeed.
Why should you pursue a degree in the culinary arts?
As hard as culinary school is, it could be extremely beneficial to have the educational and hands-on background when you look for your first job. Your educational and hands-on background will raise your chances of becoming a success in the culinary arts. It will also set you apart from your peers.
There are many culinary certifications and degrees that you can choose from. In these programs, you should learn many topics devoted to the culinary arts. Some of these topics include:
Kitchen theory
Classical Culinary Foundations
Accounting
Business principles
Management
Leadership
Basic culinary skills
Advanced culinary skills
With a background education in the above topics, you could stand out from other applicants when it comes time to apply for jobs. Also, your educational background should help you navigate your position once you are hired as a culinary professional. As a culinary professional, you need to think quickly.
You need to be able to multi-task at a quick speed. Your measurements need to be exact. Your appearance, and the appearance of the food, need to be pristine. The education you receive should prepare you so you can act quickly in the kitchen.
What are the requirements to enroll in culinary school?
If you are looking to study at a culinary school, it is important to know the requirements in order to get into the program. There are schools that may require you to have experience in the food service industry. You will be responsible for submitting your high school transcripts, diploma/GED, and your SAT or ACT scores. You may also be required to submit an essay explaining why you aspire to be a culinary professional.
Before you have your interview with the admissions counselor, it is important that you bring with you a list of questions to ask the counselor. Your list should contain questions pertaining to admission requirements, the degrees and certifications available, and how many instructors to students in each class. Think about what you want to learn most during your time in culinary school and ask questions about how you can accomplish that while you're there.
The kitchen awaits…
Are you interested in working in a professional kitchen? If you want to earn an Associate of Applied Science Degree in Culinary Arts, ECPI University offers this degree at an accelerated pace. For more information on this exciting program, connect with a friendly admissions advisor today.
It could be the Best Decision You Ever Make!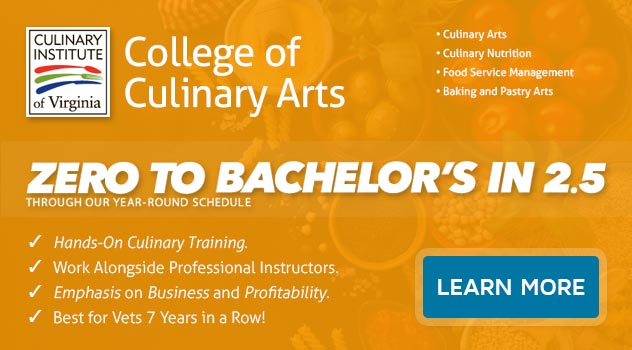 DISCLAIMER – ECPI University makes no claim, warranty, or guarantee as to actual employability or earning potential to current, past or future students or graduates of any educational program we offer. The ECPI University website is published for informational purposes only. Every effort is made to ensure the accuracy of information contained on the ECPI.edu domain; however, no warranty of accuracy is made. No contractual rights, either expressed or implied, are created by its content.
Gainful Employment Information – Culinary Arts - Associate's
For more information about ECPI University or any of our programs click here: http://www.ecpi.edu/ or http://ow.ly/Ca1ya.