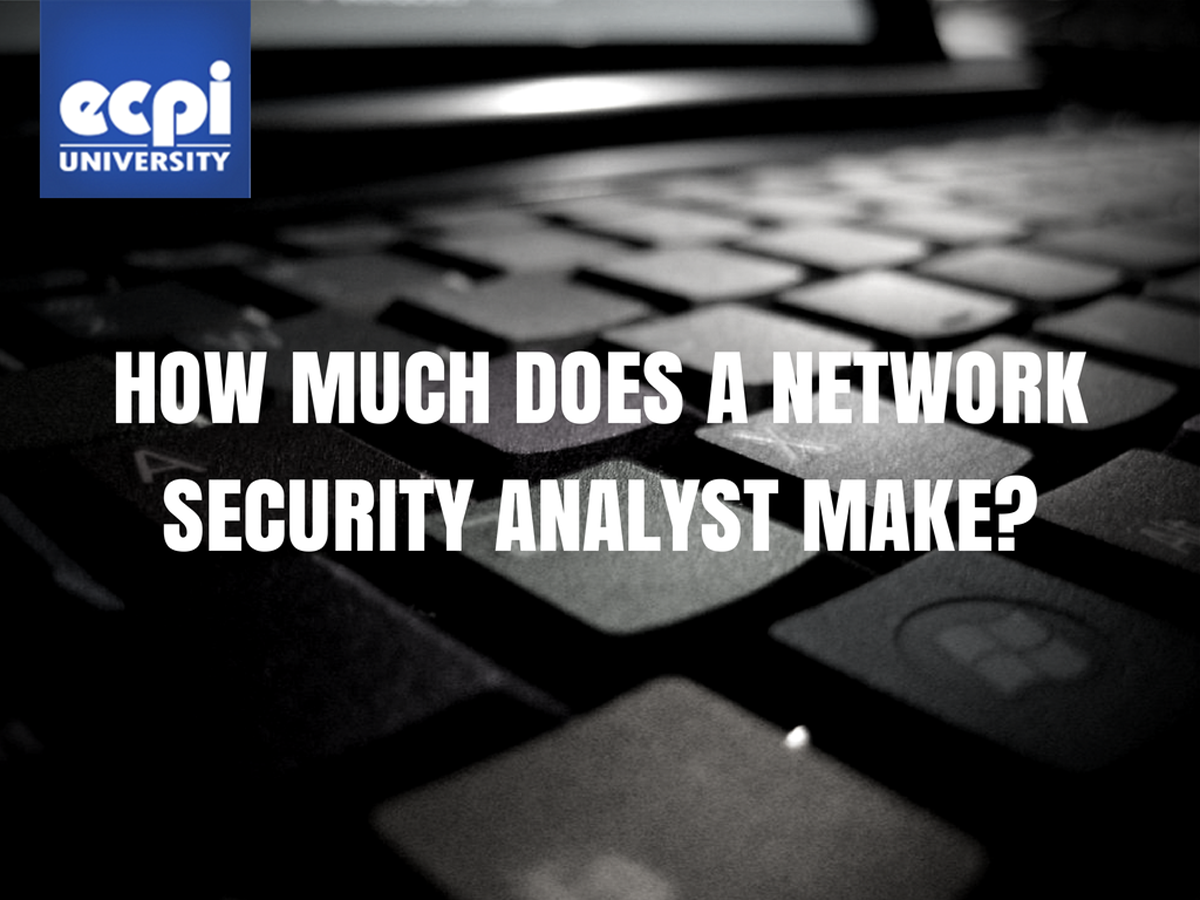 How much does a network security analyst make? The notion of security is far different today than at any other time in history. Castle walls have been replaced with fire walls as the overwhelming majority of attacks now come through cyberspace. This is where the Network Security Analyst comes into play; they effectively replace the armories of the past with a robust arsenal of skills tailored to identifying threats before they happen, and dealing with the few that get through – the kind of skills taught at ECPI University.
In fact, the skills of a Network Security Analyst are valuable in today's world that the Bureau of Labor Statistics projects 26% greater change in employment than the average for all occupations. More than one in three positions remains unfulfilled, and looks to remain so for the next decade.

Job Duties of a Network Security Analyst
The range of positions that a Network Security Analyst can hold stretches to each corner of the industrial spectrum. From the federal government and IT sphere, to the healthcare field and financial services – any organization that employs computer networks to store employee data and govern customer interaction. ECPI University prepares the incoming student for duties such as:
the installation of firewalls for multiple network configurations
the ability to identify the security needs of an organization, so as to recommend the appropriate changes/additions
submitting reports – verbal and written – on information and network security protocols
creating and implementing network disaster recovery as an aspect of business continuity
testing all manner of network security-related elements, such as data processors and risk assessments
Network Security Analysts understand the world of hackers and operating system vulnerabilities, and they use their knowledge to prevent criminals from harming and exploiting others.
How much does an Network Security Analysts Make?
The median annual wage for network security analysts was $86,170 in May 2012 (according to the Bureau of Labor Statistics, Occupational Outlook Handbook). As IT security becomes even more prevalent in a world that is transitioning to the mobile space, and where more of the home and office is becoming computerized, the opportunities for Network Security Analysts are many. In May 2012, the financial breakdown for expected pay varied by industry:
In the Insurance and Financial sectors, the median pay was $92,080.00*
In the Information sector, Network Security Analysts pulled in $91,440.00*
Security analysts working in the computer systems design areas made $88,270.00*
Those responsible for company and enterprise security management made $81,130.00*
At the upper end of the salary spectrum, the top 10 percent of Network Security Analysts earned over $135,600.00* per year.
*According to the Bureau of Labor Statistics, Occupational Outlook Handbook The Road to Becoming a Network Security Analyst
ECPI University provides the courses and skills that can help you become a Network Security Analyst. Most applicants are detail-oriented, analytical and ingenious; all important attributes to have in the ever-evolving world of cyber security. The education often starts with a bachelor's of science in programming or other area of computer science. There exists a wide range of certifications and licenses, and many employers' rate incoming employees higher if they have one or more of these. The road to becoming a Network Security Analyst starts with a single call or email; contact ECPI University to get started!
DISCLAIMER – ECPI University makes no claim, warranty or guarantee as to actual employability or earning potential to current, past or future students or graduates of any educational program we offer. The ECPI University website is published for informational purposes only. Every effort is made to ensure the accuracy of information contained on the ECPI.edu domain; however, no warranty of accuracy is made. No contractual rights, either expressed or implied, are created by its content.
Gainful Employment Information
For more information about ECPI University or any of our programs click here: http://www.ecpi.edu/ or http://ow.ly/Ca1ya.