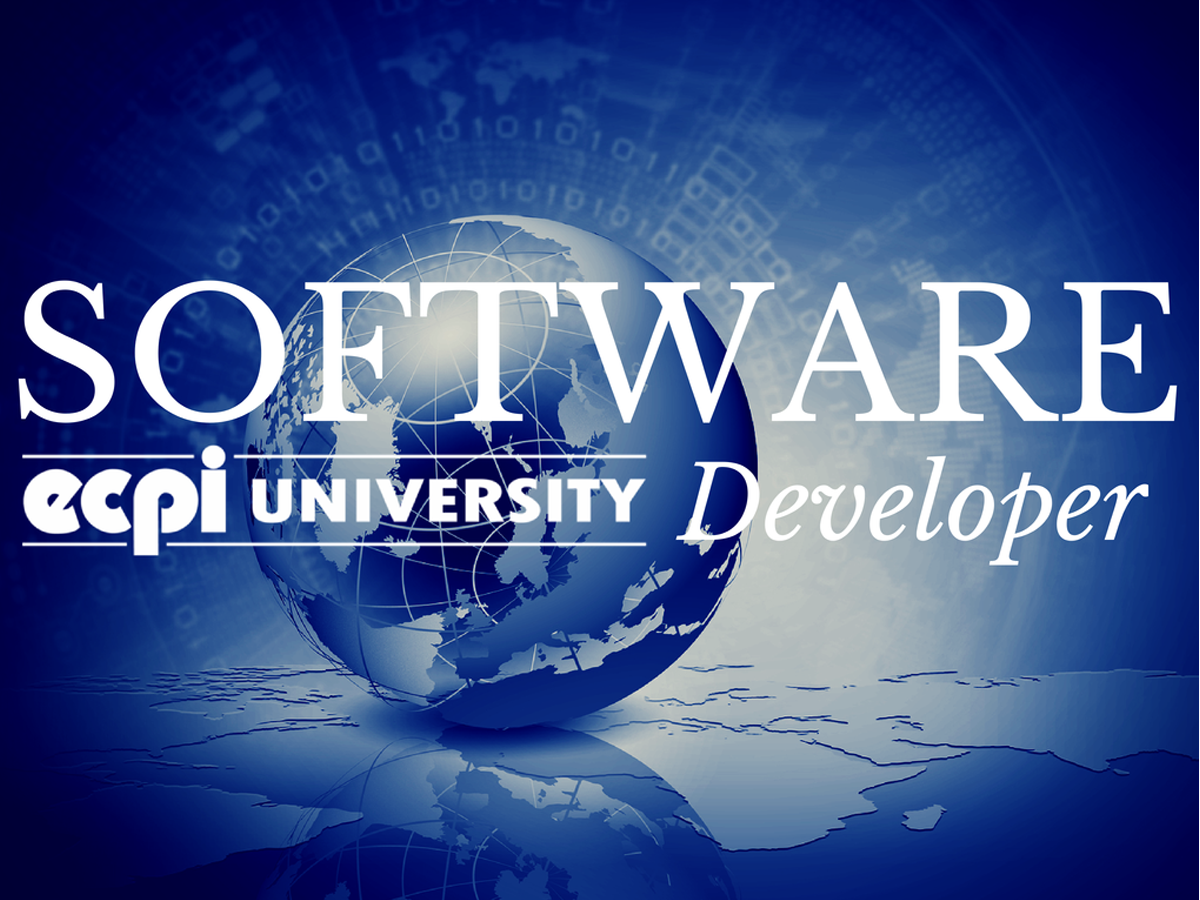 Software is organized digital information that helps computers work. The information is organized as instructions in the form of code written by programmers. The code will operate the computer or perform specific functions like accounting, word processing, human resources, and more. Software Developers can take many career paths. They might create programs from scratch. They might work on the logic of a program or the architecture of a system. They might develop computer operating systems or applications. They are likely to work on teams for companies that build and sell software or for companies needing proprietary work.
What does a Software developer do?
A software developer will research, design, implement, and test software. A Software Developers' tasks may be multiple or specific depending on the employer/employee situation. Software Developers may do many of the following tasks or specialize in a few:
Analyze software end user needs
Design, test, and develop software
Upgrade existing programs and systems
Design all or part of the applications or systems and plan how the pieces will integrate
Create models and diagrams to instruct programmers how to write the software code
Ensure that the software will function normally through maintenance and testing
Document the process as a reference for future maintenance and upgrades
Collaborate intensively with teams and leadership other computer specialists to optimize results
How Much Does a Software Developer Make?
The Bureau of Labor Statistics reports that the median annual wage for applications Software Developers in 2012 are $93,350.00 or $44.88/hour. The lowest 10 percent of the workers earned less than $55,190, and the top 10 percent earned more than $138,880.00 each year. The wages for applications software developers were slightly lower than those for systems software developers.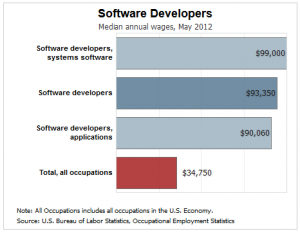 Perhaps just as important, the demand for Software Developers is increasing exponentially. BLS.gov sees a need for 22% more people in this career path by 2022. With this kind of growth pattern and compensation promised, the need for talent and expertise will likely drive salaries up.
What do employers look for when hiring Software Developers?
The best career candidates need some basic inclinations:
Software development takes analytic and communication skills. They need to be able to look into need and applications and communicate with clients, users, and collaborators. Interested students must understand basic and potential computer hardware capabilities and basic coding languages.
Developers are creative, detail oriented, and customer-service focused.
Best candidates have strong interpersonal and problem-solving skills.
What education for Software Developers need?
As demand for qualified Software Developers increases, employers can demand more education and training. While it is feasible that candidates can succeed with community college or vocational training, the most successful Software Developers have at least a bachelor's degree in computer science, software engineering, mathematics, or related field.
Writing code is not the first priority; developers must have a strong background in computer programming and show a commitment to continuing education in new tools and evolving computer languages.

ECPI University offers an accelerated, hands-on education in Software Development. Taking two classes at a time - offered day, night, and online, students can earn a bachelor's degree in 2.5 years. For more information on becoming a Software Developer or to learn more about the promise at ECPI University, contact us TODAY!

DISCLAIMER- ECPI University makes no claim, warranty or guarantee as to actual employability or earning potential to current, past or future students or graduates of any educational program we offer. The ECPI University website is published for informational purposes only. Every effort is made to ensure the accuracy of information contained on the ECPI.edu domain; however, no warranty of accuracy is made. No contractual rights, either expressed or implied, are created by its content.
Gainful Employment Information
For more information about ECPI University or any of our programs click here: http://www.ecpi.edu/ or http://ow.ly/Ca1ya.