Medical Assistant Associate Degree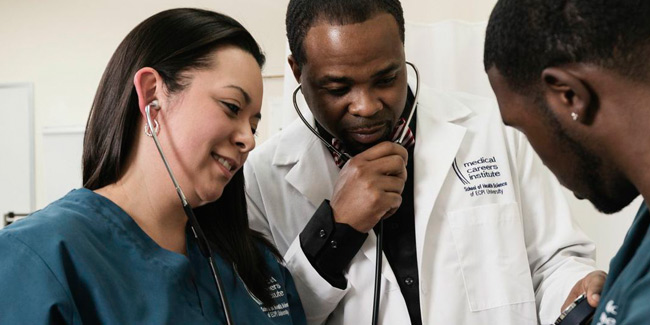 Overview
Medical Assistants are an important part of many doctors' offices. They take vital signs, perform laboratory tests and diagnostic procedures, administer medications and assist with patient exams. Moreover, they are in demand. According to the U.S. Department of Labor, employment of Medical Assistants is expected rise 31% between 2010 and 2020, much faster than the average for all occupations.*
As baby-boomers age and the number of seniors multiply, demand for preventative medical services is likely to increase. With an expanded patient load, physicians may hire more assistants to perform routine administrative and clinical duties, allowing them to see more patients.
ECPI University's School of Health Science, Medical Careers Institute (MCI), can prepare students with the knowledge, technical skills, and computer proficiency required for employment in various healthcare positions. What's more, you can earn your Associate of Applied Science Degree in Medical Assisting in just 15 months through MCI's year-round program.

*Source: Bureau of Labor Statistics, U.S. Department of Labor, Occupational Outlook Handbook, 2012-13 Edition
Program Description
Medical Careers Institute's "hands-on" learning environment allows students to gain "real world" experience in the classroom, and then apply it through externship experiences in a variety of settings. Through this program, you can learn how to:
Conduct patient interviews and take medical histories
Check vital signs
Prepare patients for examination
Assist with surgical procedures
Collect specimens
Perform various laboratory tests and EKGs
Review and process payments
Prepare billing statements
Schedule appointments
Coursework includes:
Physiology
Anatomy
Pharmacology
Clinical Procedures
Computer Applications
Possible Career Track
Upon completion, graduates with an Associate of Science Degree in Health Science with a concentration in Medical Assisting could possibly pursue entry-level career opportunities such as the following:
Medical Assistants
Phlebotomists
EKG technicians
Physician offices
Clinics
Related healthcare settings
Experienced Medical Assistants may function in supervisory or managerial capacities including personnel selection, hiring, and evaluation. Following graduation, you are qualified to take professional certification exams.
The following are the employment rates as reported to the Accrediting Bureau of Health Education Schools (ABHES) for the 2009-2010 period:
Northern Virginia, VA - 69%
Richmond, VA Moorefield - 72%
Richmond, VA Emerywood - 83%
Virginia Beach, VA - 73%
Newport News, VA - 63%
Charlotte, NC - 87% diploma
Charlotte, NC Concord - 74% diploma
Greensboro, NC - 70%
Charleston, SC - 73%
Raleigh, NC - 70%
Greenville, SC - 76%
Curriculum