Mechatronics Bachelor Degree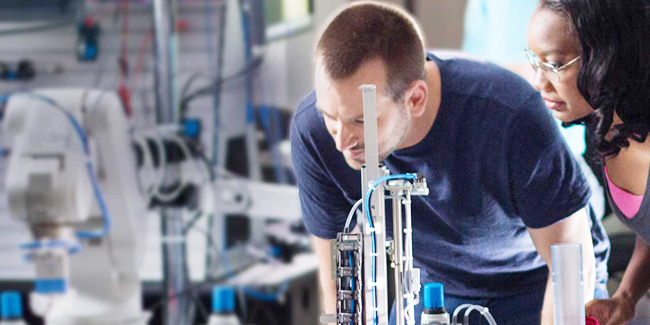 B.S. in Electronics Engineering Technology
Overview
Interested in automated manufacturing? Do you often wonder how things are made and how they work? Do you like working with your hands? If so, a career in Mechatronics may be for you.
Learn to develop and troubleshoot robotics, programmable controllers, and integrated systems.
Skills in the Mechatronics field can be applied in various areas including maintenance and repair, installation, quality assurance, and research and development.
In 2.5 years, through our year-round schedule, you can earn a Bachelor of Science Degree in Electronics Engineering Technology with a concentration in Mechatronics.
Program Description
Our Mechatronics program field focuses on real-world application of engineering principles. Engineering technologists are usually the link between the engineers and the technicians. They work with engineers from the conception phase of a product to the final production and assist in the design, development, testing, and production of electrical/electronic/mechanical equipment and components.
Your Mechatronics studies will focus on core areas such as:
Applied Mechanics
Programmable Controllers
Hydraulics and Pneumatics
Testing and measuring instruments.
Computer Hardware and Software
Materials Science
Analog/Digital Electronics and Communications
Automation and Control Systems
Computer Programming and Networks
Microcontrollers
Building upon ECPI's tradition of providing an interactive hands-on education in technology, our objective is for you to:
Use testing and measuring instruments to acquire data, analyze problems, and design a system or process.
Identify, analyze and solve technical problems.
Demonstrate an ability to manage engineering technology projects.
Analyze and implement systems containing hardware and software components.
Possible Career Track
Mechatronics graduates are typically employed in areas such as:
Engineering Consultant
Electrical/Computer Engineering Technologist
Industrial Engineer
Product Engineer
Project Manager
Project Coordinator
Industrial Technician
Field Service Technician
Computer Engineering Technician
Electronic Engineering Technician
Curriculum
Program Requirements
Core Curriculum
32 semester credit hours
| | | |
| --- | --- | --- |
| | Logic and Design | 3 |
| | Programming I | 3 |
| | Networking I | 3 |
| | Networking II | 3 |
| | OR | |
| | Data Communications and Networking | 3 |
| | Electric Circuits I | 3 |
| | Electric Circuits II | 3 |
| | Electric Circuits LAB | 1 |
| | Semiconductor Devices | 3 |
| | Electronic Systems Applications | 3 |
| | Digital Systems I | 3 |
| | Digital Systems II | 3 |
| | Digital Systems LAB | 1 |
Arts and Sciences
31 semester credit hours
Arts and Sciences Capstone

3

Principles of Communication

3