Radiography Associate Degree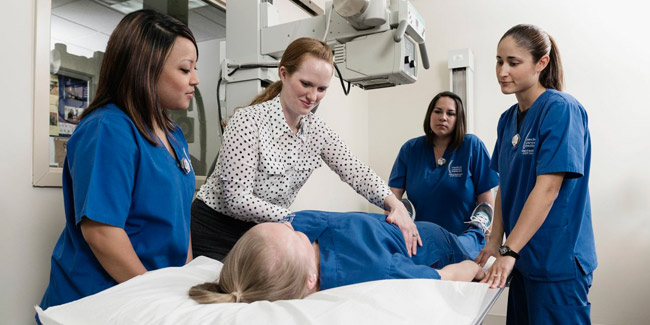 A.A.S. in Medical Radiography
Overview
Are you interested in a career that is in-demand? Check out our radiography field. A Radiologic Technologist can play an important role on the patient care team. Find out how you can earn an Associate of Applied Science Degree in Health Science – Medical Radiography in 18 months.
Employment of radiologic technologists is expected to increase by about 17 percent from 2008 to 2018, faster than the average for all occupations. As the population grows and ages, demand for diagnostic imaging is projected to increase.1
In addition to job growth, job openings are also expected to arise from the need to replace technologists who leave the occupation.1
Physical Demand Requirements
Students seeking admission into the Medical Radiography Program are advised that their course of study will include classroom education, hands-on practical skills and clinical experiences. Students making the decision to enter into this program should be aware of the physical nature of both the profession and their course of study. While the profession of Radiography may be performed in a variety of settings, each with specific physical demand requirements, students must be able to demonstrate a wide range of skills that may be performed in a variety of settings to successfully complete the program.
Applicants to the program must be aware that they must possess the following abilities required of Radiography students and Radiographers.
Physical
VISION: Ability to read and analyze data, formulate technical factors, evaluate the technical results, and observe patient conditions. Ability to perform all the radiographic procedures expected of a Radiography student.
HEARING: Ability to hear instructions in a variety of situations, such as a darkened x-ray room, trauma room in the emergency department, and surgery; where the persons may not be facing you or they may be wearing surgical masks. Patients who are sick, inured, elderly, and in other weakened conditions sometimes have difficulty in communicating; therefore, it is important to be able to hear them with accuracy.
MOTOR SKILLS: Above average hand/eye coordination and other basic motor skills are essential. Ability to lift, move and support patients. Ability to operate various x-ray equipment which may involve lifting, pulling, pushing, etc., such as with portable machines. Ability to stand/walk for extended periods of time, as well as bending twisting and reaching.
Mental
MEMORY: Possess both short and long term memory capabilities.
CRITICAL THINKING: Ability to think critically and perform mathematical calculations, solve problems and demonstrate safe practices, including radiation protection.
INTERPERSONAL SKILLS: Ability to communicate effectively, both orally and in writing with patients, peers, general public and others, especially members of the health care team.
Hazards Awareness
OCCUPATIONAL EXPOSURES: Students may be exposed to infectious body fluids, toxic drugs and solutions, and radiation.
1 Source: US Dept. of Labor, Bureau of Labor Statistics, Occupational Outlook Handbook, 2010-11 Edition.
For more information about this program, please see the program description in the University Catalog. Radiography Program Description
View Program Effectiveness Here.
Program Description
Through a blend of practical "hands on" clinical experience in hospitals and/or outpatient centers and on-campus classroom and lab sessions, radiography students explore:
Radiation Biology and Protection for patient clients, employees and other healthcare personnel.
Equipment Operation and Quality Control to include film/screen techniques, digital, and computer radiology.
Image Production and Evaluation including technical factors selection, image processing, and criteria for image evaluation.
Radiographic Procedures including positioning, anatomy, and technical factors adjustments
Patient Care and Education including ethical and legal aspects, interpersonal communication, infection control, physical assistance and transfer, medical emergencies, and radiographic contrast media
Possible Career Track
Radiography professionals are in demand* throughout the United States in a variety of healthcare settings and industries including:
Hospitals & Medical Imaging Centers
Outpatient Care Centers & Primary Care Clinics
Government & Military
Medical Research
Mobile Imaging
Radiology Sales & Service
Education & Industry
At both the Newport News and Northern Virginia (Manassas), VA and the Greensboro, NC campuses: Graduates will receive an Associate of Applied Science Degree in Health Science – Medical Radiography and will be eligible to sit for the national certification examination with the American Registry of Radiologic Technologists (ARRT).
At the Newport News, VA campus, the Medical Radiography program: is accredited by the Joint Review Committee on Education in Radiologic Technology (JRCERT).
Joint Review Committee on Education in Radiologic Technology (JRCERT)
20 N. Wacker Drive, Suite 2850, Chicago, IL 60606-3182
Tel: (312) 704-5300, Fax: (312) 704-5304, e-mail: mail@jrcert.org
* Source: US Dept. of Labor, Bureau of Labor Statistics, Occupational Outlook Handbook, 2010-11 Edition.
Curriculum
Program Requirements
Core Curriculum
55 Semester credit hours
Medical Terminology

3

Fundamentals of Radiologic Sciences & Healthcare

1

Patient Care and Ethics in Radiologic Sciences

2

Introduction to Radiographic Positioning & Technique

1

Radiographic Procedures 1

2

Introduction to Radiography Clinical Practice

1