Explore CIV from Home

Welcome to the Culinary Institute of Virginia (CIV)! While we cannot wait to meet with you on campus, we are excited to share with you a taste of what makes CIV different. Please enjoy a look around and let us know how we can assist you. Our admissions team is available and ready to help. To get started, call us at 757-858-2433 or click here.
Peek Inside Our Kitchens
Wondering what it's like to be a CIV student? Check out these course videos to see what CIV's hands-on, industry-paced classes are like.
Garde Manger
Learn new things everyday like Charcuterie, pates, terrines, galantines, Buffet Set-Up, Salad and Platter Presentations, Salt dough and tallow sculptures, Special event planning and organization, Hors D'oeuvres and more in Garde Manger.
Culinary Fundamentals
Learn the fundamentals of cooking like brazing, stewing and frying and apply them in our Culinary Fundamentals class.
Meat Fabrication
Have you always been fascinated by the intricate process of meat fabrication? In our Meat Fabrication class, you'll learn skills such as Basic Charcuterie, Poultry Butchery, Fish and Seafood Identification, Preparation of Both Flat and Round Fish, Butchering of Primal and Subprimal Cuts of Meat and more!

Community Events and Competitions
Each year, Culinary Institute of Virginia students participate in a variety of exciting local and regional culinary events, allowing them to hone their skills, develop connections, and lend a helping hand to their culinary communities. Here's a look back on past events to give you a taste of what's to come:
Shirley Plantation Shrimp Boil
Culinary Institute Of Virginia students prepared a feast at the annual Shirley Plantation Shrimp Boil, highlighting the importance of locally-grown food.
Norfolk Latino Music Festival
Did you know that Culinary Institute of Virginia has its very own, student operated food truck? Check out the CIV Food Truck at the 17th annual Norfolk Latino Music Festival, where our students showcased the flavors of their heritage!
Mystery Basket Culinary Competition
Sponsored by Atlantic Shores Retirement Community, our students competed in a Mystery Basket Culinary Competition, where they had to create a single dish from the contents of a mystery basket of ingredients only revealed to them right before it was time to cook.
Healthy Living Challenge
Check out Culinary Institute of Virginia students at the Healthy Living Challenge, an event hosted by Food Network Host and Cookbook Author Chef Ellie Krieger at the Mid-Atlantic Home and Garden Show! In this competition, our students went head-to-head to add a healthy twist to a traditional dish for a tasting audience.
Food Wars at Nekocon
Culinary Institute of Virginia students hosted a live cooking competition based on the anime show, Food Wars at the 2017 Nekocon, an annual Anime convention featuring a variety of arts, costumes, food, and videogames.
Battle of the Burgers
Our students competed in the Battle of the Burgers to become Coastal Virginia Magazine's Best Burger at the 2018 CoVa Battle of the Burgers.
Student Small Bytes
Enjoy a few simple recipes from our Culinary Institute of Virginia students that are quick, easy, and most of all delicious. Some of our favorites can be found below:
Asian Sticky Wings
Bacon Wrapped Sausage
Mango Pineapple Salsa
Explore Coastal Virginia & Housing Opportunities
We understand living away from home can have its challenges. Our goal through student housing is to offer a strong sense of community by surrounding you with like minded individuals who share similar career goals in a safe, maintained, and cost effective environment with all of the amenities that will allow you to truly focus on your education.
Experience Coastal Virginia and study in style in one of our available fully furnished student housing apartments. View what your apartment could look like and explore a variety of fun things to do around town here: ECPI UNIVERSITY STUDENT HOUSING IN COASTAL VIRGINIA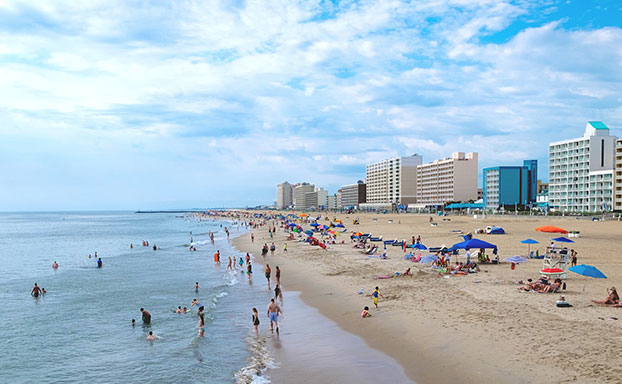 Interested in pursuing a degree at ECPI University's Culinary Institute of Virginia? Classes Start Soon!