CULINARY INSTITUTE OF VIRGINIA
2428 Almeda Ave. Suite 106
Norfolk, VA 23462
United States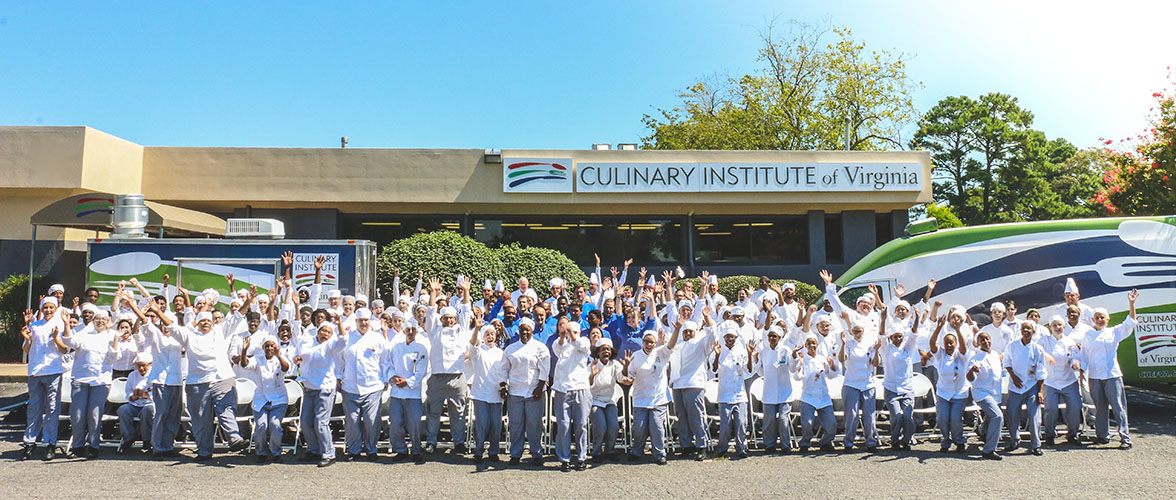 Available Programs
Bordered by Virginia Beach, Norfolk is part of the Hampton Roads region which also offers all kinds of outdoor fun such as beautiful beaches, fishing, golf, biking, and kayaking. The tourism draw, along with the Norfolk/Virginia Beach's dynamic business environment, results in a strong food service industry that creates an abundant amount of externship and employment opportunities.
Student Resources
Faculty Advisor Program: Students meet their faculty advisor during orientation. This advisor is available to assist students throughout their time at CIV.

Full-time faculty members are available for tutoring in the areas of Math, Writing, and all core curriculum courses.

Hands-on Tutoring available through faculty led Skills Workshops.

Students can gain valuable experience and earn scholarships through the CIV Competition Series.

Student Resource Services.

Study and Group project areas, including a Learning Resource Center, Student Lounge, and Computer Lab.

Career Service Advisors available to provide students and graduates with job placement assistance.
Learn about ECPI University Student Housing in Coastal Virginia for CIV Students here.
Throughout campus, you'll find that Culinary Institute of Virginia offers a caring and collaborative atmosphere with plenty of clubs and organizations that will make you feel right at home including the:
Student Veterans Association
Global Plate Society (Dining Club)
Gardening Club
Kids Café (Partnership with Food Bank)
Students, faculty, and staff are also very active in the community, supporting causes like the Foodbank of Southeastern Virginia, American Cancer Society, and March of Dimes, to name just a few.
Colonial Williamsburg Foundation
Kingsmill Resort
Great Wolf Lodge
Hilton
Walt Disney World
About the Campus

Bordered by Virginia Beach, Norfolk is part of the Hampton Roads region which also offers all kinds of outdoor fun such as beautiful beaches, fishing, golf, biking, and kayaking. The tourism draw, along with the Norfolk/Virginia Beach's dynamic business environment, results in a strong food service industry that creates an abundant amount of externship and employment opportunities.

Student Resources

Student Resources

Faculty Advisor Program: Students meet their faculty advisor during orientation. This advisor is available to assist students throughout their time at CIV.

Full-time faculty members are available for tutoring in the areas of Math, Writing, and all core curriculum courses.

Hands-on Tutoring available through faculty led Skills Workshops.

Students can gain valuable experience and earn scholarships through the CIV Competition Series.

Student Resource Services.

Study and Group project areas, including a Learning Resource Center, Student Lounge, and Computer Lab.

Career Service Advisors available to provide students and graduates with job placement assistance.

Learn about ECPI University Student Housing in Coastal Virginia for CIV Students here.

Clubs & Organizations

Throughout campus, you'll find that Culinary Institute of Virginia offers a caring and collaborative atmosphere with plenty of clubs and organizations that will make you feel right at home including the:

Student Veterans Association
Global Plate Society (Dining Club)
Gardening Club
Kids Café (Partnership with Food Bank)

Students, faculty, and staff are also very active in the community, supporting causes like the Foodbank of Southeastern Virginia, American Cancer Society, and March of Dimes, to name just a few.

Employers

Colonial Williamsburg Foundation
Kingsmill Resort
Great Wolf Lodge
Hilton
Walt Disney World

Student Housing

Nearby