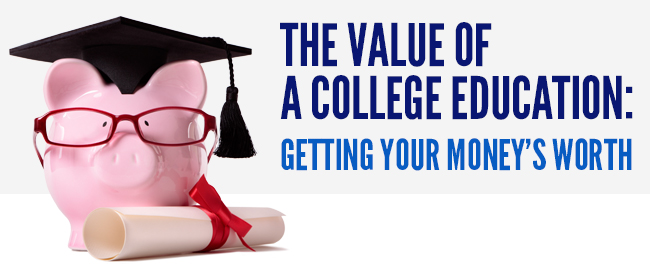 What is the value of a college education?
At ECPI University, student success is measured using two benchmarks:
Graduation
Employment
We believe college is only valuable if you manage to hit both of these targets. Surprisingly, many students don't graduate on time. In fact, fewer than 60% of the nation's students finish a 4-year degree in less than 6 years, according to the (U.S. Department of Education). Why is that? Perhaps it's because they do not have a clearly defined path.
Chart the Course
At ECPI University, you don't enroll in classes, you enroll in a program. You sit down with your advisor and plot an "educational map" designed to help you graduate on time. Once completed, that map becomes your constant companion. Throughout your college career, an academic support team will be monitoring your progress to make sure you stay on track or if you need help, ensure that you get it.
Education the Way it Should Be
A college education is more than a degree hanging on a wall—it should provide real value. It should prepare you for a career, not just a job. The educational team at ECPI University understands what you want out of your education, which is why we offer a fully-integrated program that can help you develop a knowledge base and specific set of skills aligned with your chosen profession. Each program we offer is connected to an exciting career.
What You Learn and How You Learn
Today's employers are looking for graduates who are job-ready. They want people with two kinds of expertise:
Hard Skills
Soft Skills
Hard skills are the things you do on the job. You learn these things in the classroom and labs on campus – and how you learn these skills makes all the difference. At ECPI University, you apply what you learn as you learn it. This type of hands-on approach is proven to improve understanding and retention.
Soft Skills include such things as time management, problem solving, and communication. These are exhibited by people who can think on their feet and work well with others. At ECPI University, we integrate soft skills into your education through the curriculum and coaching provided by your career advisor who can help you present yourself in the best possible light.
Accelerated Scheduling Designed with Graduation in Mind
ECPI University offers an accelerated, year-round schedule that allows you to earn a bachelor's degree in just 2.5 years or an associate's in 1.5 years. You take two classes every five weeks. Stay on schedule, and you can begin your career a lot sooner.
Career Services
ECPI University's career services advisors can help you develop the poise and presentation skills required to impress employers when it comes time to interview for your first job. Job search strategies, interviewing techniques, cover letter and resume writing – these are valuable skills that are part of your college education.
What's more, ECPI University maintains valuable partnerships with employers. They serve on academic advisory committees, helping to design curriculum to meet the needs of the job market, and provide valuable externship opportunities to students. That's why they show up in large numbers for our career fairs. They know our graduates are ready to do the job.
The Cost of College Education vs. The Value
Ultimately, it's what happens after graduation that determines the value of an education. Was your time and money worth it? Let's compare ECPI University with your other options.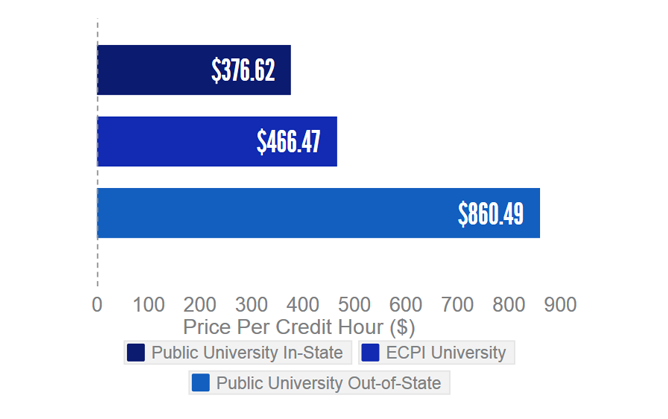 (Source: SHEV)
So, how much money could you save by graduating much earlier?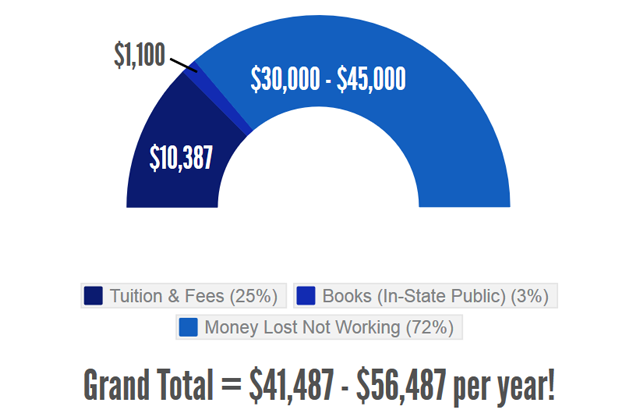 Given an average completion time of 5 years at other schools, you could graduate in half the time. In simple math terms, five years from now you could be between $103,467 and $140,967 ahead! Not to mention any promotions you may earned further advancing your career!
Simply put, ECPI University offers the best value for people who want to graduate fast and begin earning a professional salary.
Take the next step toward a valuable, fulfilling career in one of our many flexible degree programs! Meet with an ECPI University advisor today and then get started on your career.