Project Management 100% Online
Bachelor of Science in Organizational Leadership with a Concentration in Project Management 100% Online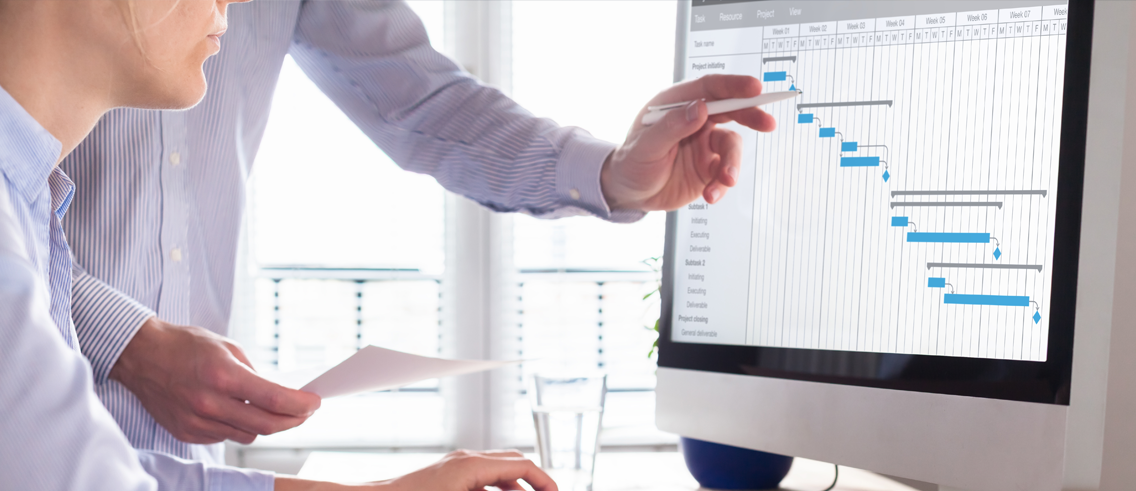 Project Management Online Degree Program Overview
Take the lead with a concentration in Project Management
Project management is the art of planning, developing, measuring, and completing a unique project that satisfies a specific organizational goal. 
A project often begins as an idea with an undetermined plan of action. As a project manager, you will be involved with organizing and overseeing every aspect of a project as it relates to the overall goal. You will demonstrate a clear vision and execute a plan of action from start to finish while managing a team of people working together to achieve the same goal. As a project manager, you will be responsible for not only taking the lead, but also delegating tasks, setting a budget, achieving project objectives, and making sure the project concludes in a timely manner.
Project management is a valued occupation and is essential to the overall success of an organization. Successful project managers possess certain character traits that are in high demand. Top qualities of an effective project manager:
Excellent communicator
Decision maker
Leader
Creative
Composed
Ethical
Punctual
Visionary
Problem solver 
The Bureau of Labor Statistics projects that management occupations should grow by a rate of approximately 8 percent by 2026, which will result in about 807,300 new jobs.
Through ECPI's year-round schedule, you could earn a Bachelor of Science Degree in Organizational Leadership with a Concentration in Project Management in as little as 2.5 years.
ECPI University's 100% Online project management concentration focuses on planning a project from start to finish with an emphasis on core competencies, quality control, and enhancing the customer experience through a collaborative organizational framework. Students will be given the opportunity to develop the skill set necessary to lead project teams while maximizing performance and minimizing risk, and use project management tools for different stages of projects.
With a concentration in project management, students should gain the knowledge to: 
Communicate in a professional environment.
Plan and lead projects.
Operate various project management tools and programs. 
Accomplish project objectives.
Apply knowledge of basic risk management.
Conduct reports and analyze data as it relates to the success of the organization.
What can you do with a concentration in Project Management? Potential career tracks include:
Certified Project Manager
Sales Manager
Computer and Information Systems Manager
Management Analyst
Cost Estimator
Marketing Manager
Engineer
Construction Manager
IT Project Manager
Program Requirements
Core Curriculum

33 semester credit hours

| Course ID | Course Name | Credits |
| --- | --- | --- |
| ACC101 | General Accounting | 3 |
| BUS102 | Fundamentals of Customer Service | 3 |
| BUS121 | Introduction to Business | 3 |
| BUS211 | Introduction to Human Resource Management | 3 |
| BUS222 | Ethics in Business | 3 |
| BUS303 | Organizational Leadership and Management | 3 |
| BUS314 | Marketing Management | 3 |
| BUS321 | Business Organizational Management | 3 |
| BUS331 | Management Information Systems | 3 |
| BUS460 | Leadership Capstone | 3 |
| ECO202 | Microeconomics | 3 |
Arts and Sciences*

31 semester credit hours

| Course ID | Course Name | Credits |
| --- | --- | --- |
| CAP480 | Arts and Sciences Capstone | 3 |
| COM115 | Principles of Communication | 3 |
| ENG110 | College Composition | 3 |
| ENG120 | Advanced Composition | 3 |
| HUM205 | Culture and Diversity | 3 |
| MTH131 | College Algebra | 3 |
| MTH140 | Statistics | 3 |
| PHY120 | Physics | 3 |
| PHY120L | Physics LAB | 1 |
| PSY105 | Introduction to Psychology | 3 |
| PSY220 | Positive Psychology | 3 |
*For allowable substitutions of arts and sciences courses, see the Arts and Sciences Department page
Self-Integration

6 semester credit hours

| Course ID | Course Name | Credits |
| --- | --- | --- |
| CIS115 | Computer Applications | 3 |
| COR090 | Career Orientation Seminar | 0 |
| FOR110 | Essentials for Success | 3 |
Concentration Requirements
Project Management

13 semester credit hours

Course ID
Course Name
Credits
BUS227
Operations Management
BUS312
Accounting for Business Decisions
3
BUS328
Business Process Improvement
3
BUS472
Applied Project Management
3
BUS472L
Applied Project Management Lab
3
Electives – any course from BS BA and/or BS Leadership depending on prereq. General electives from other programs and school
38
Upon completion of the program, graduates will be able to: 
Conduct organizational research and analysis.
Apply critical thinking and analytical skills to make strategic decisions.  
Demonstrate effective communication in a global environment.  
Apply ethical behavior and professional values. 
Develop an organizational community of learning and positive change.
Graduates of the BS in Organizational Leadership concentration may find employment in a variety of industries. Possibly job titles include Human Resources Manager, Project Manager, Team Leader/Logistics Manager, and Operations Manager.
Management Concentration
The Management Concentration allows students to gain a general background in organizational leadership with the ability to choose tracks and electives that focus on areas of interest related to their unique career paths.
Upon successful completion of the program, graduates are able to: 
Utilize advanced decision-making strategies appropriate for the managerial context.
Project Management Track
The project management track focuses on leading projects from start to completion.  Students will develop the skills set to lead project teams and will use project management tools to successfully manage the different stages of projects, including how to maximize performance and minimize risk.  Core competencies, quality control, and enhancing the customer experience through a collaborative organizational framework are emphasized.
Interested in pursuing an online degree at ECPI University?
REQUEST A DEMO
Click above to experience an actual online class in real time.