Master of Science in Nursing Degree 100% Online
Master of Science in Nursing - 100% Online
Master of Science in Nursing Online Degree Program Overview
If you enjoy your career, but are ready to take it to the next level, consider earning an online Master of Science in Nursing at ECPI University. Because this program is 100 percent online, you can prepare to advance in your career without having to sacrifice time on the job.
ECPI University's online Master of Nursing program offers concentrations aligned with two  career pathways: Nursing Education and Family Nurse Practitioner. ECPI University's Master of Science in Nursing (MSN) program encompasses two distinct  concentrations: Nursing Education and Family Nurse Practitioner. The concentrations are guided by the National League for Nursing's Certified Nurse Educator (CNE) competencies and the American Association of Nurse Practitioner's (AANP) core and population-specific competencies.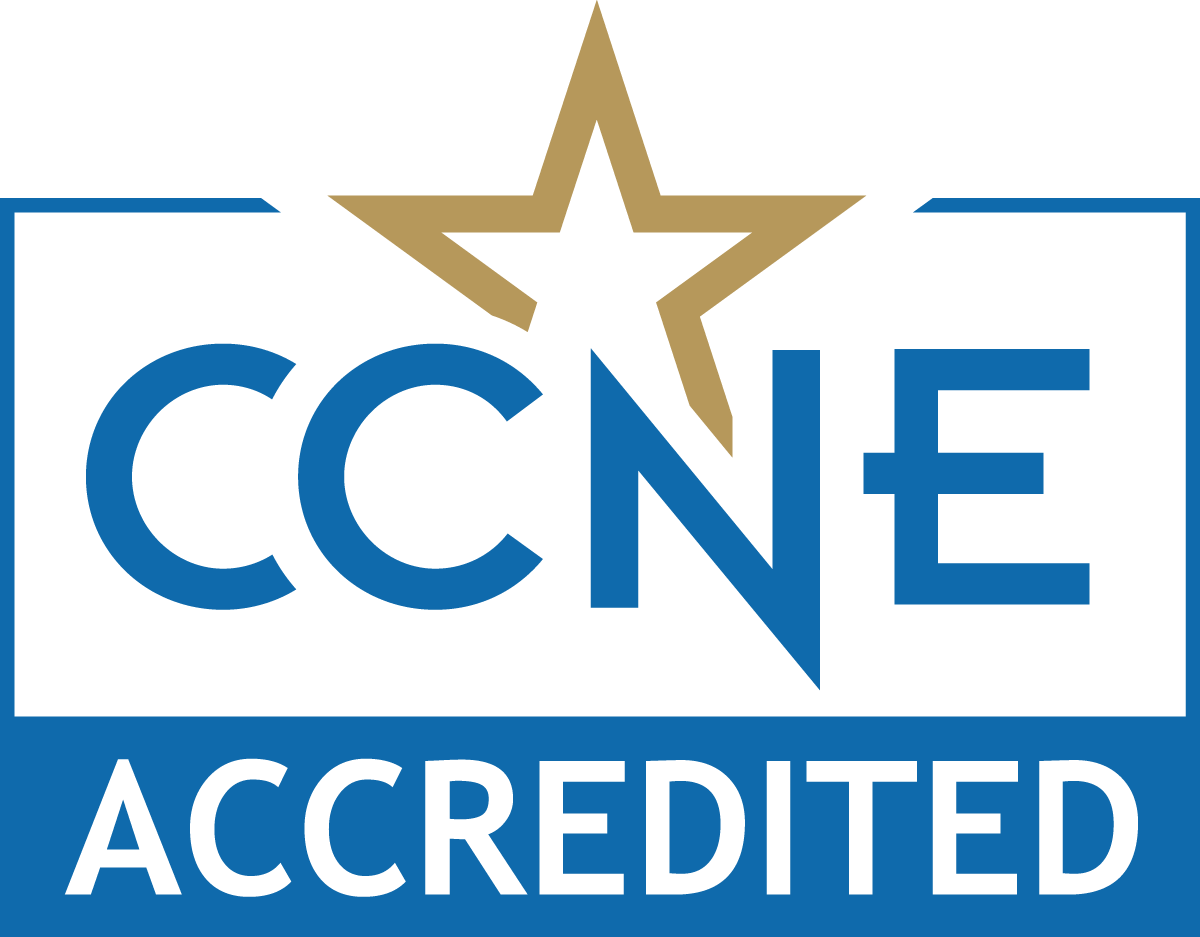 The Master of Science in Nursing program at the ECPI University's Virginia Beach, Virginia campus is accredited by the Commission on Collegiate Nursing Education, 655 K Street, NW, Suite 750, Washington, DC 20001, 202-887-6791. For more information, visit http://www.ccneaccreditation.org/.
The Online Masters of Science in Nursing (MSN) Degree program builds on the skills and knowledge of a diverse population of registered nurses with a bachelor degree in nursing and preparing them to succeed in progressive roles in inter-professional health care and education settings.  The program assists future nurse leaders, educators, and practitioners in the advancement of their professional practice through scientific inquiry and other scholarly activities.
Graduates of the Nursing Education concentration will be prepared to educate nursing students and practicing nurses in academic and clinical settings.
MSN, Concentration in Nursing Education
Graduates with a concentration in nursing education will be eligible for positions in a variety of health care and academic settings such as:
Patient Education
Clinical Nurse Educator
Director of Professional Practice
Director of Staff Development
Nursing Faculty at the practical, associate or bachelor degree levels
MSN, Concentration in Family Nurse Practitioner
Graduates holding a master degree in Family Nurse Practitioner will be eligible for positions in a variety of community settings such as:
Provider Offices
Public Health Departments
Emergency Room/Urgent Care
Industrial Settings/Occupational Health
Hospitals
Admission Requirements
Complete a personal interview with admissions.


Complete a graduate application for admission and enrollment agreement.


Bachelor's degree in Nursing from a program accredited by the Accreditation Commission for Education in Nursing (ACEN) or the Commission on Collegiate Nursing Education (CCNE) and from an academic institution recognized by the Council of Higher Education Accreditation (CHEA).


Undergraduate coursework. Applicants who do not have previous undergraduate coursework in statistics, health assessment, or research may be required to complete one or more prerequisite courses prior to acceptance in the graduate program.


Undergraduate cumulative grade point average (CGPA) of 2.5 (on a 4.0 scale).


Current resume and unencumbered RN license. Each applicant submits a current resume that indicates current nursing work experience in the field in the last 3 years.
MSN – Concentration in Nursing Education*

36 semester credit hours

| Course ID | Course Name | Credits |
| --- | --- | --- |
| NUR511 | Theoretical Foundations: A Multidisciplinary Approach | 3 |
| NUR520 | Advanced Pathophysiology | 3 |
| NUR541 | Policy, Politics and Advocacy in Healthcare | 3 |
| NUR561 | Nursing Research & Evidence-based Practice | 3 |
| NUR581 | Healthcare Technologies | 3 |
| NUR601 | Advanced Physical Assessment | 3 |
| NUR602 | Advanced Pharmacology | 3 |
| NUR650 | Curriculum Planning and Development | 2 |
| NUR652L | Nursing Education Practicum I | 1 |
| NUR660 | Teaching & Learning Strategies | 3 |
| NUR660L | Nursing Education Practicum II | 1 |
| NUR670 | Assessing & Evaluating Nursing Education | 2 |
| NUR670L | Nursing Education Practicum III | 1 |
| NUR695 | Nursing Synthesis | 2 |
| MTH551 | Healthcare Statistics | 3 |
MSN – Family Nurse Practitioner (FNP)

49 semester credit hours

| Course ID | Course Name | Credits |
| --- | --- | --- |
| NUR503 | Advanced Health Assessment for Providers | 3 |
| NUR511 | Theoretical Foundations: A Multidisciplinary Approach | 3 |
| NUR520 | Advanced Pathophysiology | 3 |
| NUR531 | Topics in Population Health | 3 |
| NUR541 | Policy, Politics and Advocacy in Healthcare | 3 |
| NUR561 | Nursing Research & Evidence-based Practice | 3 |
| NUR581 | Healthcare Technologies | 3 |
| NUR606 | Advanced Pharmacology For Prescribers | 3 |
| NUR610 | Advanced Procedures and Diagnostic Reasoning (Residency I) | 1 |
| NUR615 | Primary Care: Adults/Older Adults | 3 |
| NUR615L | Primary Care: Adult/Older Adult Practicum I | 1 |
| NUR616L | Primary Care: Adult/Older Adult Practicum II | 1 |
| NUR620L | Primary Care: Care of the Family Practicum | 1 |
| NUR625 | Primary Care: Children/Adolescents | 3 |
| NUR625L | Primary Care: Children/Adolescents Practicum I | 1 |
| NUR626L | Primary Care: Children/Adolescents Practicum II | 1 |
| NUR635 | Primary Care: Women & Families | 3 |
| NUR635L | Primary Care: Women & Families Practicum I | 1 |
| NUR636L | Primary Care: Women & Families Practicum II | 1 |
| NUR655 | Role Development and Clinical Leadership | 2 |
| NUR675L | Primary Care Synthesis Practicum | 1 |
| NUR696L | Nursing Synthesis - FNP (Residency II) | 2 |
| MTH551 | Healthcare Statistics | 3 |
Program Requirements (Orlando/Lake Mary FL)
MSN – Concentration in Nursing Education (Orlando/Lake Mary FL)

54 quarter credit hours | 4 quarters / 12 months

| Course ID | Course Name | Credits |
| --- | --- | --- |
| NUR512 | Theoretical Foundations: A Multidisciplinary Approach | 4.5 |
| NUR542 | Policy, Politics and Advocacy in Healthcare | 4.5 |
| NUR562 | Nursing Research & Evidence-based Practice | 4.5 |
| NUR582 | Healthcare Technologies | 4.5 |
| NUR604 | Advanced Physical Assessment | 4.5 |
| NUR605 | Advanced Pharmacology | 4.5 |
| NUR603 | Advanced Pathophysiology | 4.5 |
| NUR651 | Curriculum Planning and Development | 3 |
| NUR651L | Nursing Education Practicum I | 1.5 |
| NUR661 | Teaching & Learning Strategies | 4.5 |
| NUR661L | Nursing Education Practicum II | 1.5 |
| NUR671 | Assessing & Evaluating Nursing Education | 3 |
| NUR671L | Nursing Education Practicum III | 1.5 |
| NUR696 | Nursing Synthesis | 3 |
| MTH552 | Healthcare Statistics | 4.5 |
Upon successful completion of this program, the graduates are expected to be able to:
Integrate evidence-based nursing practice and related sciences for the continual improvement of nursing care to individuals, families, and communities. (AACN Essential #1)
Perform as a member, educator, and leader of nursing by developing and implementing patient safety measures and quality improvement initiatives as part of an interprofessional team using appropriate theories, communication skills, and effective group dynamics. (AACN Essential #2)
Apply systematic quality management models that meet patient safety goals and initiatives and improve nursing care and patient outcomes. (AACN Essential #3)
Act as a change agent by substantiating and applying research outcomes in practice and education settings to resolve nursing practice problems; and translate and disseminate resulting nursing knowledge. (AACN Essential #4)
Ethically utilize current technologies to communicate with the interdisciplinary team, improve and coordinate care across the continuum, strengthen the delivery and outcomes of nursing education, leadership, and advanced practice, and analyze healthcare data. (AACN Essential #5)
Advocate for policies that improve the health of the public and the profession of nursing by using the broad determinants of health (psychosocial, economic, and cultural factors), and the legal and ethical foundations of nursing. (AACN Essential #6)
Implement current standards of practice and healthcare policies to design, deliver, manage and evaluate culturally appropriate, evidence-based education and nursing care for select populations. (AACN Essential #8)
Analyze various roles of graduate-level nursing and synthesize personal philosophies of nursing within the changing education or healthcare environments. (AACN Essential #9)
Demonstrate role development by performing in the role of nurse educator, leader or advanced practitioner by integrating the concepts related to the area of practice demonstrating expertise, evidence-based practice, and the appropriate competencies. (All MSN Concentrations)