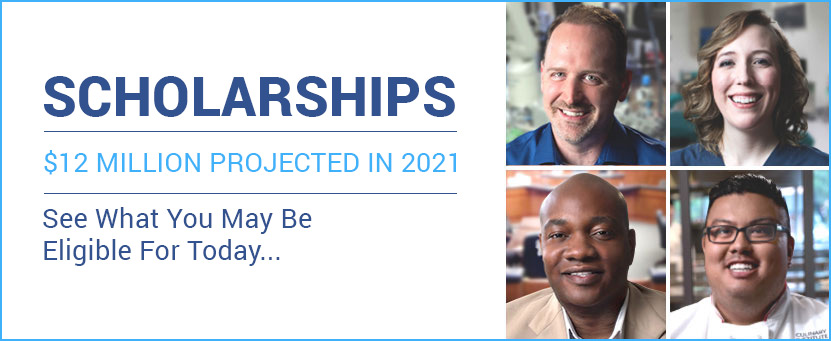 General Scholarship Policies
Scholarships will be applied to lower tuition debt in most cases.
Only degree-seeking students enrolled in a minimum of 9 credits per semester will receive a scholarship award unless otherwise noted in the criteria.
To qualify for scholarships, students must maintain continuous enrollment on a semester basis. Students may take only one semester off during their program.
Students eligible for multiple special tuition rates, pricing programs or scholarships receive the one most beneficial with the exception of unique circumstances, primarily on case-by-case basis.

ECPI University LIFT Scholarship

ECPI University has a strong record of graduating minorities into careers in Information Technology, Health Care, Business, Criminal Justice, and Hospitality. ECPI University is 3rd in the nation in the number of African Americans graduating with undergraduate computer science degrees – nearly 2.5% of all such degrees earned in the United States. ECPI University is also the largest provider of African American nurses in the Mid-Atlantic region. To learn more click: ECPI University LIFT Scholarship

ECPI University Scholarships

ECPI University awards in excess of $14 million in scholarships each year. These are funds to help you pay for your education that you do not have to pay back and reward you for your commitment to earn your degree.

Each scholarship has its own unique qualifying criteria. Below you can review the different types of scholarships you may qualify for. Our financial assistance advisors can assist you in identifying and applying for these scholarship opportunities.

Graduation Scholarship Fund

ECPI University students enrolled in any undergraduate Bachelor's, Associates, or diploma program are auto-enrolled for the Graduation Scholarship Fund. Scholarship amounts vary by degree program and level and may provide awards up to $1,000 to first be applied to reduce any student loan debt in the final semester of your program. Contact admissions or see your financial assistance advisor for details.

To be eligible you must:

Regularly attend full-time.
Attend at least 85% of all class time in your first semester.
Make 'Satisfactory Progress' (as defined in the university catalog).
Be responsible with student loan borrowing, and complete three financial literacy modules on ECPI University's financial literacy platform.
Have financial need as determined by completing the Free Application for Federal Student Aid (FAFSA), and ECPI University having received a valid Institutional Student Information Report (ISIR) from the U.S. Dept. of Education for the award year you will graduate.

Students transferring in 12 credits or more will result in a pro-ration of the graduation scholarship according to the number of semesters attended.

Active Duty Military Scholarship

ECPI University has been providing educational opportunities to service members and their families since 1966, with the belief that every active duty service member should have the opportunity to pursue the college of their choice. In honor of the men and women who serve in every branch of the United States Armed Forces, ECPI University offers the Active Duty Military Scholarship for eligible programs of study with gratitude. To learn more click: Active Duty Military Scholarship

Veterans

ECPI University is a Yellow Ribbon participant and approved to offer VA Benefits. Veterans can continue in their program year-round without waiting for annualized benefits to renew.

ECPI University Business Partnership Program

ECPI University has agreements with area businesses to provide their employees tuition assistance benefits. Contact the admissions office to see if your employer participates.

Career Advancement Bookstore Award

Employers value third party endorsement of skills that enhance the value of your degree. Your success means success for all of the graduates, faculty and staff at ECPI University!

For specific programs, ECPI University will award a gift card for $100 for each certification or license approved for this award that you earn while enrolled.
Many academic programs have certifications you will be encouraged to earn by the time you graduate.
ECPI University subsidizes the majority of the fees to take certification exams.
Account must be in good standing, or may be applied to outstanding charges..
Additional information regarding eligible programs is available here.

ECPI Armed Services Scholarship for Active Duty Service Members and Spouses

The Armed Services Scholarship was designed to help lessen the financial challenges associated with pursuing your undergraduate education. ECPI University's scholarship for armed service members is open to Active Duty, Reservists, National Guardsmen, and other service members, as well as their spouses, who may not be eligible for our Active Duty Scholarship. Qualifying service members or spouses pursuing their undergraduate degree receive a scholarship for $500.00 per semester/$1000.00 per academic year. Available through all of our Campus locations and Online (Active Duty Members and their Spouses, undergraduate programs only), ask your admissions advisor for more information.