Nursing Education (MSN) Online Degree Overview
Have you been told you are a great teacher, you know how to talk to students, or you are a terrific preceptor for nursing students? Are you looking for a career that advances the profession and makes a difference one nursing student at a time? If so, the MSN degree in Nursing Education is a perfect fit for you!
In the Nurse Educator concentration, you apply the theoretical foundations of education, policy and politics of healthcare, statistics, healthcare technology, curriculum planning/development, and teaching and learning strategies in the online or hybrid classroom and in practicum settings. You will use current technologies such as iPads, apps, Wikis, and blogs to learn and share your knowledge. Learn more about MSN - Nursing Education here.
Whether you are a bedside nurse looking toward career advancement or a nursing leader seeking advanced knowledge and skills, the Master's in Nursing Program at ECPI can help propel your career forward. Nursing is moving toward advanced education due to forces such as the Institute of Medicine Report on the Future of Nursing (2010)*, hospitals striving to be centers of excellence, and consumers asking for higher standards and better outcomes. Nurses no longer advance through the ranks and aspire to change the world of nursing without being educated to the knowledge, skills, and attitudes required to lead the change. Nursing, as any other business, has now become data driven where outcomes are measured and strategic plans for improvement are written, implemented, and evaluated. ECPI University's 100% Online Master's in Nursing Program will prepare you to lead the way.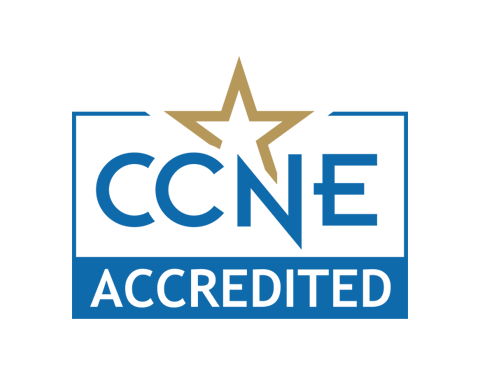 The master's degree program in nursing at ECPI University Virginia Beach, Virginia campus is accredited by the Commission on Collegiate Nursing Education ( http://www.ccneaccreditation.org ).
Nursing Education (MSN) Online Degree Curriculum
Course ID
Course Name
Credits

Credit Hour(s) total
36.00
Visit the ECPI University Catalog for the most current program information.
Nursing Education (MSN) Online Degree Program Description
The 100% Online Masters of Science in Nursing (MSN) Degree program builds on the skills and knowledge of a diverse population of registered nurses with a bachelor degree in nursing and preparing them to succeed in progressive roles in education settings.  The program assists future educators in the advancement of their professional practice through scientific inquiry and other scholarly activities.
Graduates of the Nursing Education concentration will be prepared to educate nursing students and practicing nurses in academic and clinical settings.
Nursing Education (MSN) Online Degree Possible Career Track
Graduates with a concentration in nursing education will be eligible for positions in a variety of health care and academic settings such as:
Patient Education
Clinical Nurse Educator
Director of Professional Practice
Director of Staff Development
Nursing Faculty at the practical, associate or bachelor degree levels
Nursing Education (MSN) Online Degree Outcomes
Upon successful completion of this program, the graduate are expected to:
Integrate evidence-based nursing practice and related sciences for the continual improvement of nursing care to individuals, families, and communities. 
Perform as a member, educator, and leader of nursing by developing and implementing patient safety measures and quality improvement initiatives as part of an inter-professional team using appropriate theories, communication skills, and effective group dynamics.
Apply systematic quality management models that meet patient safety goals and initiatives and improve nursing care and patient outcomes
Act as a change agent by substantiating and applying research outcomes in practice and education settings to resolve nursing practice problems; and translate and disseminate resulting nursing knowledge
Ethically utilize current technologies to communicate with the interdisciplinary team, improve and coordinate care across the continuum, strengthen the delivery and outcomes of nursing education, leadership and advanced practice, and analyze healthcare data.
Advocate for policies that improve the health of the public and the profession of nursing by using the broad determinants of health (psychosocial, economic, and cultural factors), and the legal and ethical foundations of nursing.
Implement current standards of practice and healthcare policies to design, deliver, manage and evaluate culturally appropriate, evidence-based education and nursing care for select populations.
Analyze various roles of graduate-level nursing and synthesize personal philosophies of nursing within the changing education or healthcare environments.
Demonstrate role development by performing in the role of nurse educator, leader or advanced practitioner by integrating the concepts related to the area of practice demonstrating expertise, evidence-based practice, and the appropriate competencies.