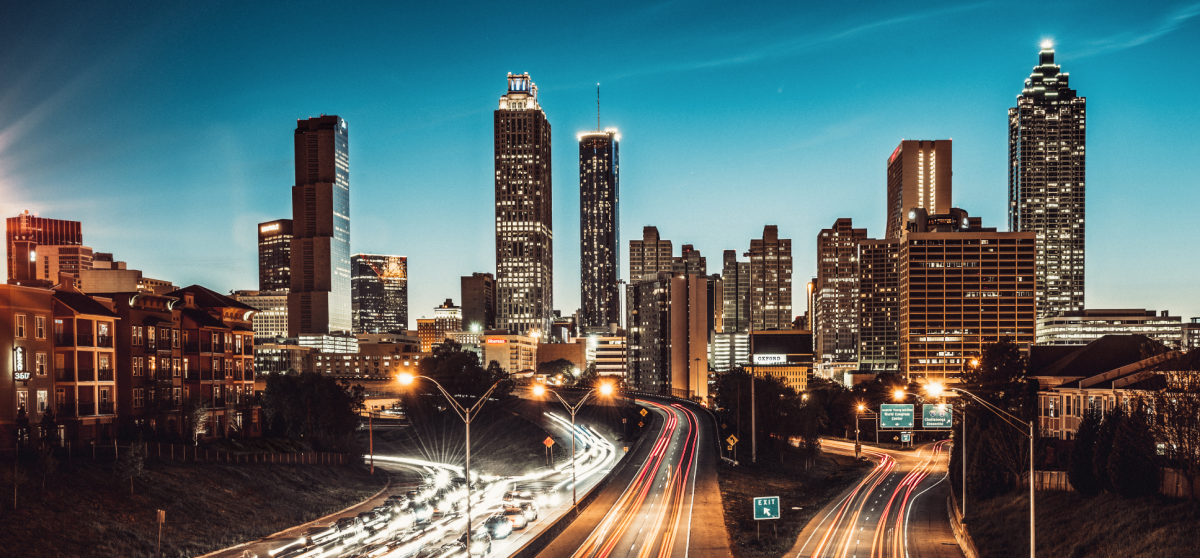 With Cyber Security Jobs Booming in Atlanta, Georgia – An Online Cyber Security Degree Might be Just What You Need to Change or Advance Your Career in this Exciting Field!
Employment in Atlanta
Obviously, New York and Washington rank among the top cities where cyber security analysts are employed, but what you may not know is that Atlanta is right up there with them. In fact, if you're looking for a career in this profession, Georgia's capital is pretty hard to beat. Consider this: As of November 2017, employment website Indeed lists 623 cyber security job openings in the Atlanta area alone. And according to the Metro Atlanta Chamber of Commerce, the city of Atlanta is an entrepreneurial hub comprised of more than 1,000 tech startups, and has approximately 14,000 technology employers with more than 189,000 workers. It's also ranked #3 on the Fortune 500 list of cities with the most corporate headquarters. Top Employers Include:
The Home Depot
UPS
Coca-Cola
Delta Airlines
First Data Corporation
SunTrust Bank
NCR Corporation
Equifax
Emory University
AT&T
Marriott International
Cox Enterprises
State Farm
Bank of America
Turner Broadcasting System
Lockheed Martin
Verizon Communications
Wells Fargo
Kaiser Permanente
Georgia-Pacific
The Georgia Department of Economic Development reports:
17,000 technology companies
5th largest IT employment cluster in the U.S.
Top state for health IT revenue
What's more, 70 percent of all U.S. financial transactions pass through Georgia. That statistic alone demonstrates the great need for Cyber and Network Security professionals. So, if you've ever thought about a career in this high-demand profession, now is the time, and ECPI University is the school that can help you get there – with a schedule that fits your busy life and a program that can allow you to earn your bachelor's degree in as little as 2.5 years!
Earn Your Degree Online at ECPI University and Pursue a Job in one of the Nation's Top Cyber Security Job Markets – Atlanta, GA!
With today's advanced simulation technology, ECPI University can deliver the same high-quality, hands-on learning environment online that it does for its students on campus. Our classes are led by seasoned faculty members who know have years of professional experience inside and outside the classroom. Curriculum is designed to provide practical learning experiences that translate into a real-world environment.
Specifically, our Cyber and Network Security degree program can prepare you to:
Use cyber security measures to protect data and manage personnel conduct in relation to safeguarding data.
Administer, manage, and troubleshoot hardware, software, or services for single, mixed and multi-user environments
Create basic security policy and procedures
Conduct vulnerability analysis/penetration testing of organizations
Monitor and defend networks
And through ECPI University's year-round, accelerated program, you can earn your Bachelor of Science Degree in Computer and Information Science with a Cyber and Network Security major in just 2.5 years.
What Our Graduates Have to Say
"I considered all of my options when selecting a school, but ECPI University has a proven track record of producing nothing but the best in IT professionals."
Antonio Sojourner
2012 Network Security Graduate
"They had the best program for me. It was fast-paced, hands-on, and it offered a degree in an area for which I have a passion."
Michelle Cazares
2012 Network Security Graduate
"ECPI University's career service department really guided me through the process and helped me take a strategic approach to my job search."
Tenell Berry
2013 Network Security Graduate
"I had friends who attended more traditional schools and they were pretty much stuck with their text books. I, on the other hand, got to touch the routers and switches, not just read about them."
Matt Hammond
2013 Network Security Graduate
"I cannot believe how much I am still learning, and I know I could not be doing this without ECPI University. It was there where I 'learned how to learn' which is really important because I have some big goals."
Dominic Eldridge
2015 Network Security Graduate
"I cannot believe how much I am still learning, and I know I could not be doing this without ECPI University. It was there where I 'learned how to learn' which is really important because I have some big goals."
Carl Drakeford
2011 Network Security Graduate
"I've been able to do well because I developed very specific skills in the classroom that have translated directly into the things I now do in the field… That kind of education pays off for me on a daily basis."
Dominic Frontera
2016 Cyber and Network Security Graduate