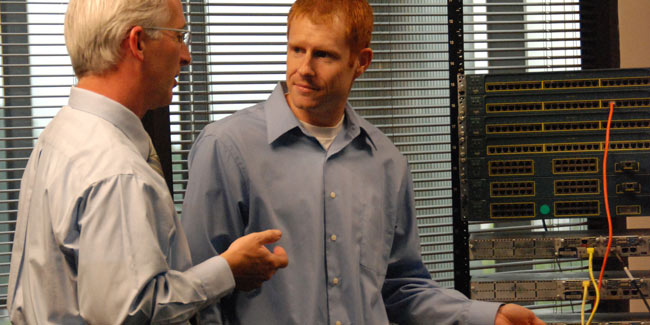 College, Community & Careers
Most Virginia school children in Newport News have heard of Captain Christopher Newport1, for whom the city is named. Perhaps a few adults know of him, too, and his arrival on the Virginia Company's three-masted bark Susan Constant in 1607. What most people forget are Newport's repeated crossings of a furious and unpredictable Atlantic Ocean, to take information back to England and bring supplies (and more colonists) back to Virginia. At the time, Newport used the fastest information technology (IT) available—the sailing ship—to get word and goods back to England. More than 400 years later, the city that bears his name is still a leader in information technology. As squarely as the replica Susan Constant's2 mainmast sails fly today, ECPI University is squarely in the midst of IT education.
IT Management Courses in Newport News
Attending classes year-round at ECPI University's Newport News campus on Omni Boulevard, a student can graduate in as few as 2.5 years with a IT management bachelor's degree. During that time, you will meet energetic and dynamic fellow students and faculty who understand both your passion for learning and your need for balance in life. Wherever you go in Newport News, you are never far from the sea. With that comes an appreciation for leisure, a drive for excitement, and a quest for what is just beyond the horizon.
ECPI University's campus is nestled in the City Center of Newport News, close to entertainment and the arts. The campus itself is a self-contained office building that can barely contain the energy of the students inside. When you attend IT management classes at ECPI University, we want you to feel like part of the family. Our practical philosophy and flexible course scheduling attracts students from miles around the Peninsula—from Hampton to Williamsburg and all of the cities in between: Poquoson, Yorktown, Gloucester, Yorktown, and beyond.
Our Community, Our Pride
That family feeling extends to the good works ECPI University faculty and students do for the Newport News community. You can join campus clubs:
Business Club
Certification Club
Gaming Club
You can help with various local worthy causes:
The American Cancer Society
American Red Cross
Food Bank of the Virginia Peninsula
Girls Get IT
Become part of the Newport News neighborhood.
Earn Your Credentials with Relevant Certifications
As an IT management student, you clearly have career plans to do more than join clubs and help charities. ECPI University understands your drive to get your education, get your credentials, and find ready employers. Local administration of vital IT entry-level exams is available right at the ECPI University campus:
Certified Associate in Project Management (CAPM)3
CompTIA Project+4
Project Management Professional (PMP)5
IT Externships
ECPI University works with local employers to provide opportunities for students to experience the real world of business and IT in the field. In Newport News, we work with employers like:
Ball Corporation
Electronic Systems
Insignia Technology Services
Zel Technologies
These Newport News and area companies take on ECPI University students and in turn provide valuable feedback to the IT program, to make it better and more appropriate for today's emerging trends.
Local Careers in IT Management
Many companies, not just IT companies, have need of IT professionals to manage their IT departments. Local Newport News, Hampton, Norfolk, and area businesses that are active in IT hiring include:
Acro Service Corporation
Aerotek
Apex Systems
KMM Technologies, Inc.
TEKSystems
When you work as a technology professional with an IT management background, you can be instrumental in many area sectors beyond the obvious computer and information service industries:
Banking
Food services
Financial corporations
Transportation, including area shipyards
IT Management's Future
In your grandparents' time, IT may have meant IBM punch cards or even typewriters. The path to the future is littered with brilliant castoffs. No one can accurately predict the future, but the field for IT managers is becoming both more reactive and more complex.9
Where once mainframe computers worked, IT devices are mobile, wearable, and ephemeral, existing on wrists and in clouds. Today's IT manager has to communicate to computer-savvy and inexperienced users. Creative and finance departments alike share in decision-making that affects IT departments.
Tomorrow's IT managers must be proficient in many skills:
Accounting
Computers
Ethics
Marketing
Microeconomics
Strategic planning
The entry-level IT manager recently graduated with a Bachelor's Degree in Business Administration may rapidly rise in importance and responsibility in a local Newport News organization and work closely with C-suite executives, like CIOs and CFOs. ECPI University's innovative program for IT management includes valuable experiences with practical learning across all the skill areas.
ECPI University's IT Management Bachelor's Program
Because of its strong links with the Newport News business community, ECPI University's IT management program has the pulse of the IT industry. The 37-semester-hour core curriculum provides a solid grounding in all areas of IT management. The additional 28 semester hours for the IT management concentration will prepare you for change, new technologies, software and more. With 16 semester hours of electives available, you can explore your own particular passion. Some typical electives include:
Code Design and Debugging
Intermediate Routing and Switching
Object-Oriented Programming with C++
UNIX Administration
Web Client Scripting
Begin Your Education in IT Management
Remember Captain Christopher Newport? On two of his trips back to England, he took with him what he hoped was gold ore, to impress the Virginia Company's investors and make himself wealthy. Both times, he had shipped back pyrite—fool's gold—to his embarrassment and near financial ruin.10 Today, when you look at the combination of Newport News, local business, the IT industry, and ECPI University, you will realize the real path to riches may lie before you in ECPI University's Bachelor of Science Degree in Business Administration with a concentration in IT Management. Contact ECPI University today to learn how you can find a place in our community of learners.
---
1http://www.encyclopediavirginia.org/Newport_Christopher_1561-after_August_15_1617#start_entry
2http://www.historyisfun.org/jamestown-settlement/jamestown-ships/
3https://www.pmi.org/certification/certified-associate-project-management-capm.aspx
4https://certification.comptia.org/certifications/project
5http://www.pmi.org/Certification/Project-Management-Professional-PMP.aspx
9http://www.cioinsight.com/it-management/innovation/the-future-of-it
10http://www.encyclopediavirginia.org/Newport_Christopher_1561-after_August_15_1617#start_entry