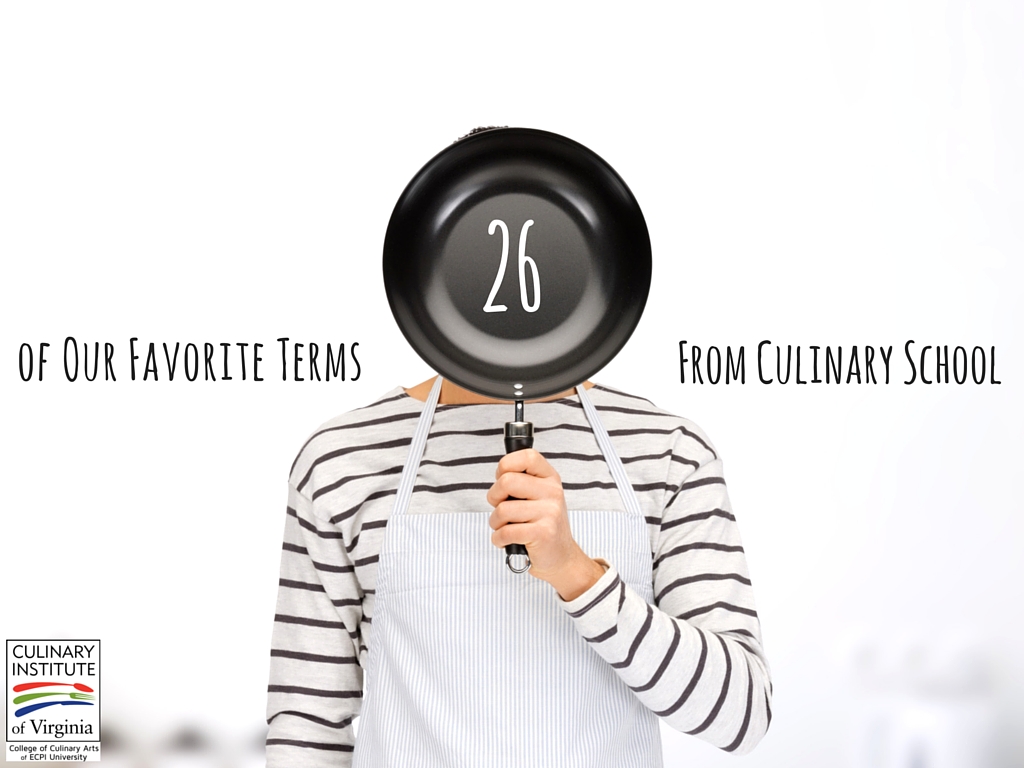 The Bureau of Labor Statistics (BLS) tells us our country has some 30,000 postsecondary French and other foreign language teachers. Very few of them are employed in culinary arts schools (frankly, we doubt if any are) though culinary arts schools are thick with French expressions. Interesting culinary arts terms have a long and glorious history. 
So Many Culinary Terms . . . En Francais
Words in French permeate any good culinary school's curriculum. This is because the French have mastered many techniques of moist cooking and sauces. Those French names stay with us because they are accurate, succinct and useful in a busy professional kitchen. 
The first important skill for any culinary arts student to master is mise en place, which simply means "putting in place." What are you putting in place? An organized kitchen is vital for commercial success and culinary excellence. You are arranging everything—food, cutlery, scales, pans and pots—before beginning the work of preparing a dish or an entire evening's dishes. For the glory of the final feast, a lot of vegetables need to be peeled and sliced, seafood washed, meats butchered and spices apportioned. All of that is mise en place. 
The French Technique: Terms for a Tight Chop
Knife work in a kitchen generally derives from French technique, intended to yield uniform vegetable and fruit pieces that cook predictably and fit comfortably in diners' mouths: 
Batonnet—This cut is shaped like a stout matchstick (a small baton), though some may say it resembles a French Fry, about 1/4 x 1/4 x two inches long
Brunoise—Very small (though not the smallest!) cubes, around 1/8 x 1/8 x 1/8
Fine Brunoise—The smallest cubes, around 1/16 x 1/16 x 1/16
Fine Julienne—Matchstick-shaped pieces about 1/16 x 1/16 x two inches long
Julienne—Shaped like a matchstick, between batonnet and fine julienne: around 1/8 x 1/8 x two inches long (pictured, right)
Large Dice—Cubes 3/4 x 3/4 x 3/4
Medium Dice—Cubes 1/2 x 1/2 x 1/2
Paysanne—A square or round cut giving pieced a half-by-half by 1/8th inch thick. 
Small Dice—Cubes 1/4 x 1/4 x 1/4
Tourné —A two-inch long, one-inch thick cut in just about any vegetable. A perfect tourné resembles a little seven-sided football. The word simply means "turned," as in a chef's sure hands have turned that chunk of potato or carrot around and around so it appears to have been precisely cut by machine
Medal-Winning Metal: Pots & Pans
French pots and pans give their names to some kitchen treasures: 
Bain-marie—A large roasting pan whose name literally means "Bath of Mary," a bain-marie allows smaller pots with ingredients to cook in hot water gently, as with custards and terrines
Chauffoir—Not to be confused with a chauffeur, whom you could hire to drive you to your own restaurant once you become a celebrity chef after attending culinary arts school, a chauffoir is a warming pan or stove
Dariole—A dariole is a little cylindrical mold you use to make baked desserts, though clever chefs sometimes shape rice on the plate with a dariole (pictured, right)
Moulè-â-manqué—A cake pan wider at its base than the top, only about an inch high; usually, in the U.S., a spring-form pan
Sautoir—A lidded, deep frying pan for fast frying
Le Dessert: Sweet Speak
French sauces, meats fish and poultry are legendary. They could each take a post of their own to explore, which we may do at a later date. For now, our sweet tooth calls to us: 
Mousse au chocolat—Chocolate mousse, a velvety light, rich and airy pudding
Bavarois—A creamy pudding—the French do love their real cream and eggs—that is set using gelatin
Compote—Fruit stewed in a sugar-based syrup (pictured, right)
Crème brûlée—Only the French could make "burnt cream" sound so good; it is a custard with burned sugar topping 
Crème caramel—A flan that melts across your taste buds and fills you with happiness, not to be confused with the previous dessert
Brigade de Cuisine: Culinary Uniforms
The guys and gals in the kitchen all have important, and French, designations, as do their uniforms: 
Chef de cuisine—The chief of the kitchen (chef does not mean cook, it means "head" or "chief") who creates the menus, shops in the market, trains others, and works closely with restaurant management
Commis—A junior cook, responsible for a single station in a busy kitchen
Pâtissier—The pastry cook, and always very popular in any kitchen
Saucier—You guessed it . . . the maker of sauces
Sous-chef de cuisine—The "under-chief" who carries out the chef's orders and manages the kitchen and staff
Of course we realize German, Italian and Spanish cooking traditions, to name just a few, also bring us wonderful dishes and culinary arts terms. We may yet explore those in future posts, so keep an eye out!
So Much More Awaits at Culinary School!
For now, to gain an excellent education in all the important terms used in culinary arts, not just the fancy French vocabulary you have enjoyed reading here, contact ECPI University to learn more about the Culinary Institute of Virginia. Through our culinary school, you could pursue an Associate of Applied Science Degree in Culinary Arts and graduate in as little as 15 months. It could be the Best Decision You Ever Make!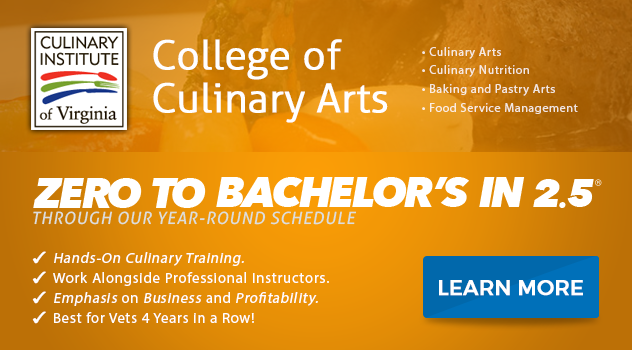 DISCLAIMER – ECPI University makes no claim, warranty or guarantee as to actual employability or earning potential to current, past or future students or graduates of any educational program we offer. The ECPI University website is published for informational purposes only. Every effort is made to ensure the accuracy of information contained on the ECPI.edu domain; however, no warranty of accuracy is made. No contractual rights, either expressed or implied, are created by its content.
Gainful Employment Information
For more information about ECPI University or any of our programs click here: http://www.ecpi.edu/ or http://ow.ly/Ca1ya.