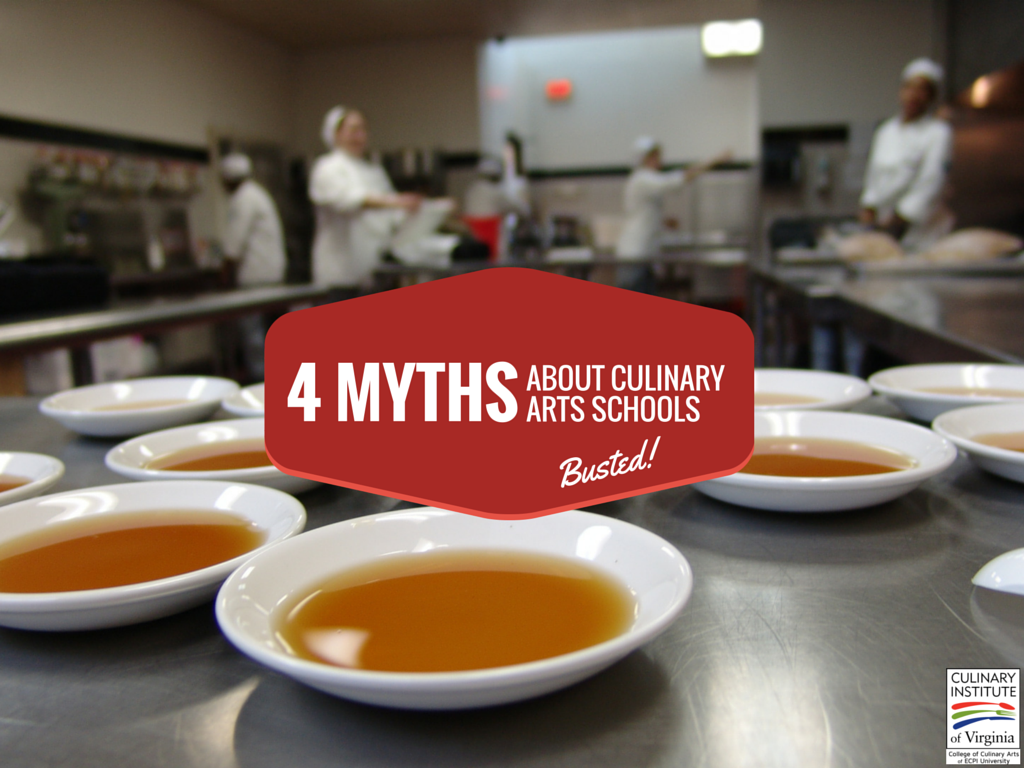 Thinking of going to culinary school?  You might be wondering about the pros and cons of a degree in culinary arts. Future culinarians are bombarded by myths. While it's true that not all culinary school graduates go on to be celebrity chefs, there are a lot of options for students who choose to study the culinary arts. Here are four of those myths, busted!
Myth #1- Only Future Chefs go to Culinary School
Let's bust this myth right away. Don't blow off a culinary education just because you think your career path will be limited. Culinary school graduates can go on to start successful careers running an offsite catering business, a bakery, or even a food truck. Attending a culinary school can also prepare you to be a food writer, recipe tester or food stylist.
If a career as a chef is what you're after, there are options outside of the tradition. Chefs not only work in restaurant kitchens but also in hotels and resorts, hospitals, retirement communities, schools, universities, and even on cruise liners!
Myth #2- All Culinary Programs are Alike
All culinary programs are not alike! Curriculum and course offerings vary greatly among culinary schools. Not only do different schools have different focuses, but their time frames can be completely different.
Choosing a school that offers a fast track can allow you to complete classwork day, night or year round, with some students finishing culinary school in as little as 15 months.
While some schools focus solely on culinary skills and techniques, others incorporate advanced culinary arts like menu development and presentation. A high-quality program will incorporate culinary operations management, kitchen sanitation and safety, purchasing and storeroom management, and supervision. This myth is now busted!
Myth #3- I Could Never Afford Culinary School
Just like any other educational track, multiple financing options are available for future culinary students. Some programs offer a better value than others, but with a little bit of research and guidance, you can afford a culinary education.
Grants, scholarships, and loans for future culinarians are available for those who qualify. Some culinary schools also offer institutional financing plans.
Myth #4- I Won't Learn Anything in Culinary School
This is definitely a culinary school myth that needs to be busted! While some culinarians go straight to work in a kitchen, choosing the culinary school path can teach you some valuable skills that can prepare you for a future career in the culinary arts.
An education in the culinary arts can also include effective time management, technology utilization, and research skills, essential for running a successful kitchen. You can also learn how to work as a team, develop kitchen etiquette, keep on top of kitchen trends, and develop supervisory skills which could give you an edge in the workplace.
While there are some benefits to learning in a working kitchen, culinary school can allow you to learn and practice skills in a low-stress, comfortable environment. As a culinary school graduate, you can develop practical food safety, technical, communication, and collaboration skills that can make you desirable to future employers.  
Another important factor in choosing to attend culinary school is the networking opportunities. A culinary school can help you to create your resume and portfolio, brand yourself, apply for positions, and set up externships.
Come to Culinary School!
Whether you are new to the culinary industry, or have some experience under your belt, culinary school is a great option. You can gain a wider depth of experience and prepare yourself for a career in the culinary arts. ECPI University's College of Culinary Arts, Culinary Institute of Virginia, offers an accelerated, hands-on program.  Through its year-round program, you can earn an Associate of Applied Science Degree in Culinary Arts in just 15 months! It could be the Best Decision You Ever Make!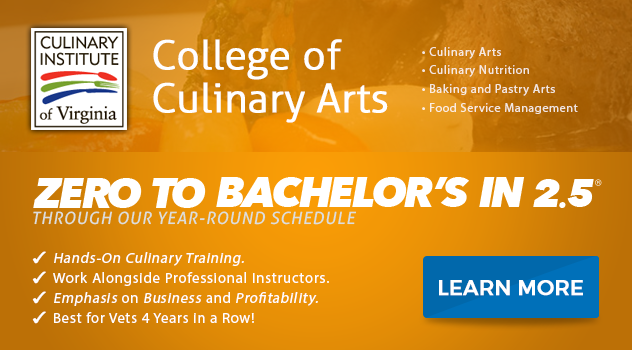 DISCLAIMER – ECPI University makes no claim, warranty or guarantee as to actual employability or earning potential to current, past or future students or graduates of any educational program we offer. The ECPI University website is published for informational purposes only. Every effort is made to ensure the accuracy of information contained on the ECPI.edu domain; however, no warranty of accuracy is made. No contractual rights, either expressed or implied, are created by its content.
Gainful Employment Information
For more information about ECPI University or any of our programs click here: http://www.ecpi.edu/ or http://ow.ly/Ca1ya.