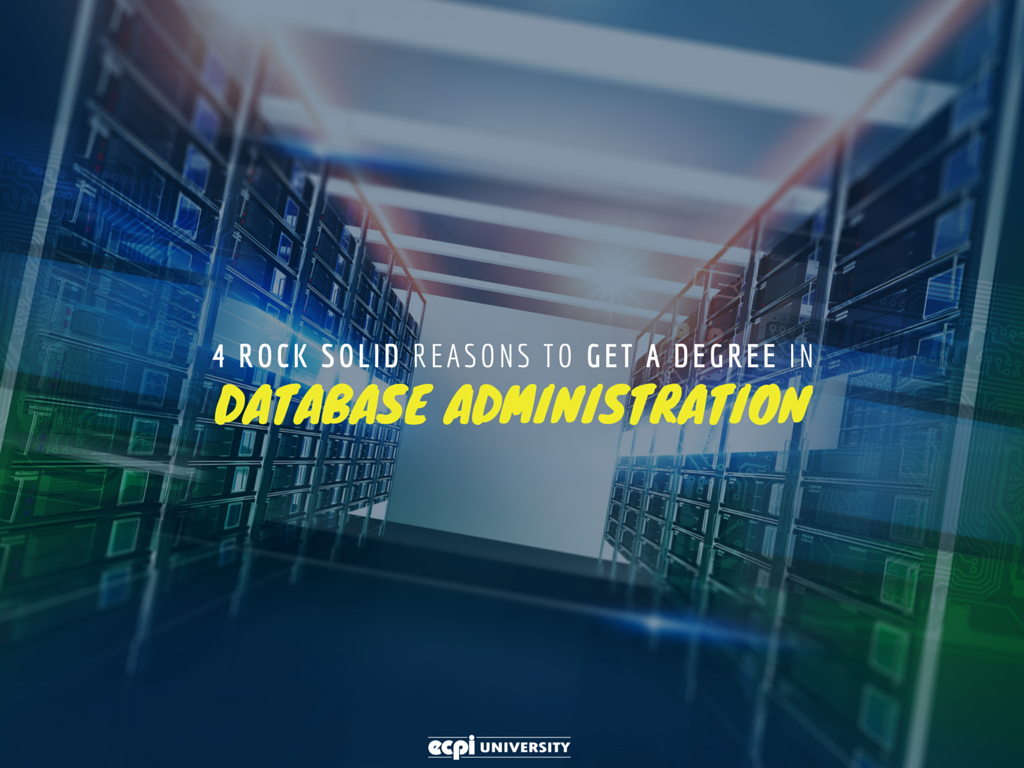 Database administrators (DBAs) use special software to organize data. As a DBA, you may be cataloging your company's financial information, healthcare/patient records, customer shipping records, or any performance-based information a particular department of your company needs to work more efficiently. Database administrators will often seek certification for their company's specific platform, such as Oracle, Microsoft, or SQL (Structured Query Language).
"With information so readily available in this era of apps, tablets and social media, data has become the new treasure organizations must protect and cherish. More than anyone else, database administrators are relied on as the guardians of this treasure, implementing security measures to ensure sensitive data doesn't fall into the hands of unruly pirates while also managing the databases that help store and organize it," says U.S. News & World Report.
It's true. A database administrator is critical to the security of his or her company's information while ensuring the integrity of that data is accurate at all times. Tech Republic says there are three tasks the database administrator needs to perform daily, in order of importance: 1) Protect the data. 2) Protect the data. 3) Protect the data.
The data that you supervise and analyze needs to be available to approved users and completely unavailable to unauthorized users; protecting that data is the most important part of your job. It's safe to say that a successful DBA is a person with strong organization skills as well as technical knowledge. As a database administrator, you will need to communicate effectively in person with your co-workers and managers and also in writing. Your opinion matters to your company, so being able to make recommendations and explain technical solutions to problems in emails and written reports is critical.
There are plenty of reasons to become a database administrator. Here are four:
1. The salary for database administrators is competitive.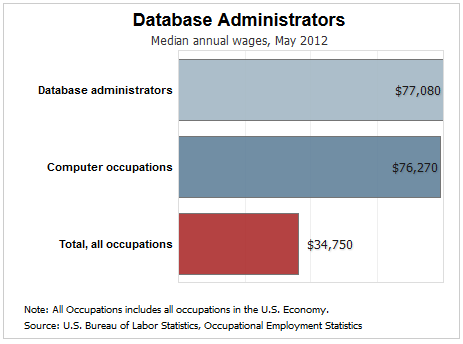 When Glass Door declared the 2015 Best Jobs in America, database administrator was #7 out of 25. According to the Bureau of Labor Statistics, a database administrator earns a median annual salary of $77,080.
In 2012, the bottom 10 percent of DBAs earned about $42,930 and the top 10 percent earned approximately $118,720.
2. The database administration field is growing.
The growth rate for DBA jobs is predicted to be about 15% by 2022, faster than the average for other jobs. Every city has its own statistics, but in Philadelphia, "The Best Jobs" for 2015 included database administrator at #3 and software engineer as #2 in the list of the five most in-demand jobs for that city.
3. You are not only able to juggle several tasks, you actually like it.
It's not unusual for a project's timeline to change; suddenly, you're managing the back end of one project and the beginning of another project at the same time. That kind of thing drives many people to the edge of hysteria, but it's your idea of a good time (Don't worry – we won't tell.)
4. You have the necessary character traits.
SQL Server authority Mike Walsh says if you have the important character traits to become a DBA, you'll be sought-after in a tight market. Those traits include:
Troubleshooting abilities – You are a problem-solver, in life and at work.
The desire to learn – Learning doesn't end with your degree. If you're the kind of person always looking to improve, that's important because there's always a "new and improved" way of doing things in a DBA's world.
Paranoia – Not crazy-paranoia, but paranoid enough to recognize that you are managing critically important data. If you are slightly suspicious and a person who verifies information without blindly trusting it, you're database administrator material.
In addition to database administration, career opportunities include a wide range of software solutions and may change according to a company's requirements. You may join a company as a software technician, database developer/programmer, or an applications software developer, for example, and then find yourself involved in website design or maintenance.
#DatabaseProgramming Student, Burn Victim Gets #Bionic Arm http://t.co/Qm1YtodL4T #ECPIU More http://t.co/V2DCcmuN0t pic.twitter.com/mFkG8Dsr0R

— ECPI University (@ECPIUniversity) May 15, 2015
Here's one more reason to pursue a Bachelor of Science Degree in Computer and Information Science with a concentration in Database Programming: ECPI University offers flexible, year-round classes, online and onsite. You could earn your degree in just 2.5 years through our accelerated curriculum! What are you waiting for? Contact us TODAY for more information—it could be the Best Decision You Ever Make!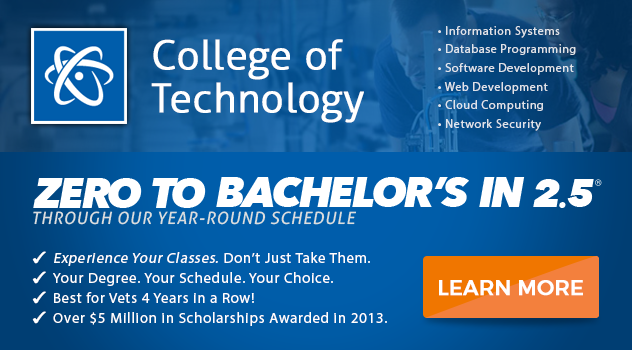 DISCLAIMER – ECPI University makes no claim, warranty or guarantee as to actual employability or earning potential to current, past or future students or graduates of any educational program we offer. The ECPI University website is published for informational purposes only. Every effort is made to ensure the accuracy of information contained on the ECPI.edu domain; however, no warranty of accuracy is made. No contractual rights, either expressed or implied, are created by its content.
Gainful Employment Information
For more information about ECPI University or any of our programs click here: http://www.ecpi.edu/ or http://ow.ly/Ca1ya.