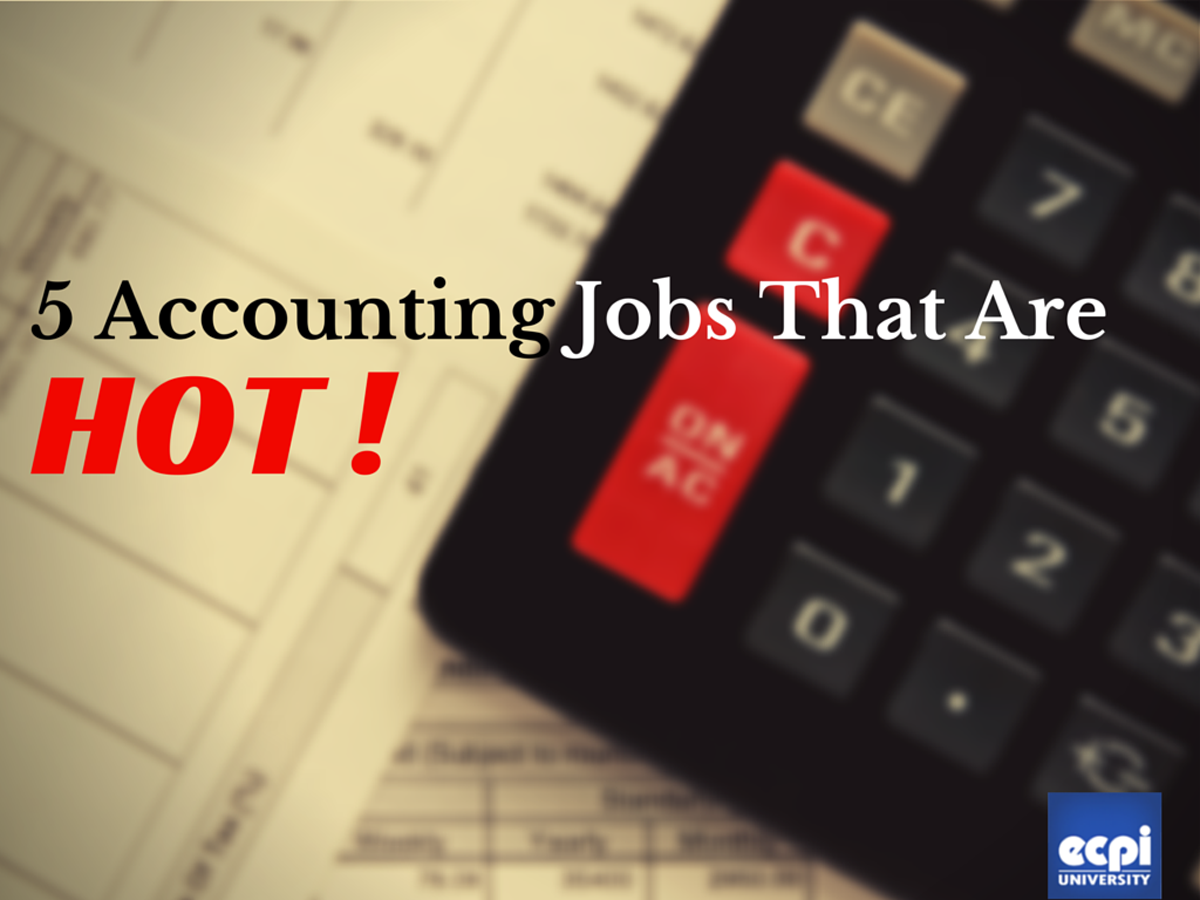 Accounting careers continue to trend toward increasing availability, earning potential, and variety in opportunities. While many people assume excellent mathematical skills are a must, what really counts is good attention to detail and an interest in watching for patterns.
Accountants at all levels manage and report on the financial and tax obligations of businesses, non-profit organizations, and government entities. They make sure bills get paid, income is accounted for, and all business practices concerning money are taken care of according to professional standards of practice and the law.
The Bureau of Labor Statistics (BLS) indicates that as the overall economy in the United States improves, the job outlook in the field of accounting will also improve. As businesses and organizations grow, so does their need for people to watch the books. The BLS also says that accounting jobs will increase in number between 2012 to 2022 and that the median salary for accountants is $63,550. They also report the top 10% of accountants earn as much as $110,510 and the bottom 10% of accountants earn as much as $39,930.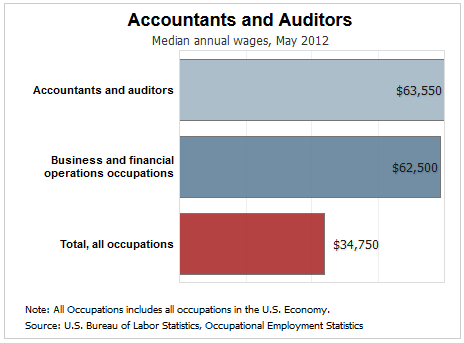 In particular, what accounting jobs are really hot?
Internal Auditor
These accountants improve the controls a company or organization has on its money. They work to comply with government mandates, especially in the areas of taxes and fraud. They assure to-the-penny accuracy in all recording procedures. The position requires that the individual be a Certified Public Accountant (CPA) and have a baccalaureate degree and 2 years of hands on experience.
Staff Accountant
Most commonly called "bookkeepers" in days gone by, staff accountants are the backbone of the accounting industry. They may or may not be CPAs or hold advanced college degrees, but most do, and they command a higher salary when they possess those qualifications.
Staff accountants, on a large or small scale, depending on the size of the employing entity, take care of day-to-day journal entries, reconciling monies paid out and monies received and adherence to state and federal regulations.
External Auditor
This Certified Public Accountant is independent from the company or organization she or he is evaluating. External auditors basically look at financial health, taking samples of statements and ledgers as snapshots of how well the financial system is working overall and of how honest it is. External Auditors hold at least a baccalaureate degree and need three to seven years of staff accounting experience.
Compliance Executive
These highly-skilled and experienced accountants are employed by very large businesses. They protect shareholders from accounting mistakes and fraud by assuring that the companies are current and compliant with government regulations. A baccalaureate degree and CPA credential is the norm, and because the job deals with confidential information, ethical standards are high.
Financial Analyst
These individuals usually have a baccalaureate degree and can earn a median salary of $76,950 (according to the BLS). They require knowledge of market trends and competition among businesses so as to advise organizations and individuals on how they should invest their money. This position is growing nationally at the rate of 16 percent annually.
All accounting positions provide good salaries, opportunities for professional growth, and long-term stability. Most importantly, there should continue to be opportunities for those delving into or changing careers.
If you are interested in learning more about this exciting career field and what you need to do to become a part of it, click here to learn more about ECPI University's Accounting program or contact us to speak with an admission professional and arrange for a campus tour.


DISCLAIMER – ECPI University makes no claim, warranty or guarantee as to actual employability or earning potential to current, past or future students or graduates of any educational program we offer. The ECPI University website is published for informational purposes only. Every effort is made to ensure the accuracy of information contained on the ECPI.edu domain; however, no warranty of accuracy is made. No contractual rights, either expressed or implied, are created by its content.
Gainful Employment Information
For more information about ECPI University or any of our programs click here: http://www.ecpi.edu/ or http://ow.ly/Ca1ya.