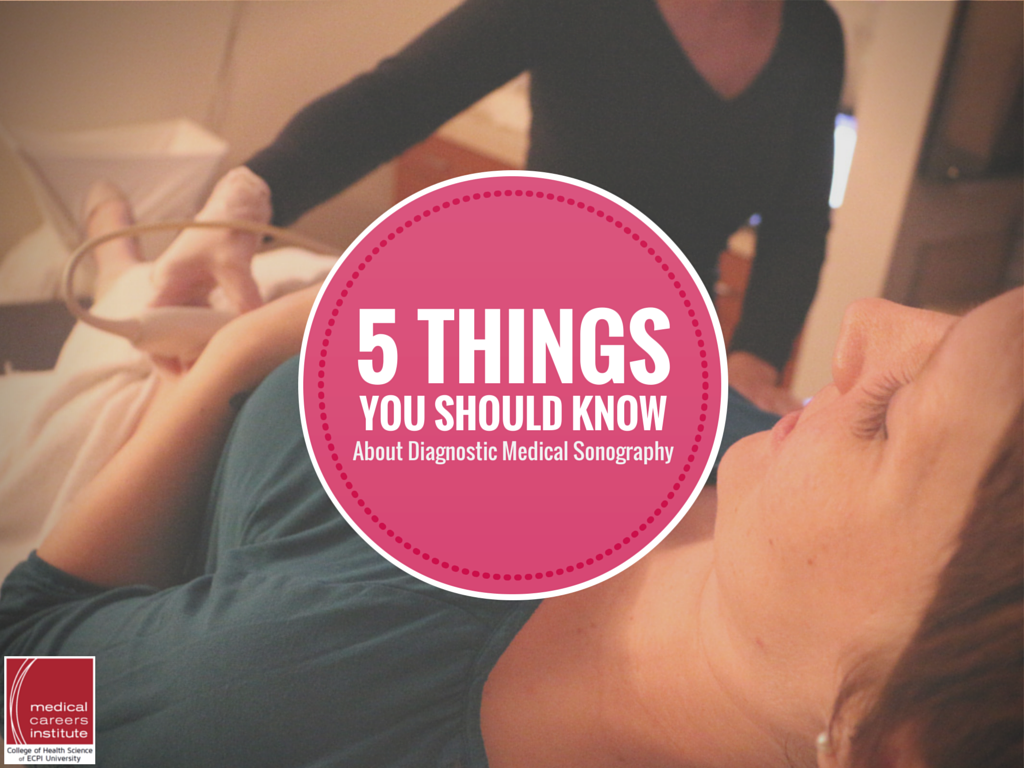 Diagnostic medical sonography is a great career choice if you want to get into the medical field but don't want to become a full-fledged doctor. You get to have a lot of patient interaction and experience some important moments in patients' lives without having to make critical medical decisions. Unfortunately, the images you are presented with about medical sonographers isn't a very complete one and most people don't even have a clear picture of what a medical sonographer does.
Here are five things you should know about diagnostic medical sonography, to give you a better idea if it might be a career for you:
Medical Sonography Isn't Just for Pregnancy
Most people associate the profession of a diagnostic medical sonographer or an ultrasound technician with pregnancy but this career path has several different opportunities to choose from. Some of the possibilities for degree application include imaging and diagnosis for treatment of conditions in:
The abdomen
Breast
Heart
Blood Vessels
Musculoskeletal
This diagnostic technology can also work with MRI, CAT scan, X-ray and other forms of diagnostic nuclear medicine to accurately detect a wide range of internal health issues. Sonography can also be very helpful, especially when used with other imaging, to perform surgical procedures more precisely and show the surgeons the internal landscape before cutting.

Diagnostic Medical Sonography Pays Well
The average annual pay for someone with a degree in diagnostic medical sonography is $60,350 according to the Bureau of Labor Statistics. The salary will vary by specialty, clinic, and location but a majority of jobs will fall within $10,000 one way or the other making it a lucrative career choice.

Projected Job Growth of Diagnostic Medical Sonography
Along with great pay, this career has a great future outlook. With the increasing reliance on imaging equipment for medical diagnosis and monitoring, more people are needed to fill those roles. The average job growth is 11% from 2012 to 2020 according to the Bureau of Labor Statistics. The diagnostic medical sonography field is predicted to have a job growth rate of 39%, which is well above average. This statistic means opportunities after graduation.
What are the Minimum Requirements to Become a Diagnostic Medical Sonographer?
Because sonographers work in a hospital setting, it is easy to jump to the conclusion that they spend years in school similar to doctors. In fact, that isn't the case at all. Most programs only require you to have the equivalent of an associate's degree. There are programs dedicated to a career in diagnostic medical sonography that emphasize science, anatomy and medical terminology. Most of these specialized programs will also include a clinical rotation with a certified medical sonographer for real-world, hands-on experience and observation. After completing this degree most institutions would require you to have a certification before hiring you.
The American Registry for Diagnostic Medical Sonography offers great information about the various certification exams, as well as other relevant information for current or prospective medical sonographers. Certification is typically required based on specialization. For example, abdominal sonography requires a certification, breast sonography requires a certification and so on.
Medical Sonography is Physically Demanding
Most of the time you'll see on movies or TV shows videos of sonographers sitting and imaging a pregnant woman. However, this isn't always an accurate picture of everything a medical sonographer is required to do as part of their job. Most medical sonographers work full-time and even on-call or weekend hours. For this time, a medical sonographer will be on his or her feet walking to patient rooms or even standing through imaging procedures. Not only are they walking between patients but most are required to be able to lift and turn patients for imaging and those that are unable to move themselves. Some physical strength, along with proper lifting techniques are definitely going to be helpful to you in this career.

If you are interested in a career in diagnostic medical sonography, contact ECPI University for program information. You could earn your Associate's Degree in Diagnostic Medical Sonography in as little as 1.5 years through our accelerated, year-round program! It could be the Best Decision You Ever Make!

DISCLAIMER – ECPI University makes no claim, warranty or guarantee as to actual employability or earning potential to current, past or future students or graduates of any educational program we offer. The ECPI University website is published for informational purposes only. Every effort is made to ensure the accuracy of information contained on the ECPI.edu domain; however, no warranty of accuracy is made. No contractual rights, either expressed or implied, are created by its content.
Gainful Employment Information
For more information about ECPI University or any of our programs click here: http://www.ecpi.edu/ or http://ow.ly/Ca1ya.