8 Attributes of a Culinary Professional
The current focus in food preparation, from hospital kitchens to epicurean restaurants is trending toward use of more natural ingredients, because everyone wants better tasting, more nutritional meals. It's an exciting time to become a culinary professional!
Culinary professionals need a strong skillset, based on education and experience as well as a personality that lends itself to the rewards – and, yes, the stress – of working in one of today's top service/hospitality industries. The culinary arts profession is very competitive, and you know who your biggest competitor will be? You! If you want to join the fast-paced world of professional food preparation, you'll spend the rest of your life experimenting, testing, and modifying your own recipes.

Your Attributes: The Right Personality + a Good Set of Skills = Recipe for Success
Your personality is what it is, but you can learn ways to communicate with your employees, employers, and clients. You can develop an better understanding of working with diverse populations, and you can learn to be polite when a customer complains.
Skills require education and practice. Culinary professional George Krumov says, "Only if you become a real chef will you get to experience the beautiful sensation of creating art, experience, love, madness, and pleasure all in one dish!" It's worth your time to learn more.
Personality Traits of Successful Chefs
Giulia Simolo is a South African journalist who shares the following personality traits that can be developed to become a culinary professional:
Effective communication – Your employees will come from varied backgrounds, and you'll need to be careful when communicating. What you think is funny could be an insult to another. When a client is irrational and angry, you'll be understanding and polite. When an employer wants the impossible, you find a workaround.
Emotional strength – You may have to work long and unusual hours. For example, many pastry chefs work all night and sleep during the day. You may have to cope with a great deal of pressure every day.
Flexibility – You're finally Head Chef! You worked hard to get there and take pride in your accomplishments. But if the dish washing employee fails to show, guess what? You wash dishes. If the delivery of a necessary ingredient is delayed, you change the recipe. Flexibility may be the most valuable personality trait you'll develop.
Organization – You need to know where everything is located instantly. "Everything in its place and a place for everything." Your ability to be successful depends on this.
Physical strength – You will be on your feet, moving rapidly for many hours, almost every day. Stamina and good health are necessary attributes you'll need to have to remain focused.
Excellence . . . is a Skill
Chefs need skills ranging from food preparation to napkin-folding to employee training and more. Much more! Employment professional Alison Doyle shares a detailed list of chef skills from A-Z, and they should be required reading for every culinary professional. Here are a some necessary skills to be a successful chef:
Cleanliness – You know safe food handling is important, but your work area itself should be clean, from floor to ceiling.
Creativity – Your creative presentations of food as well as imaginative recipes can establish your reputation as a great chef.
Culinary experience – With time, you will recognize the variety of flavors and how to use them as well as become more proficient at using knives and other food preparation and delivery equipment.
Detail-oriented – Cooking is a science; measurements and ingredients should be precise.
Good business sense – A culinary professional should always think about ways to lower costs and increase profits, no matter what industry he or she serves.
Motivated – Not only should you have the drive to succeed, you should be able to motivate others in your kitchen to perform above-average and to take pride in their work!
Multitasking – A chef has – literally – a lot of irons in the fire. You'll need the ability to organize and supervise several tasks at the same time.
Team player – No matter what your specialty or where you work, you need others and they need you. You'll want to be supportive of your co-workers and work effectively with other staff and management.
Food for Thought
Are you interested in becoming a chef? If you want to earn an Associate of Applied Science in Culinary Arts, ECPI University's Culinary Institute of Virginia offers this degree program at an accelerated rate. For more information, connect with a helpful admissions counselor today.
It could be the Best Decision You Ever Make!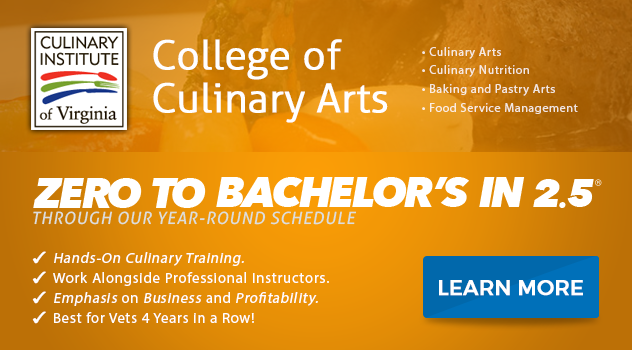 DISCLAIMER – ECPI University makes no claim, warranty, or guarantee as to actual employability or earning potential to current, past or future students or graduates of any educational program we offer. The ECPI University website is published for informational purposes only. Every effort is made to ensure the accuracy of information contained on the ECPI.edu domain; however, no warranty of accuracy is made. No contractual rights, either expressed or implied, are created by its content.
For more information about ECPI University or any of our programs click here: http://www.ecpi.edu/ or http://ow.ly/Ca1ya.