A Culinary Arts Student's Guide to Cookbook Writing
As a culinary arts student you are no doubt focused on the obvious things to move your career forward and secure employment following graduation. These include your professional resume, glowing recommendation letters from your professors, and maybe even a slot on one of the many TV cooking competitions.
Oddly, the one thing that not all culinary arts students consider is authoring a cookbook. However, this might just be one of the most important things you can do to establish yourself in the industry and advance your career. Not to mention, picking up some extra cash along the way. With the proliferation of self-publishing, this is easier than it has ever been.
When do you want to get started? Immediately! While it is true that your studies include such diverse topics as kitchen organization, healthy cooking, recipe development, and purchasing guidelines, the real joy is in rolling up your shirt sleeves and learning what really goes into those classic recipes.
Since chefs-in-the-making tend to be creative types, you have no doubt been experimenting with adding your own signature touches to the academic classics. This is the material for your own cookbook and it pays to always keep notes of any deviations from the basics.
Planning Your Cookbook
Most cookbooks are not written like works of fiction — rather they are works in progress, often taking years to complete, as the content is added to and tweaked on a continuous basis. Many of the changes will no doubt be in response to the comments you will receive from friends and associates who you test your creations on.
One of the first things you should consider when planning a cookbook is the scope of the project. Do you want it to be limited to a particular genre such as southern cooking, breakfasts, soul food, paleo dishes, vegan staples, or desserts? The options are boundless. Or, are you simply looking to provide a reference that is broken up into breakfast, lunch, and dinner menus? You may simply want to focus on some nutritional outlook such as fitness, weight loss, or heart-health.
If you remain undecided, you might benefit from considering breaking your cookbook up into several volumes. They don't all have to be published at once. Instead you could focus on one style of cooking or type of food in each book and create several over the course of your culinary career.
Things to Include in Your Recipes
One of the most important things to take into consideration about recipes is that they are basically blueprints. Following that line of thought, although they don't have to be approved by any culinary equivalent of municipal building inspectors, they do need to be very clear and unambiguous to all of your readers.
Not all of the cooks following your recipes will be experienced or adventurous so it is incumbent on you to write to the lowest common denominator without lessening the preparation challenge. Here are some things to consider.
List the ingredients in the order in which they should be prepared/prepped. This should coincide with the instructions. Obviously, if an ingredient needs to be marinated for 24 hours, it should have a place high in the list.
Provide quantities in all applicable measuring standards. To increase the marketability and ease of use of your cookbook, why not make it easy to follow for all readers, regardless of their choice of measuring instruments?
Include as many pictures as are necessary. As they say, a picture is worth a thousand words. Before and after pictures will help your readers to visualize the end product. Often, written instructions that seem clear in your mind will conjure up a completely different image in someone else's mind. Show them what they are aiming at.
Offer ingredient substitutions/additions. Yes, you are proud of your creations but your readers might have other desires or even health-related ideas. For example, can you get away with using a low-fat or gluten-free substitute? Is there another cheese that will yield the proper consistency while maintaining the sought-after flavor?
Offer baking details as appropriate. Oven times and temperatures are notoriously non-standard. If there is a way to determine doneness (think golden brown crust or dry toothpick test, etc.) point it out. If a meat dish needs to rest after extraction from the oven to re-absorb juices, indicate that.
Provide the number of servings and nutritional value. Most of your readers have a plan for how many people they are planning to feed. Indicating the number of servings your recipe provides makes it that much more user-friendly.
Are you excited about exploring a career in the culinary arts? Your education can give your career a jump-start in this highly-competitive field. The Associate of Applied Science Degree in Culinary Arts at ECPI University's Culinary Institute of Virginia is a great place to start. If you think you would shine in the kitchen, contact an admissions advisor today to discuss your options. Your cookbook is waiting to be written.
It could be the Best Decision You Ever Make!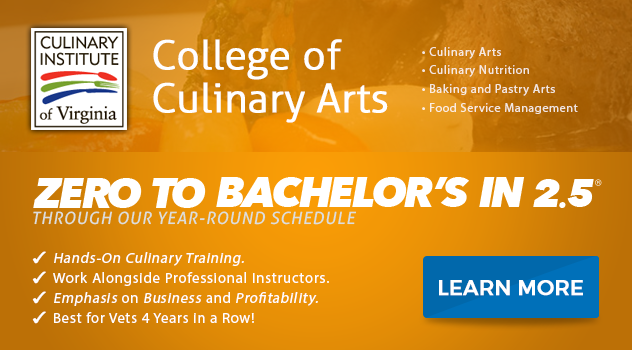 DISCLAIMER – ECPI University makes no claim, warranty, or guarantee as to actual employability or earning potential to current, past or future students or graduates of any educational program we offer. The ECPI University website is published for informational purposes only. Every effort is made to ensure the accuracy of information contained on the ECPI.edu domain; however, no warranty of accuracy is made. No contractual rights, either expressed or implied, are created by its content.
Gainful Employment Information – Culinary Arts - Associate's
For more information about ECPI University or any of our programs click here: http://www.ecpi.edu/ or http://ow.ly/Ca1ya.