Advanced Manufacturing Technology Career Opportunities in the Carolinas
There's no argument that a formal education is important in almost every professional career, and that includes mechatronics engineering technology. You'll find the education and training you can receive in an electronics engineering technician program can give you the competitive edge in the East Coast job market.

Industry Specialization an Option
The American Society of Manufacturing Engineers (ASME) is a non-profit membership organization that offers information about the career opportunities in this exciting and growing industry. Five areas you might consider in advanced manufacturing/engineering include:
Control Sensors Development – Autonomous automobiles and enhanced safety features are a booming business. Mechanical engineers able to work in this sector are in great demand.
Medical Device Design and Manufacturing – Every facet of the healthcare industry is growing, and that includes development and manufacturing.
Supply Chain Strategy – "Mechanical engineers have the background," to deal with the mechanics of supply chain delivery and distribution, says one authority.
Sustainability Manufacturing – Environmentally responsible solutions will continue to be a focal point in the advanced engineering sector. If you can find a way to recycle anything manufactured or used in production, you'll be considered a visionary.
Welding Engineering – "Laser is expanding at a very high rate and you have to consider fusion welding as on the move as well," says Richard Trillwood, CEO and Founder of Electron Beam Engineering.
South Carolina a Leader in Advanced Manufacturing
The South Carolina Department of Commerce says this area of the country is one of the world's "top producers of complex products," with advanced manufacturing "growing at a record pace that shows no signs of slowing." In 2016, eleven percent of South Carolina's employment was in the manufacturing sector.
From premium automobiles and appliances to boats and aircraft, each time a finished product rolls off an assembly line in this state, it helps solidify South Carolina's reputation as a location that truly is just right for advanced manufacturing.
South Carolina Future Makers is for people who want to be part of the interconnected, developing world of advanced manufacturing and technology. "There's never been a more exciting time in South Carolina and the United States for opportunities in advanced manufacturing and technology," says this forward-thinking group.
Help Wanted: North Carolina
Education is key: A Electronics Engineering Technology (Mechatronics) degree not only makes you more marketable, it gives you a greater range of career options because of the well-rounded and general-knowledge curriculum offered. The need for advanced manufacturing professionals is opportunity waiting to happen for men and women with undergraduate degrees in electronics engineering technology. Post-graduate jobs can include:
Associate Application Technician
Associate, Investment Analytics and Data
Design Engineer I
Electrical Engineer
EMC (Electromagnetic compatibility) Engineer
Field Service Engineer I
GEEM Design Engineer I
Project Engineer I, II, III – Automation
Sales Development Program Intern
Sr. Electrical Design Engineer I
Technical Support Engineer
Wireless Electrical Support Q&A Professional
Raleigh/Durham offered more than 400 electrical engineering positions as of January 2018, with job titles that included:
Electrical Engineering Internship
Engineering Technician, Technician I, Technician II, Senior Engineering Technician
Engineering/Architectural Technician
Facilities Electrical Technician
Geotechnical Engineering Technician
Industrial Electrical Controls Technician
The Quality of Education
Some of the soft skills and qualities you can develop during your education and training are:
Concentration – Keep track of multiple design elements
Initiative – Apply knowledge to every project; pursue continuing education to keep up-to-date with technological changes
Interpersonal skills – Work with others during the manufacturing process, including monitoring technicians/problem-solving
Math skills – Use calculus/other advanced math principles to analyze, design, and troubleshoot equipment
Speaking skills – Work closely with other engineers/technicians to explain designs/relay instructions; may need to explain complex issues to customers
Writing skills – Develop technical publications related to equipment as well as design methods documents
Acquire Engineering Principles with Real-World Applications at ECPI University
Engineering technologists are often the link between engineers and the technicians. If you're interested in earning a Bachelor of Science Degree in Electronics Engineering Technology with a focus in Mechatronics, ECPI University offers this program at an accelerated rate. For more information on this exciting degree, connect with a helpful admissions specialist today.
It could be the Best Decision You Ever Make!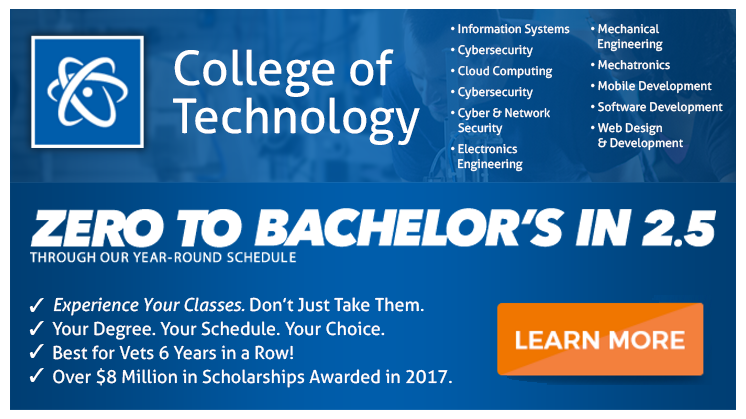 DISCLAIMER – ECPI University makes no claim, warranty, or guarantee as to actual employability or earning potential to current, past or future students or graduates of any educational program we offer. The ECPI University website is published for informational purposes only. Every effort is made to ensure the accuracy of information contained on the ECPI.edu domain; however, no warranty of accuracy is made. No contractual rights, either expressed or implied, are created by its content.
Gainful Employment Information – Mechatronics - Bachelor's
For more information about ECPI University or any of our programs click here: http://www.ecpi.edu/ or http://ow.ly/Ca1ya.