Advice for Aspiring Chefs Just Starting Out in Culinary School
You've decided that going to culinary school is the best path for you to become a chef. You know that there are other routes, but you have found a good program that will offer you solid training in many diverse aspects of the culinary arts.
You know you'll be exposed to many different cooking styles in college, as well as learning the fundamentals of the culinary industry -- nutrition, health and safety, plating and presentation. Further, you know that enrolling in a college program will give you access to a state-of-the-art kitchen where you can practice your craft and experiment with new dishes. Plus, you're looking forward to the mentorship of your knowledgeable instructors and their hands-on guidance.

Assuming you've already found the right program and are enrolled in classes, you may have discovered that life's become a bit hectic. After all, you're not only trying to absorb your classroom instruction, but also possibly juggling work and family responsibilities. It's a lot to take on, and it's a challenge to succeed on so many fronts.
Fortunately, there are ways to manage life, work, and your culinary studies so that you stay on top of things while making good progress in your course work. Here are some tips to live by.
Surviving Culinary School, While Balancing the Rest of Your Life
As you see a few of your classmates fall by the wayside, do not be discouraged. Yes, it will be tough to see your classmates disappearing as the pressures build. But you will have an advantage if you've taken steps to get organized and balance your responsibilities with your school work prior to embarking on this path.
Maintain your passion for cooking. One of the main things that sets chefs apart from other professionals is their intense passion for their art. Let's face it, it's not the best paid profession, especially when you're struggling at entry level. The top chefs in the world say that it was the passion for cooking that drove them, not the thought that they were going to be celebrities or make a ton of money. So keep the love you have for cooking in focus during those moments when you feel hard pressed.
Put your social life on hold. Yes, all work and no play might make you somewhat dull, but for now, that's what you signed on for. If you have a family and a job, both will naturally take priority when you have any time you have left over from your classes.
Don't be afraid to ask for help. If you find yourself jammed for time, don't be afraid to reach out to friends and family for help. Need a babysitter so you can study or work the late shift at the restaurant? You'll be surprised how many of your folks will be happy to help you get through this.
If you don't have a kitchen job, get one. This is a golden opportunity to get some experience while you're going to school. It will be a great help for you to work in the real world while you're studying, so you can compare the differing methods of a professional kitchen as opposed to an academic setting.
Stay organized. This can't be stressed enough. It's going to be tough, but you need to keep your life organized. So keep your home and study area clean and well organized, with everything in place. Set a routine for the kids and stick to it, participating when you can. Set a time for studying or working on projects. This helps you both to make sure you do all your work and don't run over time. Attend class regularly, completing assignments on time. Whenever time allows, get some exercise or do some meditation to relieve stress.
Get as much sleep as you can. You won't be successful at any of this if you're tired, so make going to bed at the same time and getting up early so you can get the day's tasks in order a priority. Avoid alcohol, as it will interrupt your sleep cycle.
Do you have a passion for cooking and want to turn it into a career? ECPI University's Culinary Institute of Virginia offers an Associate of Applied Science in Culinary Arts. For more information on this exciting opportunity, connect with a helpful admissions officer today.
It could be the Best Decision You Ever Make!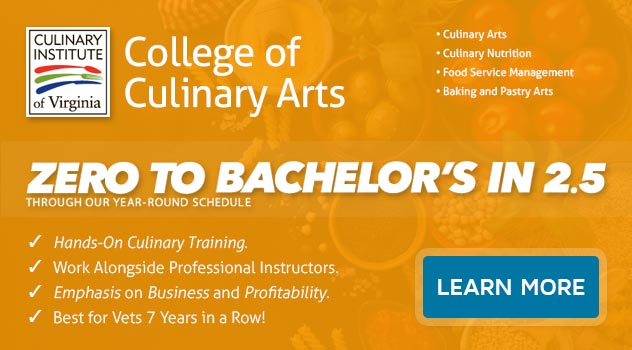 DISCLAIMER – ECPI University makes no claim, warranty, or guarantee as to actual employability or earning potential to current, past or future students or graduates of any educational program we offer. The ECPI University website is published for informational purposes only. Every effort is made to ensure the accuracy of information contained on the ECPI.edu domain; however, no warranty of accuracy is made. No contractual rights, either expressed or implied, are created by its content.
Gainful Employment Information – Culinary Arts - Associate's
For more information about ECPI University or any of our programs click here: http://www.ecpi.edu/ or http://ow.ly/Ca1ya.