Air Force Vet, Cyber & Network Security Grad Finds Ideal Learning Environment at ECPI University
Jason Powell comes from a family of college-bound siblings. He watched as his two brothers and a sister went straight from high school to college and then straight into debt. Jason, however, took a different path. He enlisted in the Air Force, thinking it a better way to get his education paid for.

After nearly ten years as an aircraft mechanic, Jason injured his spine and was medically discharged. While he enjoyed his time in the service as well as the interesting places he was stationed, including Germany and Korea, he was ready to begin his college career. And for Jason, the words "college" and "career" were deeply intertwined. He wasn't looking for a college experience in the social sense, he wanted a school that was more career focused.
After visiting several schools, he found just the right balance between curriculum, student support, and focus on military and veteran education at ECPI University. "I think it says a lot that ECPI has been ranked number one or close to it year after year by the Military Times, and I was really impressed by the relationships they had with employers, not just for finding a job after graduation, but to have the chance to learn in a real-world setting during an externship," he says.
Jason enrolled in the Cyber and Network Security program at the Newport News, Virginia campus and got straight to work. He's now in his final term and already has a job waiting for him with AMEOT, an IT service company also in Newport News. "I feel very well prepared for the job," says Jason. "Everything we did was geared to the real world. My professors all had a ton of experience in their professions. In fact, one day we were using a CISCO manual and I looked down at the page and noticed that one of the chapters had been written by my teacher!"
"I can't say enough about my experience at ECPI. Even the way the classes were structured seemed like it was all done with veterans in mind. The hands-on approach, the accelerated format, it was all very similar to the way we trained in the Air Force."
While he is just a few weeks from completing his program, Jason's formal graduation ceremony will have to wait until this upcoming spring. When he walks across the stage, however, he will do so with honors, graduating summa cum laude.
Are You Ready to Start a Cybersecurity Career?
Interested in a career in cybersecurity? Consider enrolling for a Bachelor of Science in Computer and Information Science with a major in Cyber and Network Security at ECPI University. Connect with a knowledgeable admissions representative for more information.
It could be the Best Decision You Ever Make!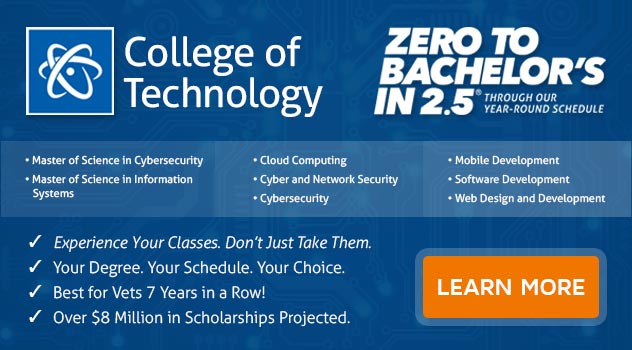 DISCLAIMER - ECPI University makes no claim, warranty, or guarantee as to actual employability or earning potential to current, past or future students or graduates of any educational program we offer. The ECPI University website is published for informational purposes only. Every effort is made to ensure the accuracy of information contained on the ECPI.edu domain; however, no warranty of accuracy is made. No contractual rights, either expressed or implied, are created by its content.
For more information about ECPI University or any of our programs click here: http://www.ecpi.edu/.