Becoming a Chef: 3 Inspirational Books by Chefs For Aspiring Culinary Students
Cooking is a universal language, but working as a professional chef is a much more unique and exclusive experience. If you're considering a career in the culinary arts, you already know you have a passion for food and a talent for preparing it.
But do you know how to apply that in a restaurant kitchen? Whether you're looking for insights or inspiration, it helps to hear from chefs who have been in your shoes and realized their culinary ambitions.

Get started with three very different journeys of three very different chefs. No matter how many cookbooks you collect during culinary school, your bookshelf just isn't complete without these three memoirs:
1. Buttermilk Graffiti: A Chef's Journey to Discover America's New Melting-Pot Cuisine by Edward Lee
The United States is famous for being a "melting pot" of different cultures and ethnicities, so it's no surprise that its culinary scene is incredibly diverse too. In fact, author and chef Edward Lee believes this makes it the most interesting country in the world for people who love food.
Buttermilk Graffiti is his attempt to spotlight the immigrants who make American cuisine so unique, using real dishes, and culinary traditions to enhance his own cooking and prove the potential of international influences.
As Lee travels throughout the country collecting recipes, he uses his culinary background to pay close attention to the techniques and traditions that make each dish so special. His perspective as a Korean New Yorker – and then a Korean Southerner – makes it easy for him to appreciate the intersection of different tastes and traditions, while his education allows him to reinvent different recipes and explain the roles that unique ingredients play. Follow him as he tags along with a famous chef, tries his wife's German-American family beer cheese recipe, and mingles with Lebanese and Moroccan cooks in the Deep South.
2. Medium Raw: A Bloody Valentine to the World of Food and the People Who Cook by Anthony Bourdain
This love letter to food is the follow-up to Kitchen Confidential, a brutally honest memoir that created a superstar and cracked open the private world of restaurant chefs. Written a decade later, Medium Raw is a broader and more optimistic take on the culinary world, in part because the world itself has since evolved to welcome new flavors and perspectives. This book is an attempt to answer two simple but provocative questions that might inspire your academic journey: "Why cook?" and "Why cook well?"
This time around, Bourdain's personal anecdotes are as relevant as his insights into the food industry, but they all revolve around one important theme: the passion that drives so many people to cook. His passion happened to land him TV and book deals, but he also highlights the lives of cooks, chefs, and industry outsiders who use the language of food to express and support themselves in less visible ways.
One of them is Justo Thomas, a fish butcher for a highbrow restaurant who finally enjoys his own fish for the first time. Throughout the book, Bourdain does what he always did best: celebrate the intimate connections between people and food.
3. Blood, Bones & Butter: the Inadvertent Education of a Reluctant Chef by Gabrielle Hamilton
If you're looking for rich, delicious writing that recreates the experience of falling in love with food and becoming a chef, Blood, Bones & Butter is the book for you. Hamilton's farm-to-fame memoir doesn't waste any time trying to flatter its author or sugar-coat her decisions, and the result is an inspiringly honest ode to food that actually made Bourdain himself jealous.
Like many people in the food service industry, Hamilton's culinary career path never followed a straight line. The girl who watched her French mom cook over their farmhouse stove would eventually open her own restaurant, but not before scheming her way into restaurant jobs in grad school, when she realized she would rather be pursuing a culinary education.
As you tag along for her wild journey, you learn about everything from European hospitality customs to the risks and rewards of running a restaurant. You also learn how important it is to listen to your gut – especially when your gut is telling you to devote your life to food.
Interested in pursuing a career as a chef? Take the first step, and cultivate your passion for food with an Associate of Applied Science in Culinary Arts Degree. ECPI University's Culinary Institute of Virginia offers this program at an accelerated rate. For more information on this exciting degree, connect with a friendly admissions advisor today.
It could be the Best Decision You Ever Make!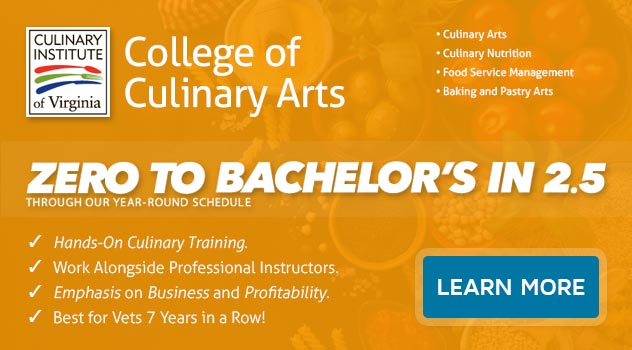 DISCLAIMER – ECPI University makes no claim, warranty, or guarantee as to actual employability or earning potential to current, past or future students or graduates of any educational program we offer. The ECPI University website is published for informational purposes only. Every effort is made to ensure the accuracy of information contained on the ECPI.edu domain; however, no warranty of accuracy is made. No contractual rights, either expressed or implied, are created by its content.
Gainful Employment Information – Culinary Arts - Associate's
For more information about ECPI University or any of our programs click here: http://www.ecpi.edu/ or http://ow.ly/Ca1ya.