Becoming a Chef Later in Life
Sometimes people are lucky and know exactly what they want to do with their lives -- and they have to time and resources to pursue those goals right out of high school, or even during high school. Others aren't so lucky; maybe they know what they want to do but don't have the resources and have to settle for a different career, or they just have no clue at all.
That state of mind and those financial issues don't always stick around for life, though, and it's very common for people in their 30s, 40s, 50s, and even older to suddenly find they crave the creativity of being a chef. But becoming a chef later in life seems rife with risk.
Culinary work is intense, and it requires a lot of personal investment to complete and succeed. But it can be done and has been done, much to the delight of those who have made the transition.

What It's Like to Switch Later in Life
People trying to switch occupations later in life face a number of hurdles, but they also get a number of rewards. To restart one's career and possibly have to deal with a lower salary and worse hours can be daunting. Someone used to being one of the more knowledgeable people in the room has to adjust to being the new kid again, and that can be difficult, especially if your "senior" colleagues are a decade or younger.
But at the same time, those switching later in life have a better sense of how they work and what conditions are conducive to their success. They know what they can handle and how they best learn new information. They also have more life experience.
In the culinary world, having those years of eating and cooking, dining out and dealing with commercial food establishments, helps those switching into the culinary world refine and approach their goals. No longer are they bent on being the next hot new chef who knows better than anyone else; instead, they are often more focused on fulfilling a personal goal and avoiding the missteps that they've seen in other places.
They also have more life skills to bring to the process. Cooking for a restaurant may require certain knowledge, but the later-in-life chef already has years of dealing with co-workers and the public, even if the experience is from another field.
New Field, New Knowledge
Working in a restaurant is nothing like cooking in your kitchen or even running a food blog. The chef and staff are on, constantly, as customers keep pouring into the restaurant and ordering different dishes with modifications. Anyone in that kitchen has to have a solid knowledge base so that there is solid communication.
A structured education is one of the best ways to make the switch in careers. The person switching has the opportunity to learn all of the technology and procedures that make restaurant kitchens tick, as well as the opportunity to hone skills and get good a fast kitchen work. Remember, Julia Child learned how to really cook by taking classes -- she didn't rely on just her home cooking techniques to get by professionally.
One does not have to suffer as a dishwasher in a minimum wage job for years before being given the chance to cook. Dishwashers are vital members of the kitchen team, yes, but unless someone is very good at absorbing information in bits while trying to do a different job. It's going to be harder for that person to learn to be a chef that way. It's much easier for someone later in life to attend classes.
One more advantage of a structured culinary school education is the opportunity it provides to learn about other parts of the food world. Someone who decides later in life to become a chef may find that they really like food science instead. People trying to become chefs by working in restaurants only don't get that sort of benefit.
Externships and Guidance
Culinary school programs often require externships, where the student, armed with knowledge and professional knife skills, works in a real restaurant or other culinary setting. These externships are the student's chance to see what the real world of the chef is like. It can give students an indication of whether the work is really something they want to do, or whether they might want to consider another part of the food world instead.
Is a Career Change Right For You?
Are you interested in a career change? If you want to earn an Associate of Applied Science Degree in Culinary Arts, ECPI University's Culinary Institute of Virginia offers this degree program at an accelerated rate. For more information, connect with a helpful admissions advisor today.
It could be the Best Decision You Ever Make!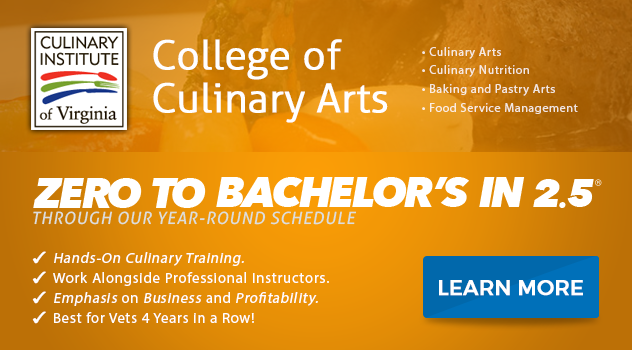 DISCLAIMER – ECPI University makes no claim, warranty, or guarantee as to actual employability or earning potential to current, past or future students or graduates of any educational program we offer. The ECPI University website is published for informational purposes only. Every effort is made to ensure the accuracy of information contained on the ECPI.edu domain; however, no warranty of accuracy is made. No contractual rights, either expressed or implied, are created by its content.
Gainful Employment Information – Culinary Arts - Associate's
For more information about ECPI University or any of our programs click here: http://www.ecpi.edu/ or http://ow.ly/Ca1ya.