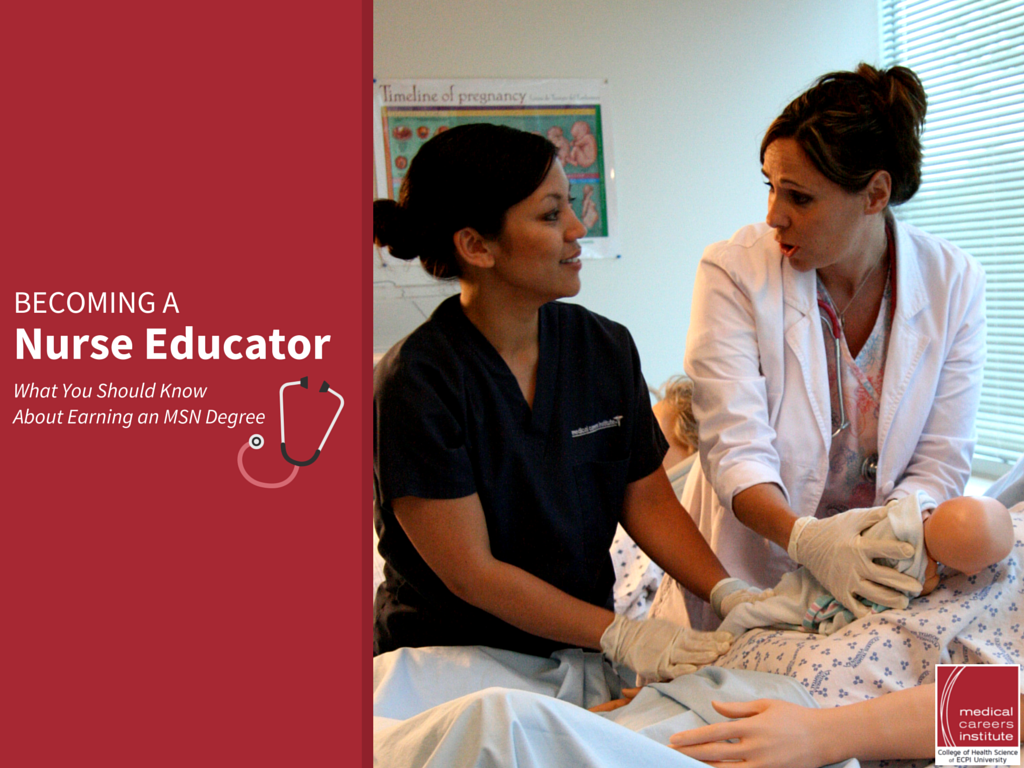 Nursing is a growing career field and the need for nurses is increasing with the aging baby-boomer population. This increasing demand, of course, also means there is an increasing need for nursing teachers. Nurse educators are the teachers that students rely on to become nurses. Nursing instruction is an excellent career path for those who are already nurses but also enjoy teaching the people they work with or students with an interest in nursing. 
Becoming a nurse educator is a great way to advance a successful nursing career, as nurse educators can enjoy the rewards of passing on knowledge and experience to others. So, what does it take to become a nurse educator?
Becoming a Nursing Educator Means Achieving Advanced Education
To become a nurse educator requires students to attain a master's degree in nursing education, or MSN. For students who want to know the stepping stones to becoming a nurse educator, this degree is typically pursued after receiving a bachelor's degree in nursing (BSN). Most nurse educators have real clinical experience as a registered nurse and then decide to continue into the field of nursing education. Nursing education students focus on several areas of medicine and teaching in classes like:
Healthcare Technology
Curriculum Planning and Development
Teaching and Learning Strategies
Policy and Politics of Healthcare
After graduating, nursing educators can often opt to specialize in a certain area if they wish, such as obstetrics. Nurse educators can also become certified by taking certified nurse educator examination, which can open up more job opportunities, strengthen your resume as a nursing educator specialist, and advance core knowledge. Continuing education is a major part of being a nurse educator. To adequately teach nursing students, educators have to remain up-to-date on the latest information relevant to the nursing field. 
What Does a Nurse Educator Do?
Graduates from a nursing educator program have the option to work solely in an educational system as an instructor or they can choose to continue in the healthcare (clinical) environment and even pursue research part-time. Possible career options include:
Clinical Nurse Educator
Director of Staff Development
Patient Education
Nursing Education Faculty Member at a Learning Institution
Specific job responsibilities can vary based on what type of job an individual pursues but the majority of nursing educators work in colleges, universities or similar educational settings. These settings mainly require faculty to prepare department lessons, plans and educational materials for programs. Educators will also need to be able to teach topics in a classroom and continue to evaluate student performance outside of classroom hours. Evaluations are done by grading exams, homework and projects. Educators are typically expected to keep up with current information in their field by attending continuing education conferences, lectures and reading journals. Nursing instructors at universities must also be active in their designated career program by becoming involved in a committee or similar extracurricular participation.
Nurse Educator Salary & Career Outlook
The career outlook for an occupation as a nursing instructor is very bright. According to the Bureau of Labor Statistics, the growth projection for postsecondary teachers from 2012 to 2022 is expected to be 35%, much higher than the average growth rate for all occupations at 11%. The median annual income for a nursing instructor in 2013 was $64,850. The ability to continue to specialize and become certified means many available job options and job flexibility. Major employers of nurse educators are:
Colleges 
Universities 
Technical Colleges 
Professional Colleges 
Junior Colleges 
Hospitals
How to Succeed in Nursing Education
Since a majority of nursing instructors work as teachers, a desire to teach is the most important trait. Beyond that, a willingness to continue learning as the nursing and medical fields evolve. The ability to work long hours, as a teacher and in other necessary activities like lesson planning, student evaluation, continued education and committee work. Anyone interested in becoming a nurse educator should consider these personal attributes helpful in becoming successful:
Organization
Patience 
Clear instruction 
Attention to detail 
Medical knowledge 
The ability to demonstrate accurately
I Scheduled a RedCross blood donation. Help me save lives: ECPI College of Technology & MCI School of Health Science http://t.co/NVfWkbavLJ

— Frances Louise Cagle (@FrancesLCagle) May 20, 2015
You Have the Heart of a Nurse . . . Do You Have the Heart of a Teacher?
If you find yourself interested in the rewarding, exciting career path of nursing education, learn more about our Master of Science in Nursing with a concentration in Nursing Education. With a nursing bachelor's degree, it could take you as little as 11 months to complete this MSN degree program through our year-round, accelerated curriculum. Start a path to your career goal today by contacting ECPI University! It could be the Best Decision You Ever Make!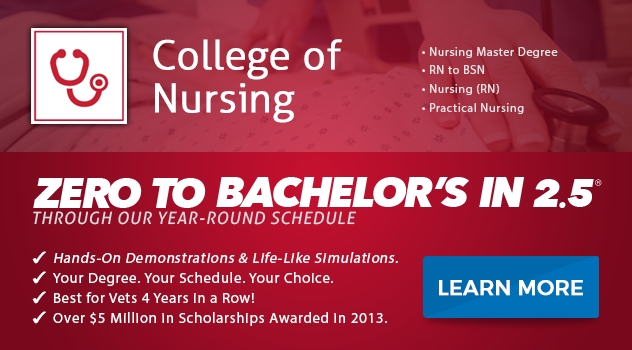 DISCLAIMER – ECPI University makes no claim, warranty or guarantee as to actual employability or earning potential to current, past or future students or graduates of any educational program we offer. The ECPI University website is published for informational purposes only. Every effort is made to ensure the accuracy of information contained on the ECPI.edu domain; however, no warranty of accuracy is made. No contractual rights, either expressed or implied, are created by its content.
Gainful Employment Information
For more information about ECPI University or any of our programs click here: http://www.ecpi.edu/ or http://ow.ly/Ca1ya.