Being a Chef is Not Glamorous and Other Hard Truths About Culinary Arts
There is a lot more to being a chef than wearing the white hat and screaming at underlings not to burn the cream soup. While you can garner plenty of accolades and recognition for the hard work you do in the kitchen...all of those accolades and phrases of praise are built on a foundation of hard work and dedication to the craft.
Before you step foot in the kitchen, there are some hard truths you should know are part of the job whether your daily shift is in a resort, on a cruise ship, or in a private home.

Hard Work, Long Hours
The first thing to know is that the hours are long and the road to the top of the ladder is covered in grease, sweat, and stains. While culinary school will give you the basic knowledge you need to succeed in the career, your first few years in the kitchen are where you'll receive most of your practical training.
The kitchen is your classroom and while you'll have plenty of opportunities to express your creative talents, you are going to have to prove yourself every day you go into work before you will end up with your own primetime cooking show. That requires dedication, determination, and doing whatever needs to be done in order to get the job done.
Burns and Burnout
Burns and bruises, nicks and cuts are part of the job. Even the best chefs bump into hot stoves, have a knife slip in their hands, or find their fingers jammed into the sliding doors of a cooler. That is why every chef has a bottle of aspirin and a tub of aloe tucked into their chef's kit. At the end of the day, your feet will hurt, your clothes will smell, and you will feel like you have just run a marathon in clogs. But, it is the kind of hurt that will put a smile on your face because it's a reminder that you are working hard to reach your goals.
Burnout is a real risk for professional chefs. Working as a chef can be a lot of fun. The fast pace of the kitchen, the pressure to get it right each and every time, as well as the potential for minor mistakes to create major messes are all part of the job. While this means that no two days are the same, it also means that there are few times where you can sit back and "let it ride." The best chefs are those who find a way to balance the pressures of the kitchen with the pleasures of life. This keeps burnout at bay and keeps the creative juices flowing strong.
Mixing and Mingling
A chef's peers are more than just professional colleagues. Chefs share, learn, and yes, copy, from one another all the time. Rising through the ranks means being able to contribute to this educational circle of evolving knowledge and shared wisdom. The more you contribute, the faster your star will rise. However, if you find yourself always dipping into the well of wisdom without pouring anything back in, you'll quickly find that your peers will share less and less knowledge with you which can limit your career opportunities.
The chef isn't the most important person in the restaurant. In fact, the chef is just one part of the team. While the chef is most certainly the quarterback, if the waiters, busboys, bartenders, etc., don't do their part in the front of the house, then even the most talented chef is doomed to fail. Because of this, chefs need to have solid leadership skills that they can use to teach, train, and coach every member of the team.
This requires practice and experience to master. While you may see Gordon Ramsay screaming at staff on TV, the vast majority of successful chefs learn that a pound of sugar goes a lot further than a few ounces of vinegar.
Are you Cut Out for a Life in the Kitchen?
What happens after you spend years in the kitchen climbing the ladder to the top? Don't think that you'll have a chance to kick back and enjoy the view. Hardly. Staying on top requires working just as hard as you did as you worked your way up the mountains of potatoes and slippery slabs of steaks. The work never gets easier and there's never a chance to let your hair down. It's a career that requires dedication and determination at every stage.

If you want to be a chef, a great place to start is with your education. Earning an Associate of Applied Science in Culinary Arts could make the difference in your career. ECPI University's Culinary Institute of Virginia offers this degree at an accelerated pace. To find out how you can become part of this culinary trend, connect with a helpful admissions advisor today.
It could be the Best Decision You Ever Make!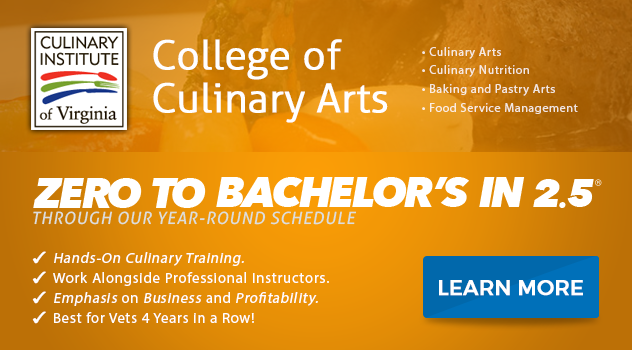 DISCLAIMER – ECPI University makes no claim, warranty, or guarantee as to actual employability or earning potential to current, past or future students or graduates of any educational program we offer. The ECPI University website is published for informational purposes only. Every effort is made to ensure the accuracy of information contained on the ECPI.edu domain; however, no warranty of accuracy is made. No contractual rights, either expressed or implied, are created by its content.
Gainful Employment Information – Culinary Arts - Associate's
For more information about ECPI University or any of our programs click here: http://www.ecpi.edu/ or http://ow.ly/Ca1ya.