Benefits of Cloud Computing for Future Cloud Computing Students
Cloud computing entails the delivery of computing services, including storage, servers, databases, software, networking, intelligence and analytics over the internet, to promote faster innovation, achieve economies of scale, and offer flexibility in resource sharing. Rather than owning your own data center or computing infrastructure, your company can rent access to anything from software to storage from a given cloud service provider.
It refers to anything that involves delivering hosted services over the internet. These services are subdivided into three main categories: Platform-as-a-Service (PaaS), Infrastructure-as-a-Service (IaaS) and Software-as-a-Service (SaaS). The term cloud computing was formulated by copying the cloud symbol that is usually utilized to represent the internet in diagrams and flowcharts.

The Benefits of Cloud Computing
Cloud computing reduces the capital expenses incurred in purchasing software and hardware and setting up as well as operating on site data center equipment-the racks of servers, the 24/7 electricity supply to power the systems and cooling, and the IT professionals for maintaining the infrastructure.
Most cloud services are touted as a self-service and on demand. Therefore, even huge amounts of computing resources can be provisioned within a short time, typically with a few clicks of the mouse. It gives businesses a lot of flexibility and helps ease the pressure on capacity planning.
The ability to scale your systems with flexibility is one main benefit of cloud computing. In cloud terminology, it means providing the right amount of IT resources when needed without much hustle. For instance, allotting more or less computing power or increased storage bandwidth within the desired geographic location.
On-site data centers need a lot of "stacking and racking" involved in setting up the hardware, or software patching along with other time-consuming IT management duties. Cloud computing eliminates the need for many tasks enabling the IT teams to spend more time on achieving more essential business goals.
The Global Capabilities of Cloud Computing
The biggest cloud computing services facilitate a global interconnection of secure data centers, which are often updated with the newest/latest generation of reliable and fastest computing infrastructure. It therefore offers several benefits when compared to a single corporate data center thus promoting reduced network latency for application as well as greater economies of scale.
Cloud computing makes disaster recovery, data backup, and business transitions less expensive--and easier, since data can be redundant at multiple locations on the cloud provider's network.
A lot of cloud providers provide a broad set of technologies, policies, as well as controls that strengthen your security posture overall, helping to protect your apps, data and infrastructure from potential threats.
Reasons for the Rapid Growth of Cloud Computing Security
The cloud computing market is rapidly growing, bringing up a lot of challenges and big security issues. Some of these issues in the cloud computing world come down to the security and confidentiality of user data in terms of availability, location, relocation, and security.
Privacy of sensitive data is of great importance. Having dedicated servers is essential in any elaborate cloud computing environment. Any cloud computing infrastructure is required to extend its trusted encryption systems to ensure data integrity by demanding strict attention access control as well as safe and resistance to change of position backup of user data.
Keeping Your Skills Relevant for Now and in the Future
Staying relevant in this dynamic industry is a challenge. If you need to stay in the game and remain competitive, you are required to constantly learn, practice, and research. You are required to acquire new skills and stay in the loop. This will enable you to identify and forge skills that helps you stay relevant.
To keep up with the ever-changing security challenges in cloud computing you will need to keep up to date with the recent trends in the field, conduct independent research, attend specialized training, attend workshops and seminars, take part in product launches as well as trade shows as well as networking with other professional and exchange ideas. Some universities even offer discounted industry certifications to students, helping them stay current and stand out amongst a sea of qualified candidates.
You Can Start Your Education at ECPI University
Enrolling into a degree program in cloud computing is a vital step. Through the ECPI University's interacting education program, you could learn all the required concepts using the cloud and visualization. The Bachelor of Science in Computer and Information Science with a major in Cyber and Network Security- Cloud Computing track is available at an accelerated pace, also in an online format. For more information about this exciting opportunity, connect with a helpful admissions officer today.
It could be the Best Decision You Ever Make!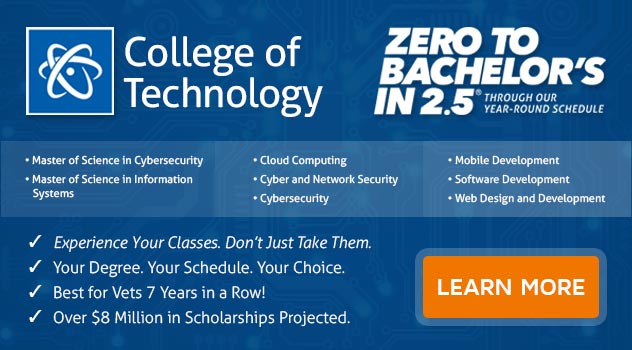 DISCLAIMER – ECPI University makes no claim, warranty, or guarantee as to actual employability or earning potential to current, past or future students or graduates of any educational program we offer. The ECPI University website is published for informational purposes only. Every effort is made to ensure the accuracy of information contained on the ECPI.edu domain; however, no warranty of accuracy is made. No contractual rights, either expressed or implied, are created by its content.
For more information about ECPI University or any of our programs click here: http://www.ecpi.edu/.