BSN Nursing Programs: How do I Switch Careers with a Degree in Another Field?
Nursing careers continue to be some of the most lucrative, flexible, and challenging positions available. How can job seekers who already have bachelor's degrees take advantage of the growth and opportunity in the medical field? What are the advantages of pursuing an additional degree? How can a current bachelor's degree holder prepare themselves for nursing school?

Bachelor to BSN Program: The Pathway to a New Career
Traditional bachelor's degree programs require 4 years of hard work and dedication to achieve your education goals. After graduation, some degree holders may find that their first choice isn't the best career choice after all. Whether their goals change, have a hard time making enough money, or they simply find they don't enjoy the work as much as they thought, degree holders can feel stuck. No one wants to invest another 4 years into a new degree, hoping for a better result.
Luckily, the Bachelor to BSN degree program helps job seekers gain the credentials they need to pursue a nursing career without wasting time. The Bachelor to BSN program uses credits from your previous degree program to fulfill some of the requirements of your nursing degree. That means you only take the classes that provide the skills and knowledge you absolutely need. A Bachelor to BSN program saves time, money, and untold frustration.
Not all degree holders will qualify for these programs. General requirements for entry into a Bachelor to BSN program include:
A minimum 2.5 final overall GPA
A combined GPA of 2.75 or higher for all science classes
Successful completion of anatomy and physiology, microbiology, chemistry, statistics, social science, human growth and development/developmental psychology, and English courses.
Passing scores on the TEAS V or ATI TEAS exam
Annual FDLE background check
These requirements ensure that students are ready to take on the rigors of an accelerated nursing program. Not all credits from an existing degree will transfer to your new program. The admitting college has the final authority to decide what credits will transfer and how they will be applied.
Advantages of Additional Degrees
Besides opening up a new career path, gaining an additional degree has multiple benefits for job seekers.
Your skills and knowledge will be up-to-date. Even if your current degree is in a technical or medical field, it's likely been a while since you've studied. Science and technology are rapidly changing industries. Getting a new degree ensures that your information is the most current and accurate available.
You have more career options. With a little creativity, it is possible to meld your current work with your passion for nursing. For example, schoolteachers with nursing degrees make excellent pediatric nurses. An engineer may be able to use their technical expertise to invent or maintain medical machinery. Employers in different industries need medical experts to fill many surprising positions.
You'll have a stronger network. The people you meet in your nursing school training will form an important social network that helps you find jobs, education opportunities, and other resources to build your new career. However, your old network is just as valuable. A diverse network helps job seekers craft the career of their dreams.
Getting a second degree gives you more control over the direction of your career. It also opens doors to a more satisfying, challenging, and interesting work experience.
Preparing for Nursing School
If you haven't been in a formal education setting for a few years, the idea of going back to school is a little scary. Use these tips to prepare yourself for nursing school and reduce your nervous jitters.
Gather your social resources. Organize friends and family members to help you with chores, child rearing, and other daily duties that you may not have time to complete while you study.
Brush up on the basics. If you don't have to repeat your science classes, you may want to take a short, at-home refresher course to fill in any blanks.
Organize your schedule. Talk to your supervisor at work about your school and study hours. If any schedule adjustments need to be made, it's better to do so before your instruction begins.
Are you looking to make a career change to nursing? If you want to earn a Bachelor of Science in Nursing after already possessing a bachelor's degree, ECPI University can help you with this transition. For more information on this exciting degree program, connect with a friendly admissions advisor today.
It could be the Best Decision You Ever Make!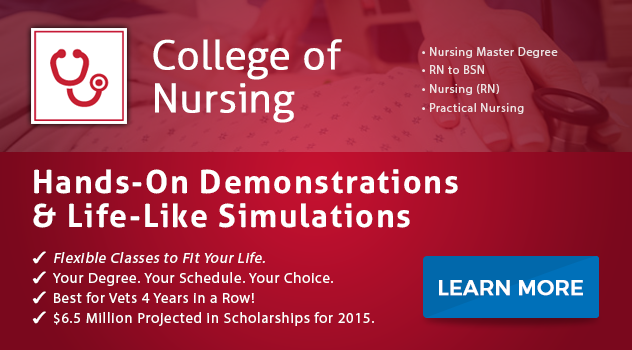 DISCLAIMER – ECPI University makes no claim, warranty, or guarantee as to actual employability or earning potential to current, past or future students or graduates of any educational program we offer. The ECPI University website is published for informational purposes only. Every effort is made to ensure the accuracy of information contained on the ECPI.edu domain; however, no warranty of accuracy is made. No contractual rights, either expressed or implied, are created by its content.
Gainful Employment Information – Bachelor's to BSN
For more information about ECPI University or any of our programs click here: http://www.ecpi.edu/ or http://ow.ly/Ca1ya.