Can You Get a Student Loan for Online Classes?
Many prospective students have the misconception that unless they are attending a brick and mortar college, they don't qualify for financial assistance. This can be frightening for non-traditional college students who want to further their education but can't do so without financial aid available. Thankfully, many online universities offer financial aid and there is no rule that an online college can't give out federal loans.

There are Options for all Kinds of Students!
In many cases, they haven't researched all the options available and don't realize that there are financial aid options for those in need. Online classes enable the student to complete projects and assignments when they have the time available.
With today's busy lifestyles, pursuing an online education has become a very popular educational option. U.S. News and World Report reported in January of 2018 that online enrollment rose faster between 2015 and 2016 compared to the previous three years. More than 6.3 million students took at least one online course in the fall of 2016—this is the 14th year in a row that online enrollment has increased.
Is Online Learning the Right Choice for Older Students?
According to a recent article from U.S. News and World Report, online undergraduate students are typically around 29 years old with graduate students around 33. They go on to state that online education is a great option for older students that are juggling work and family responsibilities.
Here are some reasons why online education is advantageous to older students:
Flexibility: Older student are often juggling a variety of responsibilities, with online classes, students can study anytime and anywhere 24/7. They can also take as many courses per semester as they can handle or that fits into their current lifestyle.
Learn new skills: Enhancing existing opportunities or learning new skills can help those looking to elevate their positions at work. In addition, many employers will pay for part of the tuition if the classes taken will expand their employee's skill set and knowledge in their industry.
Knowledge sharing: Exploring an online education is an opportunity to share real-world experiences with other students, and visa-versa. Often these students are more interested in pursuing their education at this point in their life. They may find classes to be more relevant to your current job and real-life experiences.
New opportunities: Pursuing an online degree may help advance a current job position, help with job hunting, or help with a total fresh start in life.
Financing Your Education
Many prospective students are unaware that they can get assistance financing their online classes. The U.S. Department of Education is dedicated to helping students that want to continue their education via distance learning or online courses. Students must do their due diligence, as "not every online degree is accredited or eligible for federal student aid."
Before signing up for courses, all students should schedule time with the school's financial aid office to make sure that the desired courses are eligible for student loans and financial assistance. Of course, another way to reduce overall education costs is to apply for grants, awards, and other ways to reduce the overall cost of their education.
Many schools and university offer online financial planning tools that help students with scholarships, grants and loans before they plan their course load. Some of these tools will provide estimates for every cost involved such as courses, tuition, fees, book and supplies. Having these resources available makes financial planning easy with no big surprises
Opportunity is Waiting for You at ECPI University Online
Considering going back to school online? If you want to earn a degree in business, technology, criminal justice, or more, consider ECPI University Online. For more information about our accelerated classes and year-round schedule, connect with a friendly ECPI University admissions advisor today.
It could be the Best Decision You Ever Make!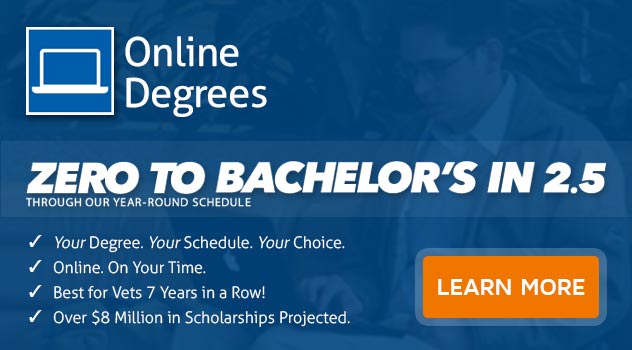 DISCLAIMER – ECPI University makes no claim, warranty, or guarantee as to actual employability or earning potential to current, past or future students or graduates of any educational program we offer. The ECPI University website is published for informational purposes only. Every effort is made to ensure the accuracy of information contained on the ECPI.edu domain; however, no warranty of accuracy is made. No contractual rights, either expressed or implied, are created by its content.
For more information about ECPI University or any of our programs click here: http://www.ecpi.edu/ or http://ow.ly/Ca1ya.