Career Change from Business to Nursing: Are You Ready?
Acknowledging that a certain career track isn't right for you is no easy decision. Maybe you've only undergone one year of business school or maybe you have been working under your business degree for thirty years. Either way, changing career paths can feel like a daunting task, however, it could just be the best change you make and, thanks to a number of available accelerated nursing degree options, the transition is often much easier and faster than people think.

The Basics: Why Choose Nursing?
Nursing is a rewarding professional career path that can appeal to both those frustrated with the black and white of business school and those already operating in a corporate office-like environment who want to help others.
Of course, nursing isn't just a desirable career path because you get to help others and make important impacts on their lives. According to the Bureau of Labor Statistics, nurse practitioners, physician assistants, personal care aides, and home health aides make up four out of the six fastest growing occupations. These are trades that are in high demand throughout the United States and so switching to a nursing career can be a great choice for those worried about job prospects in their current area of expertise or who are otherwise looking to join a field with strong job security.
Another great benefit of a nursing career is its inherent flexibility. Most nurses work 12 hours shifts but in exchange enjoy three, sometimes four-day weekends. This can make a great balance for those adults looking for a career that better balances time to work and to play or travel. Or for those who want to better alternate parent time with their partner.
Of course, such hospital scheduling isn't the only available option for those with a degree in nursing. You might work at a school as the school nurse, day camp, assisted living facility, or similar location. Once you have some experience on your resume, you may even opt to pack up the things and travel the country, or even the world as a travel nurse. This is a great way to see new places while also enjoying a nice, regular paycheck.
How Having a Business Background Can Make the Transition Easy
If you already have a degree in business, then you might find yourself in a particularly advantageous position. This is especially true for those who are interested in healthcare administration or working in the public health arena as the most competitive candidates in these types of careers frequently have (or are required to have) backgrounds in both business and nursing. This is because business-related professionals are often seen as better leaders as they have training in effectively managing people, numbers, and products.
If you already have a bachelor's degree, then the transition to a career to nursing can be very smooth and stress-free thanks to a number of available programs designed to work in tandem with that degree. Today's nursing schools offer a program such as a Bachelor's to BSN, that have been designed specifically for people like you who want to undergo a career change.
These special degree programs allow enrolled students to complete their nursing degree on an accelerated schedule so they can quickly get their degree, change their career trajectory, and enjoy a new life as a nurse as soon as possible. These degree programs take the fundamentals you already have and add to it the nursing-specific courses you need to thrive in the workforce. This allows most students to expedite their education so that they can begin their second career in nursing within just two years of starting their education.
Over 40? It's Not Too Late to Begin with an Accelerated BSN
While nursing can be a physically (and sometimes emotionally) demanding job, those who are nearing or over 40 should not be afraid to get started if they want this change of careers. In fact, nearly 45% of RNs were 50 years of age or older at last reporting. Many hiring managers will appreciate the professionalism, maturity, and advanced decision-making skills older workers with previous career experience bring to the table.
So if you want a career change, then now, no matter what age you are, is the time to get started. Nursing is an ideal choice for any individual who loves working with people, thrives in intense working environments, and has a strong aptitude for math and science.
Get Started Today at ECPI University
Are you interested in transitioning into a nursing degree? If you already hold a bachelor's degree, you might be eligible to join a Bachelor of Science in Nursing program. Here at ECPI University we offer this program at an accelerated pace. For more information on how to get started, connect with a friendly admissions representative today.
It could be the Best Decision You Ever Make!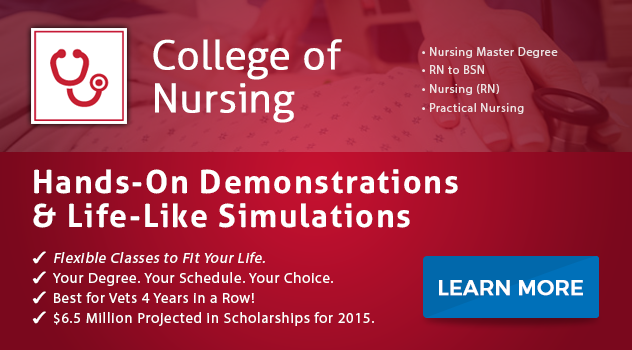 DISCLAIMER – ECPI University makes no claim, warranty, or guarantee as to actual employability or earning potential to current, past or future students or graduates of any educational program we offer. The ECPI University website is published for informational purposes only. Every effort is made to ensure the accuracy of information contained on the ECPI.edu domain; however, no warranty of accuracy is made. No contractual rights, either expressed or implied, are created by its content.
Gainful Employment Information – Nursing (ADN) - Associate's
For more information about ECPI University or any of our programs click here: http://www.ecpi.edu/ or http://ow.ly/Ca1ya.