Cloud Computing Curriculum: What does it Entail?
As technology continues to advance, cloud computing is rapidly becoming the wave of the future. In order to be successful going forward, tech skills are going to be more in demand than ever before. These skills will give you an advantage over the competition when it comes to applying for jobs.
There are many schools that offer bachelor's degree programs with cloud computing tracks to give you the skills and knowledge you need to be successful. Here's what you need to know about this exciting new field and what you can expect from a degree program in cloud computing.
General Classes for a Cloud Computing Degree Program
Most degree programs incorporate a foundation of general education in some form. This typically includes courses in math, science, writing, the arts, and more. The goal is for students to come out of the program with a well-rounded education that touches on all bases. This way, they'll have a broader education than if they were to focus solely on cloud computing.
Core Classes for Cloud Computing
In many cases, a cloud computing degree program will start with a core curriculum for computer science degrees. This portion of the program usually provides a broad introduction that will enable students to be successful throughout the rest of their coursework. These are introductory level courses that will serve students well in all areas of computer science, including networking, cyber security, and database management, to name a few.
Once students have mastered the basics, they are ready to move on to more advanced topics in cloud computing. This section goes deeper into the topics that were introduced in the core curriculum and will provide students with the skills they need to be successful in the industry. Students will need to have passed their lower level courses successfully in order to be fully prepared for more advanced coursework. If they do not have a satisfactory grasp of the basic topics, they are likely to struggle later on in the curriculum.
Cloud Curriculum Used Later in the Degree Program
The final module will usually put the focus squarely on cloud computing. This is where students get into the real meat of the curriculum and hone their knowledge of their specialty in this area. Many of the courses in this section are likely to also include laboratory components so that students can get hands-on experience in virtualization and other cloud computing techniques. It is through this hands-on work that students truly gain mastery of their craft so that they can put it to use in a future career.
Some schools also include a selection of courses on career development, either general or specific to cloud computing. This way, students can begin thinking about their career options and how they wish to progress in the industry. They may also learn business skills that will help them get ahead so that they can make careers for themselves in computer science.
Preparing for the Coursework
Most schools design their curricula so that students do not need much, if any, preparation to be able to be successful. Most preliminary instruction will be provided in the introductory courses, and the later courses build on the material learned early on. That being said, it will be greatly beneficial if students have some familiarity with working with computers beyond the basics, although it is usually not required.
Aside from computer skills, students will have a greater chance of success if they can bring with them some basic study skills. This includes the ability to manage their time so that they can complete all assignments before deadlines expire. Picking up the knowledge required to complete the coursework requires dedication and commitment. Students should not expect to just coast by with minimal effort and be able to master the material.
Accelerated courses will move quickly, so students must be prepared to keep up with the fast pace so that they don't fall behind. Most schools structure their programs to help students complete their degrees as quickly as possible so that they can get out there and start working in the field, rather than putting their lives on hold for extended periods to obtain their education. Many also make resources available to help students who are struggling with the accelerated pace, but it is up to the students to take advantage of that help.
Are you interested in cloud computing? If you want to earn a Bachelor of Science in Computer and Information Science with a Major in Cyber and Network Security - Cloud Computing Track, consider ECPI University for your education. With an accelerated schedule and year-round classes, you could earn your degree sooner and start looking for work in your field faster. For more information, connect with one of our friendly ECPI University admissions representatives.
It could be the Best Decision You Ever Make!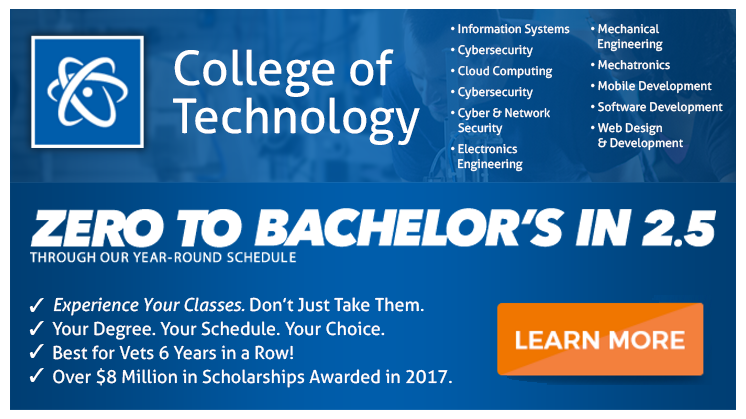 DISCLAIMER – ECPI University makes no claim, warranty, or guarantee as to actual employability or earning potential to current, past or future students or graduates of any educational program we offer. The ECPI University website is published for informational purposes only. Every effort is made to ensure the accuracy of information contained on the ECPI.edu domain; however, no warranty of accuracy is made. No contractual rights, either expressed or implied, are created by its content.
Gainful Employment Information – Cloud Computing - Bachelor's
For more information about ECPI University or any of our programs click here: http://www.ecpi.edu/ or http://ow.ly/Ca1ya.