Cloud Computing: Online Degree Plans That Could Help You Get Started
Cloud Computing is a term used to identify the on-demand delivery of computer power, storage, database, applications as well as other IT resources over the internet, sometimes with as-you-go pricing. The services hosted in the internet is broadly categorized into three categories: IaaS, PaaS and SaaS.
Over the recent few years, the cloud computing industry has aroused a lot of interest as well as investment. It has become an integral part of any IT infrastructure for virtually any company all over the world. Industry analysts have reported that the cloud computing industry has recorded swift growth over the recent years and the cloud computing market is growing at a rate of 22.8 % GAGR which will reach $127.5 billion in the year 2019.

Benefits of a Having a Cloud Computing Degree When You're Competing for Work
Companies are actively employing professionals who have gained sufficient training in cloud computing. They require individuals who can seamlessly integrate and implement cloud computing when implementing their infrastructure.
A search on employment websites could turn up thousands of open positions for this field. Even with the amount of people working in IT currently, there are not enough to fill cloud computing positions. Cloud computing training is a step in the right direction and could help your odds of being hired and being successful at your new job.
Obtaining training in cloud computing could land you jobs that are not influenced by market conditions. This is supported by the fact that numerous companies cannot find well trained IT professionals with the necessary skills in cloud computing. In the US and UK, 42% percent of the companies are looking to hire for cloud computing skills. 43% of these companies have reported to have trouble finding people with the necessary skills to fill the open posts.
Why Are Degrees so Important?
A degree in cloud computing should improve your expertise and promote your credibility with your employer and peers. It is a great way to measure your skills and knowledge against the industry benchmarks. According to IDC and Microsoft, getting a degree and coupling with experience are very essential attributes that companies look for when hiring for any cloud-related position.
A degree implies that you're skilled to help your organization reduce costs and risks to implement workloads and projects on numerous cloud platforms. This will avail opportunities for cloud-related projects and your clients will regard you as a credible subject matter expert. It is an indication that you can work on complex procedures and handle cloud deployment in an enterprise.
How does Online Education Work and How Can it Benefit Me?
As a busy and engaged professional looking to start a career in cloud computing, studying online is an ideal option for you since it offers more flexibility. You can work and fit your course work around your life and work schedule instead of trying to do it the other way around. You can as well take asynchronous classes (a class where you do not need to login at a given time for a live session but you can study and interact with your instructor and fellow students).
Online studying should enable you to choose your own study environment that is tailored to your specific needs. Taking an online course means you do not commute to class, meaning less time spent on the bus and more studying. Online studying also reduces spending.
You're only required to pay the tuition fee, application fee, book supplies and a few other items. It could translate to lower debts and more savings. It as well could imparts self-discipline and responsibility hence making you more self-motivated, a trait that might make you to stand out in the work place and beyond.
Are You Ready to Get Started Today?
If you're looking to stand out in the cloud industry, a cloud computing degree such as the Bachelor of Science Degree in Computer and Information Science with a focus in Network Security and Cyber security - Cloud Computing Track could help you go past the interview stage.
ECPI University offers this course, with online and hybrid options in addition to traditional classes. For more information, connect with a helpful admissions advisor today.
It could be the Best Decision You Ever Make!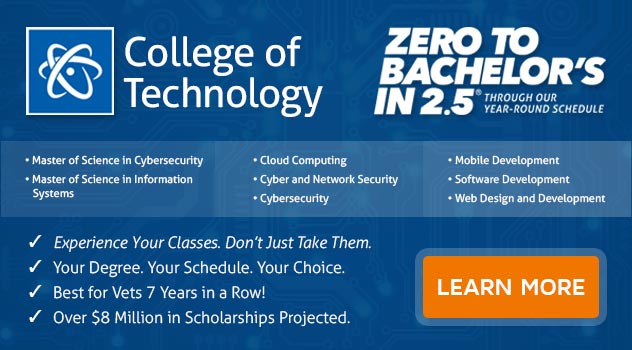 DISCLAIMER – ECPI University makes no claim, warranty, or guarantee as to actual employability or earning potential to current, past or future students or graduates of any educational program we offer. The ECPI University website is published for informational purposes only. Every effort is made to ensure the accuracy of information contained on the ECPI.edu domain; however, no warranty of accuracy is made. No contractual rights, either expressed or implied, are created by its content.
For more information about ECPI University or any of our programs click here: http://www.ecpi.edu/.