Cloud Computing Security: How Secure is the Cloud?
There are manifold advantages to hosting your information on the cloud, including significant cost savings and more efficient transfer of information from site-to-site. However, some may be reluctant to move away from a local server model because of security concerns. How secure is the cloud really? If you're a future cloud computing student, the answer might surprise you.
What Is Cloud Computing?
For those who are unfamiliar with network computing in general, explaining the cloud can be difficult to put in non-technical language. To put it as simply as possible, cloud computing is a method of storing and accessing data that may have originated at your organization over an internet connection in lieu of accessing it on a local server or hard drive. This can be a total cloud data network or synchronize the cloud with local storage for backup purposes. The cloud has the potential to be transformative in regards to the relationship that a business has with the data it generates.

The Potential Risks of Cloud Storage
Cloud computing and storage methods are not without certain risks. The largest concern of businesses that would host their personal or proprietary information on the cloud is losing direct supervision of the data itself. Without a local server, there is a significant shift in accountability of the data from the company to the cloud host.
Not all companies are prepared to trust another company with the integrity of their data. There are concerns that the data may be stolen, lost, or corrupted if there is a catastrophic event. When data is stored in the cloud it may feel to a business that they are letting go of vital information a little more than they are comfortable with.
How Do Cloud Hosts Keep Data Safe?
Cloud security always starts with encryption and a cloud host actually has a surprising range of encryption solutions that can give traveling data end-to-end integrity during transfer. Encryption also allows the customer to define permissions of who can view what data under what circumstances.
Encryption is usually combined with other methods, such as compartmentalizing data into separate packets to prevent full data from being seized through traditional hacking methods. When combined with multiple methods of authentication, these combined solutions can make it extraordinarily difficult for data to be viewed by anyone who shouldn't have access to it.
Is Data Safer In The Cloud Than In Local Storage?
While these risks may be cause for concern, there are also many ways that cloud storage is a safer solution than local hosting options. For example, hard drive failures and other hardware malfunctions are one of the leading causes of data loss. Cloud storage has multiple built-in redundancies so that one hard drive or data storage unit failure will not result in data loss as multiple copies are cross-indexed throughout the cloud.
Another vulnerability that can be mitigated by cloud storage is a local computer being compromised by malware or hacking. If authentication for the cloud storage is not stored on the device and two-factor authentication is used than access to the computer will not allow the cloud data to be compromised.
Are There Drawbacks to Cloud Storage?
When making the decision to store data in the cloud there is one very important factor to take into consideration and that is the reliability of the internet connection. Having a reliable network with which to access the remote cloud data can make or break a cloud computing solution. With recent troubling changes to net neutrality statutes and regulations, this may be something to think about when determining if there will be a sufficiently fast and reliable data transfer rate from local devices to cloud data storage.
The Best Reason to Consider the Cloud
Among the best reasons to consider cloud storage solutions is the issue of performance. Cloud computing shares the burden of not only data storage but also virtual memory and data processing workloads. Observing the percentage of resources that a computer spends on these processes will amply demonstrate that sharing this electronic burden will significantly increase the capacity of the device to not only store data but also run programs. This increase in device efficiency can affect everything from daily work productivity to energy bills for operating local desktops.
The Growing Cloud Needs New Security
As the cloud grows so does the demand for qualified professionals who understand both the merits and vulnerabilities that are inherent in this exciting sector of information technology.
Do you want to work in the cloud? If you want to earn a Bachelor of Science in Computer and Information Science with a Major in Cyber and Network Security - Cloud Computing Track, ECPI University offers this degree at an accelerated rate. For more information about this exciting degree program, connect with a friendly admissions advisor today.
It could be the Best Decision You Ever Make!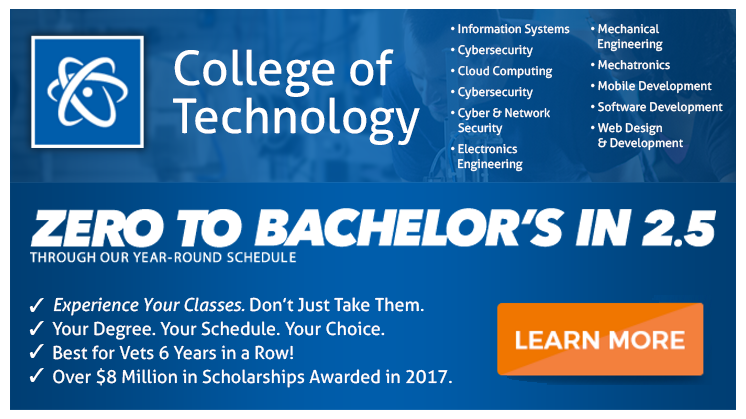 DISCLAIMER – ECPI University makes no claim, warranty, or guarantee as to actual employability or earning potential to current, past or future students or graduates of any educational program we offer. The ECPI University website is published for informational purposes only. Every effort is made to ensure the accuracy of information contained on the ECPI.edu domain; however, no warranty of accuracy is made. No contractual rights, either expressed or implied, are created by its content.
Gainful Employment Information – Cloud Computing Track - Bachelor's
For more information about ECPI University or any of our programs click here: http://www.ecpi.edu/ or http://ow.ly/Ca1ya.