Cloud and the Future of Computing: Where Can I Fit In?
Simply put, cloud computing involves companies opting to rent IT services rather than buying the infrastructure. Instead of investing heavily in equipment, software, and databases, companies are now choosing to access their computing power via the internet.
A company that has "moved to the cloud" has its IT infrastructure stored outside, at a data site that is managed by a cloud computing provider. For companies, cloud computing offers more flexibility, agility, and scale. The services are offered over the internet and paid for on pay-per-use or as-needed business models.

How is Cloud Computing Related to Cybersecurity?
Cloud computing deals with the storage of information and data on virtual and physical servers. Cybersecurity, on the other hand, entails the protection of systems, programs, and networks from digital attacks.
Cyberattacks such as the WannaCry/NotPetya pandemic are often activated by sophisticated attackers that cut through traditional and legacy security. To conquer such attacks, cybersecurity teams must restructure and pursue today's attacks as diligently while projecting the attacks of tomorrow. This is where cloud computing comes in. Cybersecurity must shift to the cloud to be able to detect and defeat threats in real-time.
The cloud can support instant analytics and big data over multiple end-users to immediately address known attacks and foretell threats that plot to overwhelm security infrastructures. Indeed, the future of cybersecurity lies within the cloud!
What upcoming innovations are going to change the cloud?
While cloud computing has become an increasingly widespread resource for many modern businesses, experts argue that only a fraction of the technology's capabilities has been harnessed so far. Cloud computing may become a crucial instrument for business innovation and progress in the future. As such, companies will have to adapt and reanalyze their current IT infrastructure.
The next wave of innovative technologies that draw their success from the cloud technology is emerging, including artificial intelligence, the Internet of things (IoT), and machine learning. Together with digital business services and intelligent technologies, cloud computing can propel organizations into new dimensions of competitiveness.
What is finding a job like in this field?
As cloud technology continues to grow, a great demand for professionals is emerging to manage the vast networks. According to a survey of future jobs by the World Economic Forum (WEF), 72 percent of companies worldwide will adopt cloud computing technology by 2022.
As you can see, cloud professionals are going to be in high demand. The time is nigh for students to take advantage of this technology and reap the benefits that come with it. There are many paths that you can take if you want to become a cloud architect, cloud infrastructure, or cloud security professional. While there exist a few degree programs specific to cloud computing, a background in IT or computer science is often required in addition to a degree in order to find employment.
A degree in cloud computing is devised to equip learners with the necessary technical and management skills to enable them to operate, design, and maintain cloud systems and help companies transition to cloud-based infrastructures.
Those already in the field have years of experience in software development and work with various programming languages including Java, Python, and AngularJS. Cloud professionals also know a variety of tech platforms and tools such as Scala, Redshift, SQL, Spark, Kubernetes, and Hadoop. Having skills in cybersecurity is also advantageous for cloud engineers. Other important skills include Linux, DevOps, and Docker.
Once you have completed your degree in cloud computing, you could be eligible to find work in one of the following positions:
Virtual Server Administrator

Information Technology Solution Providers

Network Implementation Team

Network Support and Help Desks
Why is education important in cloud computing?
Having a degree in cloud computing could give you a broad understanding of the technology and its connection to business processes, including procurement, financial management, and communications. You should be able to design successful cloud environments and eventually become a powerful asset in any company.
Also, the coursework in a cloud computing degree program generally outlines emerging concerns in the field and gives learners an opportunity to have hands-on experience with cloud technologies. Cloud computing is among the most in-demand careers today, thanks to the vast number of companies that are moving their business functions to the cloud.
Is Your Future in the Clouds?
Are you fascinated by cloud computing technology and want to learn how to master it? If you want to earn a Bachelor of Science Degree in Computer and Information Science with a Major in Cyber and Network Security - Cloud Computing Track, consider ECPI University and our accelerated degree program. For more information, connect with a helpful admissions professional today.
It could be the Best Decision You Ever Make!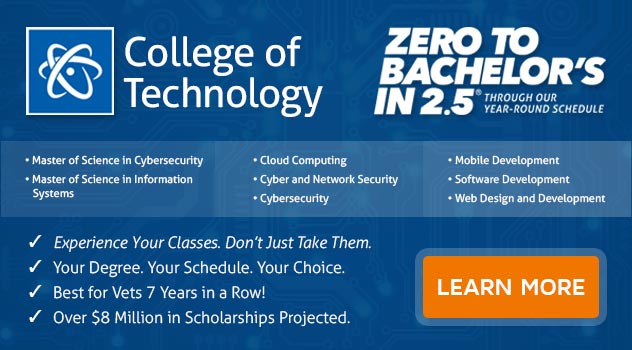 DISCLAIMER: ECPI University makes no claim, warranty, or guarantee as to actual employability or earning potential to current, past or future students or graduates of any educational program we offer. The ECPI University website is published for informational purposes only. Every effort is made to ensure the accuracy of information contained on the ECPI.edu domain; however, no warranty of accuracy is made. No contractual rights, either expressed or implied, are created by its content.
For more information about ECPI University or any of our programs click here: http://www.ecpi.edu/.