Culinary Arts College Degree: Do I Need it to be a Chef?
According to the Bureau of Labor Statistics, the need for professional chefs and head cooks will rise by 10% over the next decade. Getting a culinary arts degree is often the best way to prepare yourself for a bright future in this field. What are some of the benefits of earning a culinary arts degree? Why do many professional chefs choose to begin their careers with a degree? How can you leverage your education and love of cooking into the ideal career for you?

Benefits of a Culinary Arts Degree
Earning a degree in the culinary arts helps your career in a number of ways.
In a culinary training program, students are exposed to a variety of cooking styles, techniques, and specialties. Learners get a taste of everything from baking bread and confections to preparing multi-course gourmet meals. This range of experience gives graduates the ability to fill entry-level positions in different types of eateries and food production operations. Choose what you love or try your hand at something new.
When you respond to posts on internet job boards, you're just another resume in a pile of faceless options. Unless you have outstanding experience or great connections, there's little to distinguish your application from anyone else. Beginning your career with a degree in culinary arts makes your resume stand out, which means hiring managers will call you first.
Your friends and family all love your cooking. However, their references only go so far during a job search. A degree validates your existing skills, so employers know that you have what they need. Even those with natural talent and extensive home or community experience can benefit from a degree when pursuing job openings.
A degree is a great way to kick off your career when you lack practical work experience.
Why Professionals Choose Degree Programs
Think of your favorite chefs. From the popular food show host to the head cook at your local steakhouse, it's likely they started their career with a degree. Why do those who plan to make cooking their lifelong profession choose to begin their careers with culinary degrees?
A signature style is the trademark of every professional chef. It can take years of experimentation to find out your unique spin. Going to school gives culinary professionals time to experiment under the watchful eye of an experienced guide. This helps students learn how to express themselves more effectively through flavor.
Cooking is a rock-star industry. Those who aspire to work in the eateries and entertainment areas of the rich and famous know that it's all about having the right connections. By attending a formal training program, students are introduced to instructors and other students. These connections expand a student's network, making it more likely that you'll hear about the good positions before anyone else does.
Professional cooking is about more than just the taste. Dishes have to look and smell good too, especially in the high-end restaurants to which professional chefs aspire. Culinary arts training gives future cooks the chance to learn, practice, and perfect different plating techniques to enhance the visual appeal of their edible creations.
Cooking is part science and part art. Culinary arts training allows you to explore your inner artist while learning the facts behind the flavors. These are both essential lessons for professional chefs.
Use Your Education to Create the Career of Your Dreams
With your passion and accredited credentials, you can shape a cooking career that fits your preferences and personal style.
Not sure where you want to concentrate your career? Spend your time in culinary classes finding out exactly what draws you to cooking. And if your first entry-level position doesn't feel exactly right, your education qualifies to try another type of job in the industry.
Is your goal to open your own eatery? Restaurant owners need to know everything about the business. You'll need the depth of knowledge provided by formal education. Culinary arts training replaces years of paid experience, letting you get closer to goals in less time.
While you may be very talented in the kitchen, a successful food business begins and ends in the manager's office. In culinary school, you'll learn budgeting basics that cut food costs and make it possible for you to earn a real living doing what you love.
Are you Ready to get Cooking?
If you think you're ready for the first step on a culinary arts career path, consider earning an Associate of Applied Science in Culinary Arts. ECPI University's Culinary Arts of Virginia offers this degree program at an accelerated rate. For more information about this exciting opportunity, connect with a helpful admissions counselor.
It could be the Best Decision You Ever Make!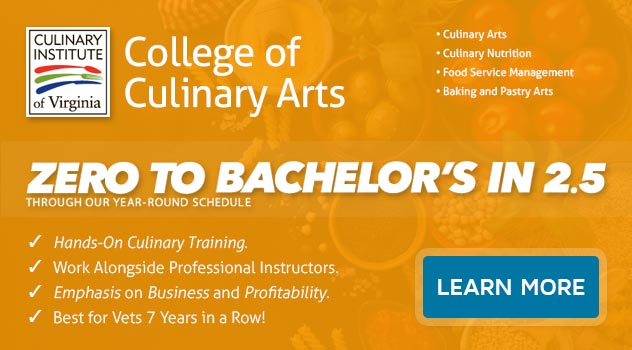 DISCLAIMER – ECPI University makes no claim, warranty, or guarantee as to actual employability or earning potential to current, past or future students or graduates of any educational program we offer. The ECPI University website is published for informational purposes only. Every effort is made to ensure the accuracy of information contained on the ECPI.edu domain; however, no warranty of accuracy is made. No contractual rights, either expressed or implied, are created by its content.
Gainful Employment Information – Culinary Arts - Associate's
For more information about ECPI University or any of our programs click here: http://www.ecpi.edu/ or http://ow.ly/Ca1ya.