Culinary Degree: The Right Choice for My Career?
The hospitality industry has been experiencing growth, and the global scene is ever changing. Consumers are traveling more on learning new tactics now and then. More so, the healthy eating habits have changed making people invent new ways of preparing food.
If you have a passion for food and want to turn it into a career, earning a degree in culinary arts could be the way to get there. With a variety of positions available and further education possible, there are an infinite number of options that could be available to a culinary arts graduate!

Do I Really Need Culinary School?
If you're interested in food, you've no doubt read books, watched TV shows, and seen documentaries were one chef will inevitably say, "I never went to culinary school." While there are plenty examples of celebrity chefs who grew up with a spatula in their hand and never stepped foot inside a culinary school, many of them are the exceptions, not the rule.
Benefits of Culinary School
Going to culinary school is the way a great deal of chefs learned their skills. There are plenty of benefits to attending a formal program.
Able to make mistakes: Restaurant kitchens can be unforgiving if you make a mistake and ruin a customer's meal. In a culinary school kitchen there are lower stakes and less punishment for a burned sauce or fallen soufflé. Many chefs feel more comfortable getting the feel for their trade when the pressure of serving paying customers is off.
Learn proper techniques: Although each chef you work under will have their own culinary style, there are still proper techniques that are virtually impossible to perfect outside of a culinary school kitchen. This also you'll pick up fewer bad habits, as your instructors will never let you perform with poor knife skills or shoddy presentation.
Your instructors are professionals: If you want to go into a professional kitchen in order to learn from a professional chef, what could be better than that? What about learning from 20 different chefs over the course of your degree program? 
Learn different types of cuisine: When working in a restaurant, you generally are taught what that restaurant serves. Few, if any, chefs will take the time to teach you how to properly make an Italian spaghetti sauce when you work in a sushi restaurant. Knowing how to cook more types of food than just one opens you up to the possibilities of employment in more types of restaurants.
Network with other people in the culinary field: Your educational experience will expose you to a variety of people who could help you succeed in the industry.
Students can utilize career services: There will probably be a career services branch at your school. The staff could help you find job postings that suit you, tidy up your resume, and walk through a mock interview with you.
Surrounded by people with the same passion: Have you ever wanted to share your excitement when you complete a complicated recipe or discover a new spice blend that perfectly finishes a dish? Now you have an entire class of people who will be interested in what you've discovered and will share their own knowledge with you.
Learn food science, not just cooking: When cooking, foods create chemical reactions and each ingredient you put in a dish could create a different one. At culinary school you should be taught about why ingredients fit together (and why some don't) and how to cook each one properly.
Is a Culinary Arts Degree Right for Me?
This all depends on you. If you're passionate, driven, and want to work in the culinary arts industry, culinary school should be a vital consideration. While it's not mandatory for working a chef, it could be highly important when it comes to finding and landing a job and advancing in your career.
Are You Ready to Start Your New Career?
Are you sure the culinary industry is right for you? If you want to earn an Associate of Applied Science in Culinary Arts, ECPI University's Culinary Institute of Virginia offers this program at an accelerated pace. For more information on this exciting program, connect with a helpful admissions advisor today.
It could be the Best Decision You Ever Make!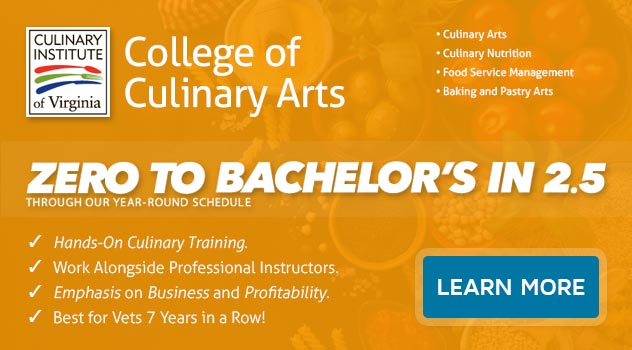 DISCLAIMER – ECPI University makes no claim, warranty, or guarantee as to actual employability or earning potential to current, past or future students or graduates of any educational program we offer. The ECPI University website is published for informational purposes only. Every effort is made to ensure the accuracy of information contained on the ECPI.edu domain; however, no warranty of accuracy is made. No contractual rights, either expressed or implied, are created by its content.
Gainful Employment Information – Culinary Arts - Associate's
For more information about ECPI University or any of our programs click here: http://www.ecpi.edu/ or http://ow.ly/Ca1ya.