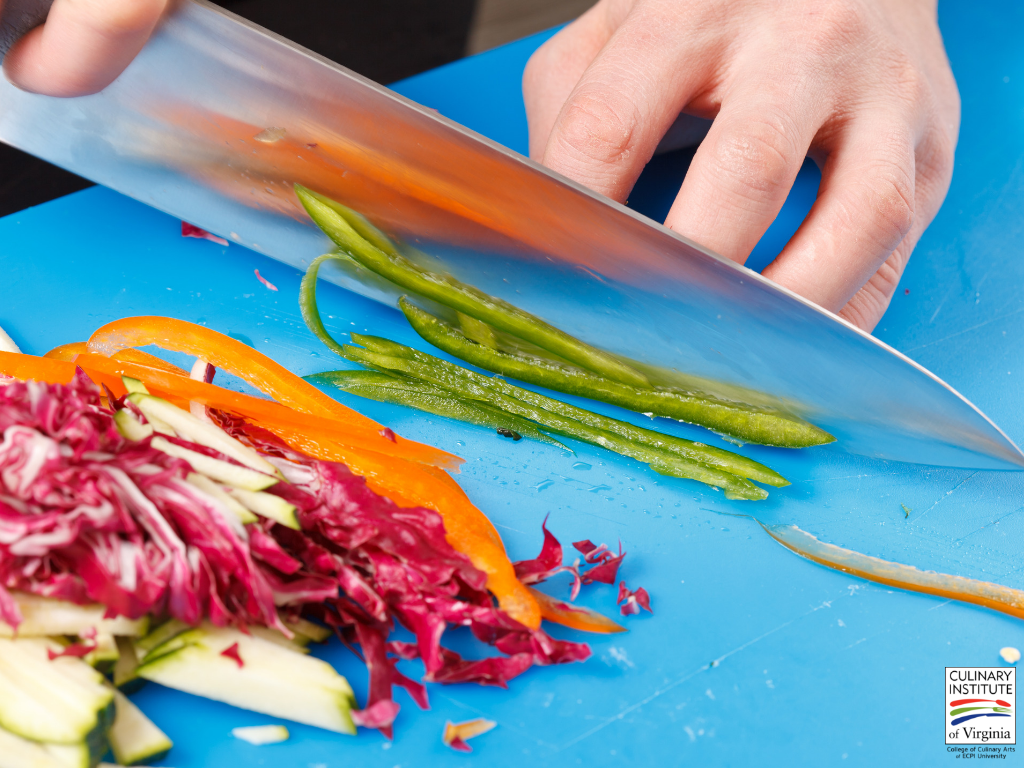 For the better part of the fall television season, members of the ECPI University community have been rooting hard for one their own. Culinary Institute of Virginia graduate Bryant Gallaher edged-out fellow contestants week after week on the popular Hell's Kitchen show on the FOX Network. The reality cooking competition is hosted by celebrity chef Gordon Ramsay and features 16 contestants who compete against one another, first in teams and then, individually.
Each episode usually includes one challenge and one dinner service, after which a chef is eliminated from the game. The challenges vary and range from ingredient preparation to meal preparation and taste tests. In December's season finale, it all came down to Chef Gallaher and one other person, La Tasha McCutchen of Winter Haven, Florida.
During the first part of the challenge, Gallaher ran into trouble when he incorrectly identified the protein and main sauce ingredient in a mystery dish. He rebounded, leading the kitchen brigade during the dinner service. Later, however, he was tasked with running the dinner service at the Hell's Kitchen restaurant and hit a rough patch in which he had to dismiss a member of the crew.
In the end, it was McCutchen who got the nod, along with a $250,000 salary as head chef at Ramsay's new Pub & Grill in Atlantic City. Quoted in a Virginian-Pilot news article the next day, he said, "My overall experience in Hell's Kitchen was unforgettable. It was a time in my life where I got to share an amazing opportunity with some great chefs."
Although Gallaher did not win, he's a winner to everyone at his alma mater, ECPI University's College of Culinary Arts, Culinary Institute of Virginia. The Campus President had this to share with Bryant on the Culinary Institute of Virginia's Facebook Page:
"Bryant, on behalf of the CIV community, we are all very proud of your performance on this season of Hell's Kitchen. As Chef Ramsey mentioned this evening, "you were born to cook". The passion you bring to your craft is an inspiration to many, and the food you create brings happiness to many more. The end of Hell's Kitchen marks the beginning of a new phase of your career, one we all look forward to watching- even if it will not be aired on network television every Wednesday night. Congratulations, Bryant."
- Andy Gladstein, Campus President, Culinary Institute of Virginia.
Congratulations @chefbryanthk13!!!! #hellskitchen #CIV #ECPIUniversity pic.twitter.com/EVG6Xac1yu

— ECPI University (@ECPIUniversity) December 18, 2014
If you would like more information about ECPI University, College of Culinary Arts the Culinary Institute of Virginia or any of of Culinary Arts programs, please feel free to visit our website TODAY! It could be the Best Decision You Ever Make!

DISCLAIMER – ECPI University makes no claim, warranty or guarantee as to actual employability or earning potential to current, past or future students or graduates of any educational program we offer. The ECPI University website is published for informational purposes only. Every effort is made to ensure the accuracy of information contained on the ECPI.edu domain; however, no warranty of accuracy is made. No contractual rights, either expressed or implied, are created by its content.

Gainful Employment Information

For more information about ECPI University or any of our programs click here: http://www.ecpi.edu/ or http://ow.ly/Ca1ya.