Culinary Nutrition Careers: Where Could I End up Working?
Have you noticed lately that now, more than ever, people are starting to think about the foods they consume? In particular, people think about how the food could be either enhancing or depleting their overall health. This leaning towards nutrition is not a coincidence.
People are making connections between lifestyle, dietary factors, and disease etiology. Because of the rising numbers of people jumping on the proverbial bandwagon, stores have reported increased sales in health foods, organic, non-GMO ingredients, and yes, even fresh produce.

What Does this all Mean for Future Culinary Nutritionists?
But let's face it, we still have a major predicament on our hands because many people buy the right ingredients but have no idea what to do with them. This sounds like a job for a culinary nutritionist, which is a brand-new field that fuses a culinary professional with a nutritionist. Isn't this just a glorified dietitian? Not exactly.
We know that dietitians can write a mean meal plan, but can all dietitians cook? The culinary nutritionist can not only create individualized menu options for hungry patients that crave nourishing food, but they can also produce these culinary creations within the healthcare setting as a certified dietary manager, or as an in-home chef.
This field is so versatile that many different businesses are looking to offer incentives to employees who promote healthy living, especially because healthy employees can completely change the culture of any business for the better. At the same time, healthy employees save companies a bundle of money when it comes to insurance premiums, which has facilitated an explosion of jobs in fields you may not have previously imagined, like community health, corporate wellness programs, supermarket outreach, gyms, and even school lunch programs.
Formal Education: The Most Vital Ingredient of All
Here's the deal when it comes to nutrition: everyone thinks they are an expert! This alone underscores the need for formal education in the field of culinary nutrition because nutrition professionals must be able to sift through the misinformation, critically evaluate the scientific evidence available within the field, and deliver exceptional ingredients that are backed by the literature to support healing.
At the same time, education is a crucial key in disease prevention as well as in efforts to prevent disease progression in patients already diagnosed. Culinary nutritionists must be prepared to answer the tough questions like "what is going on with me?" They also must know which vitamins and minerals are more prone to depletion in certain diseases, so they can speak to these deficiencies in the foods they create.
Why is Formal Education so Important for Budding Culinary Nutritionists?
This is powerful stuff because patients may not grasp all these connections, but culinary nutritionists can make them feel like they are indulging with every bite. Patients may view a meal as tasty and delicious, but the culinary nutritionist knows the secrets behind the meal including cooking techniques to boost absorption of minerals.
Not to mention, the incorporation of 'super foods' that are known to combat certain symptoms and even prevent disease. Breaking the one-size-fits-all mold and creating individualized, patient-centered care is the wave of the future, better known as precision nutrition. Passion and motivation can get you interested, but formal education can get you hired.
Take the Next Step Today
Do you want to learn more about the latest evidence-based nutritional science that can change people's lives one meal at a time? Call today to speak with a friendly admissions advisor about ECPI University's Culinary Institute of Virginia's Associate of Applied Science Degree in Culinary Arts and Applied Nutrition and you could be on your way to a life-changing career.
It could be the Best Decision You Ever Make!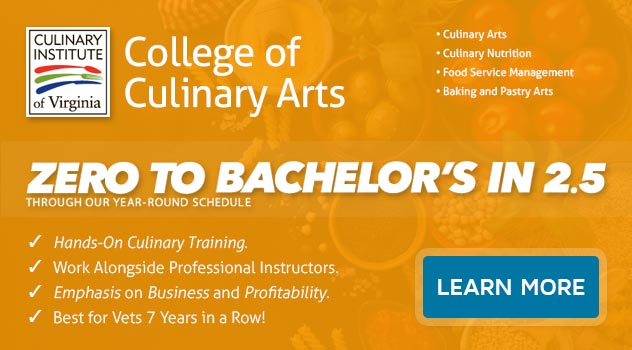 DISCLAIMER – ECPI University makes no claim, warranty, or guarantee as to actual employability or earning potential to current, past or future students or graduates of any educational program we offer. The ECPI University website is published for informational purposes only. Every effort is made to ensure the accuracy of information contained on the ECPI.edu domain; however, no warranty of accuracy is made. No contractual rights, either expressed or implied, are created by its content.
Gainful Employment Information – Culinary Nutrition - Associate's
For more information about ECPI University or any of our programs click here: http://www.ecpi.edu/ or http://ow.ly/Ca1ya.