Culinary Nutrition Expert: What Do the Professionals Say About Culinary Nutrition?
One of the most famous medical quotes of all time comes from Hippocrates, the founding father of medicine, in which he identified the need to, "let food be thy medicine and medicine be thy food."
Nowadays, we can take this simple, yet powerful quote and expand it a step further. In the words of Dr. Robert Lustig, a pediatric endocrinologist specializing in neuroendocrinology and childhood obesity, "if food is medicine and medicine is food, then that makes culinary nutritionists the doctors of the future."
These are some very insightful words from two key players in the revolutionary field of culinary nutrition and unfortunately, Dr. Lustig's specialty of obesity is largely preventable, yet it continues to affect the lives of countless children both domestically and worldwide.

The Healing Power of Food in the Modern Day Environment
Hippocrates highlighted the healing powers of various foods in 400 BC, and was considered a revolutionary for his time. Now, centuries later, Dr. Lustig's quote is still viewed as innovative and groundbreaking, especially in the face of modern medicine. But what if these views were not the exception, but the norm?
What if we could change our reactive cycle of medicine into a more proactive approach involving prevention through nutrition? Now that we have an amazing new profession that combines a chef's culinary techniques with the scientific backing of food as medicine in disease management and prevention, we can finally make some lasting changes.
Through the new field of culinary nutrition, we can take our place in history and nourish a hungry population back to health through delicious, nutritious culinary marvels that only a chef can provide. It is time to focus on the roots established by Hippocrates and couple this with modern techniques that can provide lasting changes that are individualized and fine-tuned for each person's specific needs.
Wise Words in Culinary Nutrition
When it comes to words of wisdom, a random internet search will yield countless results. However, the best advice when contemplating a new degree or profession is to do your homework when choosing a program. Examining curriculum, reading course descriptions, and looking for evidence of an accrediting body for an added layer of rigor are some places to start.
But most importantly, picture yourself actually working in the field and what do you see? Do you have the distinct ability to let your creativity flow while nourishing people with your creations? Are you someone who loves the thought of fusing evidence-based nutrition with culinary arts to tackle complex and diverse nutritional needs? If so, your most important words of wisdom may be "just do it" or, what are you waiting for?
The beauty of the culinary nutritionist is that they are lifelong learners that can easily adapt to many situations, accommodate a plethora of specific and varied tastes, and modify menus with tasty options at the drop of a hat. While they thrive with patient populations, they can work in any environment accommodating food allergies, intolerances, specialty diets, elective diets, and even work wonders with the picky eater. These are pretty important talents to have in this day and age where we live to eat, but one of the most important concepts is having the power to teach patients how to eat to live and still enjoy the process.
Basic to Expert Through Formal Education
Culinary school is a huge plus for someone who loves to cook. At the same time, basic cooking skills could be transformed into professional culinary masterpieces that taste as amazing as they look while having the power to create menu options that can help people thrive.
Formal education through ECPI University's Culinary Institute of Virginia in our Associate of Applied Science in Culinary Arts and Applied Nutrition, could help launch you into the field of culinary nutrition with an associate of applied science in culinary arts and applied nutrition degree.
Not only will you achieve a degree as a culinary nutritionist, but upon program completion, you will also be eligible to sit for the Certified Dietary Manager exam, through the Association of Nutrition and Foodservice Professionals. Call today and speak to a friendly admissions counselor and you could be providing the highest level of nutritional care to countless people in your career!
It could be the Best Decision You Ever Make!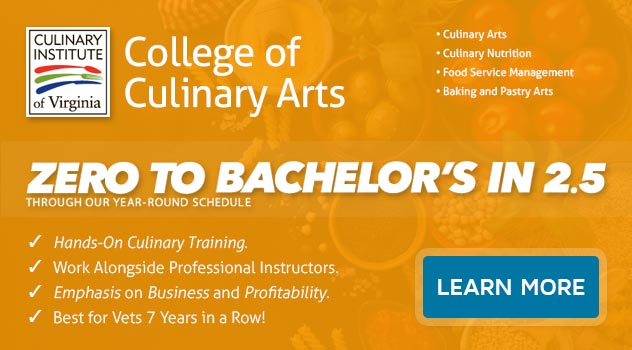 DISCLAIMER – ECPI University makes no claim, warranty, or guarantee as to actual employability or earning potential to current, past or future students or graduates of any educational program we offer. The ECPI University website is published for informational purposes only. Every effort is made to ensure the accuracy of information contained on the ECPI.edu domain; however, no warranty of accuracy is made. No contractual rights, either expressed or implied, are created by its content.
Gainful Employment Information – Culinary Nutrition - Associate's
For more information about ECPI University or any of our programs click here: http://www.ecpi.edu/ or http://ow.ly/Ca1ya.