Cyber and Network Security Professionals Help Fight Cyber Attacks [INFOGRAPHIC]
News websites are constantly posting about cyber attacks and hackers running rampant with personal information, credit card numbers, and other sensitive data. It might seem like the problem is hopeless, but there are brave individuals who are dedicated to fighting cyber crime wherever it occurs. These are cyber and network security experts, who ensure not only the internet, but the networks between computers remains safe from unwanted intruders.
What does a Cyber and Network Security Expert Do?
The essential job of a cyber and network security expert is to prevent cyber attacks using a variety of methods to ensure network integrity. Their duties are always expanding as hackers become more adept at gaining entry to systems. Keeping one step ahead of these criminals is no easy task.
Some daily tasks you can expect as a cyber and network security expert include monitoring for any irregularities in the computer systems. Also, installing and updating software such as firewalls and data encryption programs to keep users safe while they work. Some experts conduct what's called a penetration test, where they try to break into the system and exploit vulnerabilities. After all, if they can do it, then someone else easily can.
Apart from establishing and maintaining networks, these experts also help to develop security standards and best practices that all employees, no matter their level of computer involvement, have to follow. Staying one step ahead is essential in this job, and not just for outwitting hackers. New technologies are constantly being invented and one might be the solution to your company's needs.
What's the Outlook and Salary for a Cyber Security Expert?
The Bureau of Labor Statistics (BLS) reports that the position of information security analyst, one title given to cyber security experts, is expected to grow 18% between 2014 and 2024. This is much faster than average for all occupations, which comes in at 7% growth. But it's also faster than average computer occupations, which are estimated at 12% growth.
As for salary, the BLS shares information security analysts average $92,600 per year. Meaning that the lowest 10% of analysts earned less than $53,760 per year and the highest 10% earned more than $147,290 per year.
Where can I Work in Cyber Security?
You might think that the cyber and network security workers are only allowed to serve as a part of the information technology (IT) team and never get to be a part of any other department. While many experts do work with IT teams to help manage computer systems, there are lots of other positions a cyber security employee could fill. These include…
Computer systems design
Depository credit intermediation
Management of companies and enterprises
Information
Management, scientific and technical consulting services
How Can I Join the field of Cyber and Network Security?
It's important to start your journey to your new career with education. Beyond validating your skills, education exposes you to knowledge and situations you might not encounter on  your own. With experienced instructors to guide you every step of the way, it's vital to build your career from a solid foundation with an accredited degree program.
Certifications and hands-on experience are always a bonus when applying for jobs. Certifications go on to validate specific skills that companies are looking for. Whereas experience in entry-level positions shows you have mastered the basics and can also work with other cyber security experts to ensure the safety of the company's information.
What Degree is Right for an Aspiring Cyber and Network Security Expert?
If you want to work in cyber and network security, but aren't sure where to start, a degree in computer and information science or a similar field is a great place. Here at ECPI University, we offer this degree program with three different tracks. You can pick one of these specialties depending on your current interests and skill set.
Cloud computing: This degree will focus on the cloud and how to protect this virtual service from those who would exploit its vulnerabilities.
Cybersecurity: If you're interested in being able to monitor suspicious activity, stop hackers from attacking, and lock hackers out if they do manage to get in, this might be the right track for you.
Cyber and network security: Computer networks pose additionally problems to cyber security experts. This track teaches students how to handle a computer network, online and off.
Are you interested in the world of cyber and network security? If you want to earn a degree in any of these career tracks, consider ECPI University's Bachelor of Science Degree in Computer and Information Science with a Major in Cyber and Network Security. For more information about this degree program or any of the tracks, connect with a friendly admissions representative today.
It could be the Best Decision You Ever Make!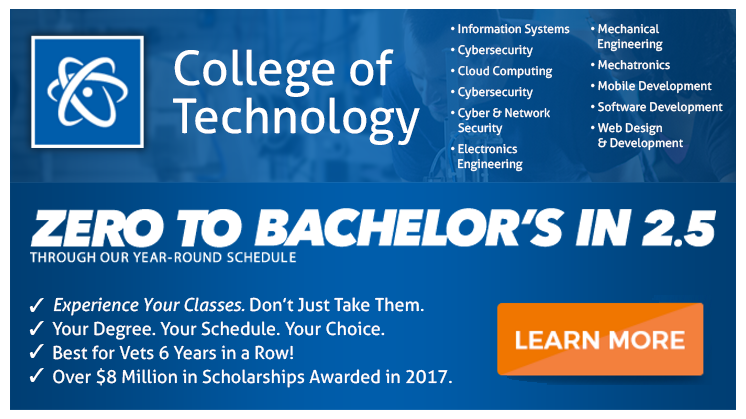 DISCLAIMER – ECPI University makes no claim, warranty, or guarantee as to actual employability or earning potential to current, past or future students or graduates of any educational program we offer. The ECPI University website is published for informational purposes only. Every effort is made to ensure the accuracy of information contained on the ECPI.edu domain; however, no warranty of accuracy is made. No contractual rights, either expressed or implied, are created by its content.
Gainful Employment Information – Cyber and Network Security - Bachelor's
For more information about ECPI University or any of our programs click here: http://www.ecpi.edu/ or http://ow.ly/Ca1ya.