Cyber Crime Statistics and Trends: What's Going on in Cyber Security?
Your work is going to fill a large part of your life, and the only way to be truly satisfied is to do what you believe is great work. And the only way to do great work is to love what you do.
-Steve Jobs
When the Cyber Security Report 2017 was released, small businesses and business industry giants rushed to learn what the annual survey results would be and what impacts and influences would affect their companies – and when. No one was surprised to learn current cybercrime statistics and trends reflected technological threats that evolved at the speed of light, and the time to worry was yesterday.

Businesses Face More Cybersecurity Challenges than Ever Before
Businesses risk financial loss, damage to reputation, compromised brand perception, and fear repercussions from breaches to customers' private and sensitive information. Cybersecurity is no longer something only CEOs manage and IT professionals take responsibility for, it's something every level of business operations needs to prioritize.
Big data, mobile business apps, public and hybrid cloud applications have added risks and challenges to an already complicated area: cybersecurity. The 2017 business evaluation and survey concerning cybercrime solutions revealed the following about cybersecurity and corporate decision-makers:
43% will make cybersecurity a higher priority this year.
64% will increase budgets and spending on cybersecurity strategies and the professionals needed to protect against "known security threats."
68% will focus more on cybersecurity incidence response solutions this year and implement greater accountability for security breaches.
69% say digital transformation is forcing "fundamental changes to security strategies."
72% want corporate division management to reinforce and take part in developing cybersecurity solutions to protect mission-critical applications.
A majority of business executives said that while cybersecurity was a high priority in 2016, even more – 82% – said cybersecurity investments will increase in 2017. And there's no indication that companies can relax in 2018, '19, or beyond. There are many challenges for companies in the area of cybercrime, and one critical need at this time is trained and education cybersecurity professionals who can help them.
Help Wanted NOW: Cybersecurity Professionals Needed Worldwide
Because the demand accelerated much more rapidly than anyone thought possible, our country is now facing a critical shortage of people who can supervise and implement cybersecurity business solutions. ISACA (Information Systems Audit and Control Association) is predicting a global shortage of two million cybersecurity professionals by 2019.
In our country, there are over 200,000 cybersecurity jobs available annually, but "Every year in the U.S., 40,000 jobs for information security analysts go unfilled," according to Forbes.
New and returning students are finding one of the most in-demand careers is cybersecurity. A Bachelor of Science in Computer and Information Science with a major in Cyber and Network Security can put you miles ahead of other job-seekers! IT professionals are making the switch to cybercrime specializations, too. With cybersecurity-related professionals needed in record numbers, this career may offer the best job opportunities and job security of any other.
A Career with a Guaranteed Future
The BLS (Bureau of Labor Statistics) is a conservative but reliable source for salary information, and says the highest 10 percent of cybersecurity professionals earned more than $147,290.00 in 2016. And the future growth in salary cannot be determined for sure, but one of the hottest jobs – security analyst – earned a median income of $86,170 in 2012. By 2015, security analyst salaries averaged $90,120.
Another stunning statistic released by the BLS is for every 114 postings for computer programmers, there is only 1 applicant. For every 142 postings for computer analysts, there are only 9 applicants.
Skills You Need to Become a Cybersecurity Professional
In addition to a Bachelor of Science degree in Computer and Information Science (specializing in cybersecurity), employers are seeking the following characteristics:
Able to examine problems from every angle
Able to stay on-task and focused, from start to finish of every project
Adaptable
Analytical
Constantly seeking to stay on top of the latest technology developments
Detail-oriented
Eager
Methodical
Team player
Cutting-Edge Technology at ECPI University
If you're juggling an active lifestyle, family, and/or job, an online cybersecurity degree can be the best choice. Over half the online students at ECPI University completed their degree requirements within 30 months. Remember the song, "Everybody Wants You?" They will, when you've earned your ECPI University Bachelor of Science in Computer and Information Science with a major in Cyber and Network Security - Cybersecurity Track. The technology won't stand still and neither should you! Call 844.334.4466 or contact a career specialist to learn more.
It could be the Best Decision You Ever Make!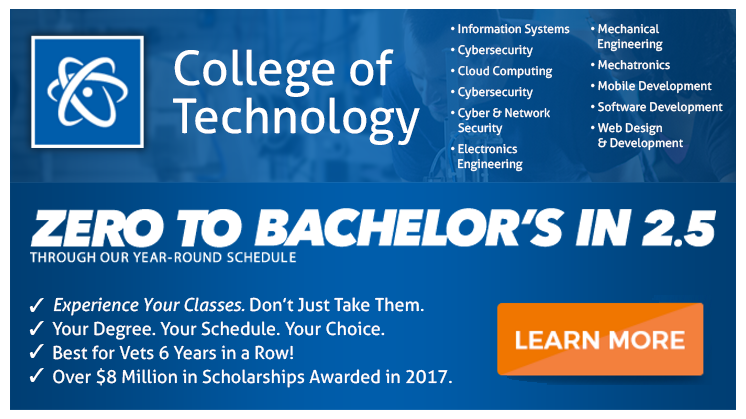 DISCLAIMER – ECPI University makes no claim, warranty, or guarantee as to actual employability or earning potential to current, past or future students or graduates of any educational program we offer. The ECPI University website is published for informational purposes only. Every effort is made to ensure the accuracy of information contained on the ECPI.edu domain; however, no warranty of accuracy is made. No contractual rights, either expressed or implied, are created by its content.
Gainful Employment Information – Cyber and Network Security - Bachelor's
For more information about ECPI University or any of our programs click here: http://www.ecpi.edu/ or http://ow.ly/Ca1ya.