Cyber Security Degree Program: Am I Eligible to Study Cyber Security?
Did you know that around 66% of Americans have been victims to some form of data theft? The most common forms are fraudulent charges on credit cards, followed by notifications of compromised personal information and hacked email accounts. As a result, many Americans don't trust companies with their data. That's bad news from a business perspective because people don't become loyal customers if trust can't be established.
To address this concern, many companies nowadays are more than willing to spend on cybersecurity professionals to keep their data safe. A career in cybersecurity could be a lucrative one given the high demand across multiple industries and countries.
It's no surprise why more students are opting to enroll in cybersecurity degree programs. If you're one of those interested, take note of the following prerequisites for eligibility.

A high school diploma or equivalent
You need to be a high school graduate to enroll in a cybersecurity program and earn your bachelor's degree. This shouldn't be a problem if you already have your diploma. But if you don't have it yet, don't be discouraged. You can get your General Equivalency Diploma (GED) by taking a series of tests in four subjects.
This is a requirement to be considered a full-time student at most colleges. It will show admissions officers at your university of choice you can keep up in the classroom.
Basic computer expertise to get you started
You don't need to be a computer guru, but you must have at least fundamental coding skills and basic understanding of system and network architecture. If you don't have these yet but you're still intent on pursuing a career in cybersecurity, you can familiarize yourself with coding on Code Academy, Coursera, GitHub, and other similar sites.
If you want to start at a true beginner level, there's Tynker, which is coding for kids. The same goes for gaining understanding of architecture -- you can self-study using free tutorials online. It's imperative that you're equipped with preparatory knowledge the same way an aspiring writer should already have a strong grasp of grammar and spelling before they start working on plot and story structure.
A desktop or laptop you can freely use
Although a good school or university should offer hands-on training in their computer laboratories, you'll still need a desktop or laptop to make it easy to study, work on projects and assignments, and learn on your own outside the classroom.
You don't need a brand-new machine -- you can use a secondhand or a refurbished one. You can also take advantage of student deals, or buy during sales like Black Friday. The important thing is to have a desktop or laptop that you can use anytime and anywhere you need.
Keen interest in preventing and solving crimes
A career in cybersecurity has all the suspense and excitement of crime solving but without the blood and gore. At the same time, it also involves preventing attacks from happening in the first place. If the idea appeals to you -- both the defensive and offensive approaches -- then you can be a good fit for this field. Working as a cybersecurity expert isn't always fast-paced, but your mind will always be at work, whether you're writing code at your desk or inspecting physical security at a data center.
Initiative to stay updated on news and skills
The methods and tactics used by cybercriminals are always evolving, so cybersecurity experts should ensure that they themselves are keeping up with the pace. This means that even after you've earned your bachelor's degree in a cybersecurity program, you'll still be continuously learning and staying updated on any new technologies and vulnerabilities cybercriminals are using and exploiting.
You can do so by subscribing to newsletters, joining hackathons, networking with fellow security experts, and even earning and updating certifications. The latter can be costly, but you can get sponsored by your employer because some certifications are requirements for the job. Additionally, some colleges and universities help their students earn certifications in a variety of ways. Either way, you'll have to invest time, money, effort, or all three to maintain the relevance of your knowledge.
Are you interested in cyber security? If you want to make a difference and earn a Bachelor of Science Degree in Computer and Information Science with a Major in Cyber and Network Security, ECPI University could be the right place for you to study. With an accelerated schedule and year-round classes, you could graduate in as little as 2.5 years. ECPI University is also designated a Center of Academic Excellence in Cyber Defense Education (CAE-CDE) by the NSA and the DHS. For more information on this exciting program, connect with a friendly admissions advisor today.
It could be the Best Decision You Ever Make!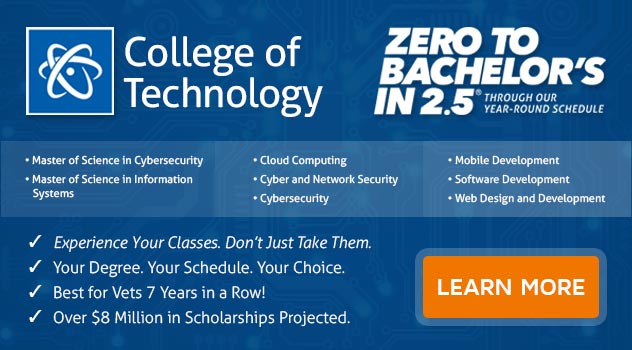 DISCLAIMER – ECPI University makes no claim, warranty, or guarantee as to actual employability or earning potential to current, past or future students or graduates of any educational program we offer. The ECPI University website is published for informational purposes only. Every effort is made to ensure the accuracy of information contained on the ECPI.edu domain; however, no warranty of accuracy is made. No contractual rights, either expressed or implied, are created by its content.
Gainful Employment Information – Cyber and Network Security - Bachelor's
For more information about ECPI University or any of our programs click here: http://www.ecpi.edu/ or http://ow.ly/Ca1ya.