Cyber Security Jobs for Bachelor's Level Graduates: Where Could I Work?
The field of cybersecurity continues to grow as a career option. As computers become more important and complex, criminals find new ways to steal information and make things difficult for everyday citizens and businesses.
People who want a career that is well paying, in-demand, and a vital part of protecting the economic strength of our communities are drawn to cybersecurity. However, this field can be competitive and often has high standards for open positions. Getting a degree could improve your chances of landing a job that you love.
You might be wondering: what are some of the jobs you can qualify for with a bachelor's degree in cybersecurity? Why is education an important part of this field? What are the benefits of getting a degree when compared to learning on your own?

Job Titles in Cybersecurity
Cybersecurity is a diverse discipline. It takes a team of knowledgeable professionals to safeguard our digital data from malicious invaders. These are some of the job titles you could claim with your bachelor's degree.
Information security analyst. These professionals create security solutions for their clients, then help them implement them. According to the Bureau of Labor Statistics, the need for information security analysts will increase by 28% over the next several years.
Technical support and help desks. Electronics manufacturers and digital service providers always need people to help their own customers navigate their devices and online accounts. With a degree, you can help companies keep their customers safer by providing guidance, support, and accurate information.
Information technology solutions provider. These professionals spend their days creating custom solutions for their clients' computer networks. This can include creating protocols for contractors and those who work remotely, suggesting equipment upgrades to improve performance and security, or training end users on safe online behaviors.
Network security implantation. In this field, the goal is to install security networks for larger clients. Network security implementers often work with other professionals to design these systems.
These are just a few of the options you could enjoy with your cybersecurity degree.
The Importance of Education in Your Cybersecurity Career
Cybersecurity is a highly technical field that relies on a technology that continues to grow rapidly. Getting an education is a big benefit to job seekers in a number of ways.
Current knowledge. The science behind computers and networks continues to expand. Getting your degree ensures that you start your job search with the most current information available.
Networking possibilities. Like most industries, the best way to find good positions in the cybersecurity field is through a well-developed professional network. Going to school helps you build your network and ensure long-term success.
Better understanding of possibilities. The world of cybersecurity is large and continues to expand. Going to school helps you find the right path for your preferences and skills.
Most employers require a degree for entry level cybersecurity positions. Even if the company you want to work for doesn't ask for education, your degree will put you in a better position to get the job you really want.
Formal Education vs Self-Teaching
There are a number of websites, books, and online schools that promise to teach you all you need to know about cybersecurity. While these resources are a great way to brush up on your skills, they aren't always the best way to start a new career. Here are some of the reasons why getting a degree could be better than learning on your own.
When you get stuck on a lesson, who can you turn to for help? In online classes, you may only have access to an anonymous and hardly responsive email address for academic help. At a school, you'll have professors and other students to help you figure out the hard stuff.
Your online studies may teach you a lot. However, employers prefer to be able to validate your skills in a more official way. Your degree provides objective proof that you meet certain qualifications.
Motivation is a huge factor in academic and career success. Self-learners often have a hard time staying on track, which means their studies take longer than necessary. With a formal education, you are provided a schedule and structure that keeps you on the right path to reaching your goals.
While teaching yourself cybersecurity skills may save you a little cash, it isn't always the best way to begin your career. Getting a degree ensures that you are ready to take on the challenges of protecting computers and networks in almost any capacity.
Secure Your Future in Cybersecurity with a Bachelor's Degree
If you want to start a career in cybersecurity, a formal degree is a great way to get started. A Bachelor of Science Degree in Computer and Information Science with a Major in Cyber and Network Security - Cybersecurity Track, is a perfect step towards your future. ECPI University offers this program at an accelerated pace, also available completely online. For more information, connect with a helpful admissions officer today.
It could be the Best Decision You Ever Make!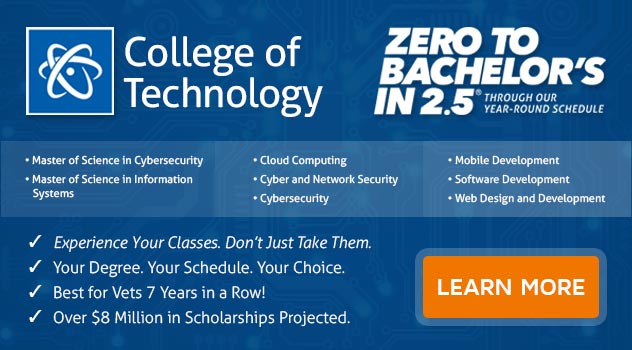 DISCLAIMER – ECPI University makes no claim, warranty, or guarantee as to actual employability or earning potential to current, past or future students or graduates of any educational program we offer. The ECPI University website is published for informational purposes only. Every effort is made to ensure the accuracy of information contained on the ECPI.edu domain; however, no warranty of accuracy is made. No contractual rights, either expressed or implied, are created by its content.
For more information about ECPI University or any of our programs click here: http://www.ecpi.edu/.