Cyber Security Jobs for Veterans: Applying Military Training to the Digital World
If you're ex-military personnel who's come back to civilian life after a period of serving, it can be difficult to transition back to a nine-to-five job. While making the mental transition is difficult enough, there's also the fact that it is sometimes difficult to find jobs that need military-learned skills. But a position in cyber security might be able to use those skills while improving on the hands-on learning style used in the service.
Military Skills for Digital Security
The military life develops many skills in the enlisted, but most of those skills are designed to be useful during periods of war and conflict. Adapting those skills to a regular civilian job can be very challenging. Nowadays, however, a new field has opened up which provides ample opportunities to veterans to put their skills to effective use.
The cyber security field has been growing in leaps and bounds over the past decade. It has now come to the point where there are more positions in the field than there are qualified professionals available to fill them. Cyber security relates to the setting up of security measures for defending an organization's computer networks against viruses and malware.
Cyber attacks continue to grow with 2016 resulting in a staggering number of attacks. An army of cyber security experts are needed to fight the daily onslaught of cyber attacks. The good news for veterans is the skills they learned in their previous work gives them a valuable advantage over other cyber security candidates.
The military trains its personnel to have a deep understanding of defense tactics. Training with the defense services teaches you about the three main aspects of defending an area against aggressors, which are:
Defense in Depth
Most people think protecting a building simply requires you to build a fence. But veterans understand that more in-depth defense systems need to be put in place to guarantee full protection for the building, such as installing heavy duty locks and motion sensors.
Redundant Systems
In military terms, this refers to the power back-ups which need to be kept in reserve to be employed if the power goes out and leaves you vulnerable to the enemy's attack.
This tactic is an important part of cyber security as well. One of the oldest tricks hackers use is to shut down an entire digital network using a virus and to sneak some malware into the system during the resulting confusion. Veterans are well equipped to anticipate such tactics and have back ups in place to deal with them.
Active Defenses
This military term refers to the use of limited action to fend off an attack. In digital security terms, it means you go on the offensive to identify possible threats to your network and move first to neutralize the threat before it can cause any damage.
---
Apart from having an understanding of these three tenets of cyber security, veterans are naturally attuned to a life of strict policies. This translates well into a career of implementing cyber rules which need to be carefully followed to ensure a secure network, such as remembering to lock your computer after use or picking a difficult password for your computer and changing it regularly.
In addition, veterans have qualities of dedication, problem-solving, and leadership drilled into them in the military, and all these are of great value to the companies that hire them to take care of their cyber security needs.
Transitioning to Cyber Security
Some veterans might have doubts about the idea of learning a new skill set after spending a lifetime in the military, but the truth is there is no age restriction on learning cyber security. Take the journey one step at a time, starting with:
Getting a Bachelor's
You can enroll in an accredited program to receive your bachelor's degree in cyber security. The program will teach you about the various aspects of the field, including criminology, digitization, disaster recovery, business continuity and network security assessment.
It's also important to obtain certifications to validate your knowledge and round out your resume.
Get Employed
With the bachelor's, you could be able to get a position on a company's cyber security team. The post will likely not be very high up, but it will give you a chance to gain valuable experience in the field and learn first-hand what work goes into securing a company's digital network.
Rise through the Ranks
You can now use your knowledge of cyber security and your military training to excel at your job on the security team. The more valuable your contributions to the team, the more quickly will you rise through the ranks to a position of power.
Become a Security Head or Consultant
After a few years, you can rise to the position of head of the cyber security team, or act as a security consultant for multiple companies.
Are you a veteran who is considering a career in cyber security? ECPI University understands the unique needs of former military service members and also offers a Bachelor of Science Degree in Computer and Information Science with a Major in Cyber and Network Security - Cybersecurity Track. To discuss your future, be sure to contact a friendly admissions counselor today.
It could be the Best Decision You Ever Make!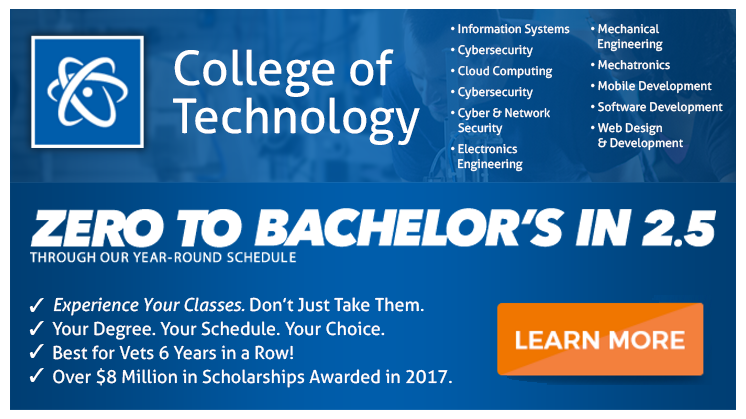 DISCLAIMER – ECPI University makes no claim, warranty, or guarantee as to actual employability or earning potential to current, past or future students or graduates of any educational program we offer. The ECPI University website is published for informational purposes only. Every effort is made to ensure the accuracy of information contained on the ECPI.edu domain; however, no warranty of accuracy is made. No contractual rights, either expressed or implied, are created by its content.
Gainful Employment Information – Cyber and Network Security - Bachelor's
For more information about ECPI University or any of our programs click here: http://www.ecpi.edu/ or http://ow.ly/Ca1ya.