Cyber Security: Recommended Certifications for Beginners
Cybersecurity is an ever-changing field that is constantly evolving. As technology changes, hackers adapt to new security measures. This leads to a need for not only a cybersecurity degree, but certifications to verify current knowledge and skills.
Currently there are more than 750,000 IT professionals in the United States who specialize in cybersecurity, with more than 300,000 vacancies in the field. Vacancies for people with skills in cloud security remain open for more than 100 days. The organization, Cyberseek, aims to close the skills gap by providing information about supply and demand in the cybersecurity sector. It lists some of the most sought after job titles in the field:
Cybersecurity analyst
Penetration Tester
Cybersecurity engineer
Each of these has its own suite of certification requirements.

Basic level certification to consider while earning your degrees?
Cybersecurity analyst. The job of the cybersecurity analyst is to monitor network activity, analyze reports to spot unusual behavior, detect cyber threats, and implement protections. Recommended certifications include:
CompTIA Security+: this is the starting point, assesses your IT knowledge, skills and abilities after two years' cybersecurity fieldwork, and establishes the core knowledge required for just about any cybersecurity role.
CompTIA Cybersecurity Analyst (CySA+): This is a high-stakes, intermediate certification that applies behavioral analytics to prevent, detect, and eliminate cybersecurity threats.
Global Information Assurance Certification (GIAC): This certificate shows prospective employers that you know how to stay ahead of black hat attacks. Getting into this club involves submitting a written paper.
Cisco Certified Network Associate (CCNA): Associated with the Cisco Certified Network Associate Routing & Switching Certification, the CCNA is a composite exam that tests a candidate's skills and knowledge to install, operate, and troubleshoot a small to medium-sized network.
Penetration tester. In this role, you get to pretend to be a hacker in order to pinpoint, assess, and manage vulnerabilities in your home system by applying the correct tools. You need to keep up to date about the latest hacking and testing models. You will need these certifications:
CompTIA Pen Test+
GIAC
CISA
CISM
CCNA
Certified Ethical Hacker (CEH)
Cybersecurity engineer. Here, you will construct novel solutions to existing security problems. Evaluate new technologies for their value in enhancing security capabilities. Define, maintain, and implement corporate security policies. Finally, you can recommend technical, regulatory, and legal modifications that affect IT security. Your certification homework involves:
CompTIA CySA+ -
CASP - CompTIA Advanced Security Practitioner
GIAC
CISM
CCNA
CCNP - Cisco Certified Network Professional
How a degree program can prepare you for taking these certifications
You can qualify for an entry-level job in cybersecurity by taking all these certifications, earning a degree, or both. The benefit of a degree is that it gives you the background you need to prepare for the multitudinous certification exams. On your own it can be confusing and inefficient to take training courses for material you've never worked with before.
A degree program will teach skills in business administration and project management as well as the technical details you will need to probe, manipulate, and protect information systems. It will drill down into basics of programming, cloud solutions, networking, databases, and even LINUX.
You may be surprised to find subjects on the curriculum such as Culture and Diversity, Environmental Biology, Physics, and Psychology. Many of these courses are very writing-intensive, so you will be introduced to the principles of communication, college composition, and advanced composition. Something that is important in any field.
How formal education in the cybersecurity field can help you succeed
A Bachelor of Science in Computer and Information Science with a Major in Cyber and Network Security should give you all the skills and knowledge to prepare you for a wide range of options, such as:
Information security analysis
Network administration
Server management
Provision of solutions in information technology
Tech support/help desks
A competent degree program will give you 'soft' skills in leading and functioning as a team member; engaging in professional development through research, selecting and reading the right technical literature, attending conferences, participating in user groups, and joining associations.
In your job, you could be expected to deliver presentations to both technical and nontechnical personnel. A solid degree course will provide you with the communications tools to provide oral, written, and graphical output in both environments.
Are you interested in cybersecurity? If you want to earn a Bachelor of Science Degree in Computer and Information Science with a Major in Cyber and Network Security, ECPI University offers this program at an accelerated pace. For more information regarding this exciting program, connect with a friendly admissions representative today.
It could be the Best Decision You Ever Make!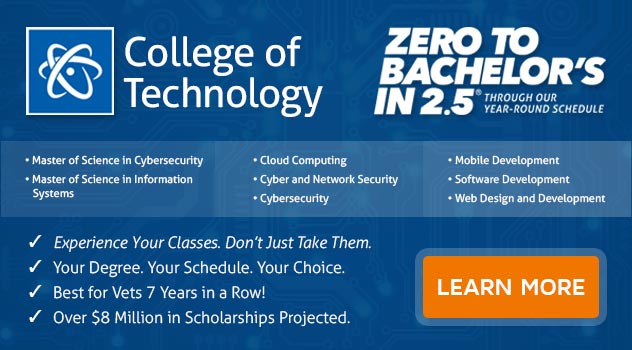 DISCLAIMER – ECPI University makes no claim, warranty, or guarantee as to actual employability or earning potential to current, past or future students or graduates of any educational program we offer. The ECPI University website is published for informational purposes only. Every effort is made to ensure the accuracy of information contained on the ECPI.edu domain; however, no warranty of accuracy is made. No contractual rights, either expressed or implied, are created by its content.
Gainful Employment Information – Cyber and Network Security - Bachelor's
For more information about ECPI University or any of our programs click here: http://www.ecpi.edu/ or http://ow.ly/Ca1ya.