Cyber Security Technology Trends New Students Need to Keep Up With
Cybersecurity is a collection of IT technologies, processes, and controls designed for the protection of a firm's IT infrastructure. This includes keeping hardware, networks, software and data safe from cyber-attacks. It ensures that the risk of cyber-attacks is minimized and protects the organization from any form of unauthorized entry and exploitation. Cyber attackers are changing ways to gain unauthorized access to systems and networks thus leading to improved trends to strengthen their IT systems and infrastructure.

What are the new trends in the industry?
How we can incorporate the new technologies and trends to enhance communication? New technological trends hold more than just communicating; they can determine how our IT systems are run as well as our interaction with them.
Cybersecurity Technology Trends
Today, people are looking up to technology to find out what's next in the world of cybersecurity. The trends ranging from ransomware attacks to general data protection regulation (GDPR) are emerging creating potential risks and also trying to solve the threats in the industry.
AI and Machine learning: artificial intelligence as used in AI and Machine learning can enhance prediction and accurate identification of attacks. This can positively respond by boosting cyberattacks.
General data protection regulation (GDPR): The aspired GDPR by European Union is seen as an excellent way for keeping processes, data and stores safer when an organization starts adopting the regulation although it is not put into effect yet.
Improved IT skills: There being a significant shortage in the IT industry, organization are now taking their workers into short IT courses including cyber-related and data related such as DCUIC certification training. Reduction of the cybersecurity profession has become a serious issue. This has created the need for firms to engage external cybersecurity professionals to fill this skills gap.
Common language: the looming specter of multiple cyber threats also the adoption of other techniques such as NIST's cybersecurity framework and common language will enable organizations to increase defenses collectively.
Improved patching and application testing: Testing applications should always be on a business owner's mind. It helps in keeping the security systems safe. Patching and testing the application will help reduce data breaches.
Importance of being pace with cybersecurity trends
You need to stay vigilant and go ahead to finding out what the new technology in cybersecurity are emerging as digitization escalates. With threats all over, you should keep pace with the shifting technologies in the IT landscape. Reasons to stay updated are:
Cybersecurity impacts: If you remain uninformed your data (sensitive business information, financial data and more) in your network and computer could be at risk.
Prevalence of cyberattacks: Stay updated to prevent hackers from contributing to the loss of revenue in your firm.
Evolution of attacks and technology: With the rapid advancement in technology, being up-to-date will ensure you learn about the latest scams and the new ways to deal with them.
Are you interested in cyber security? Want to make a career out of it? If you want to earn a Bachelor of Science in Computer and Information Science with a Major in Cyber and Network Security, ECPI University offers this program at an accelerated pace. For more information about this exciting degree, connect with a helpful admissions representative today.
It could be the Best Decision You Ever Make!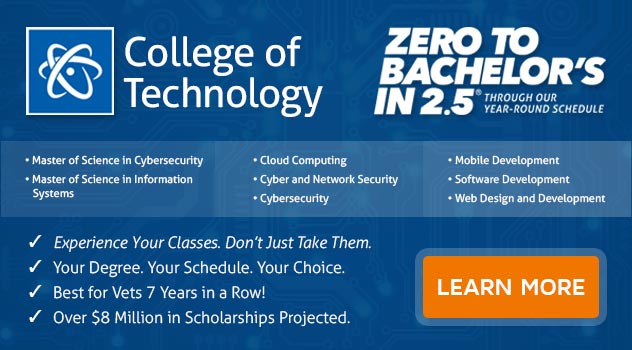 DISCLAIMER – ECPI University makes no claim, warranty, or guarantee as to actual employability or earning potential to current, past or future students or graduates of any educational program we offer. The ECPI University website is published for informational purposes only. Every effort is made to ensure the accuracy of information contained on the ECPI.edu domain; however, no warranty of accuracy is made. No contractual rights, either expressed or implied, are created by its content.
Gainful Employment Information – Cyber and Network Security - Bachelor's
For more information about ECPI University or any of our programs click here: http://www.ecpi.edu/ or http://ow.ly/Ca1ya.